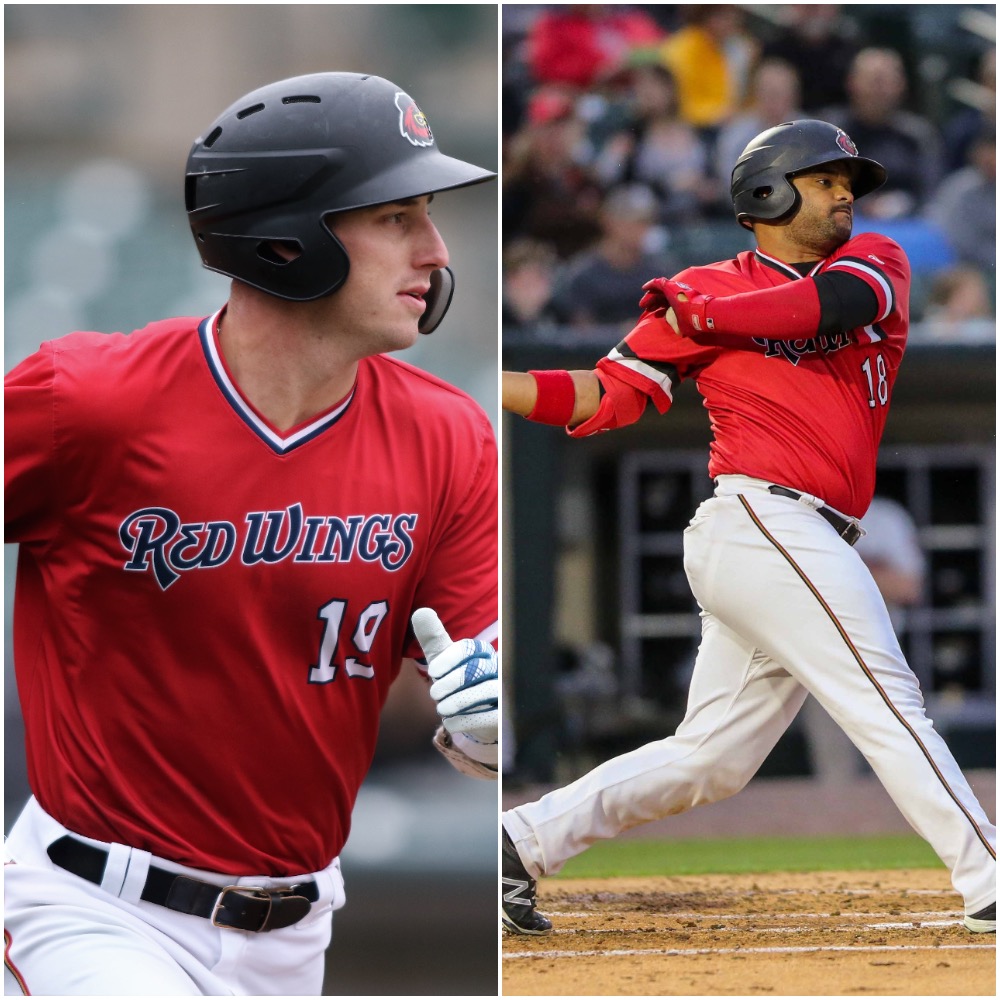 By PAUL GOTHAM
ROCHESTER, N.Y. — The Rochester Red Wings entered play Monday night hitting .177 (11-for-62) with runners in scoring position over their previous four games.
Brent Rooker and the Wings did an about face with that trend.
Rooker's 13th home run of the season capped a late-inning rally which saw Rochester erase a four-run deficit and go on to beat the Syracuse Mets, 9-7.
Rooker snapped a 7-7 tie with a blast that cleared the fence in centerfield and bounded into the parking lot across Plymouth Avenue.
"That one felt good," the Wings designated hitter said.
With Jake Cave on second, Rooker lashed out at a one-strike slider from Syracuse reliever Paul Sewald.
@RocRedWings Here's that rooker home run ball from the parking lot! pic.twitter.com/eAJnaFW91c

— Matt Ziegler (@mattziegler7) July 2, 2019
"I know in that situation, with a runner on second and first base open in a tie game that they're probably not going to give me any fastballs over the middle of the plate," Rooker explained. "They're going to try to stay away with fastballs and throw off-speed pitches. I just kept that in mind. Tried to stay on that pitch as well as I could."
The home run was estimated to travel 435 feet with an exit velocity of 107 MPH.
We have no idea where this ball landed. There's been reports it cleared the stadium. 😮💥 pic.twitter.com/ztgqrD6c5k

— Rochester Red Wings (@RocRedWings) July 2, 2019

"I was able to just see it up," he added. "I recognized the guy they brought in had a pretty good arm with good stuff, so I knew I had to get a good pitch to hit. I was able to put a good swing on it when I got one."
Rooker's blast was the Wings seventh hit of the night with runners in scoring position. The home nine hit .500 (7-for-14) for the evening in those situations.
"We kinda feed off each other and watch the guy in front of us have some success," he added. "That kinda motivates the next guy to have success as well."
Rochester (40-41) finished the month of June with a 20-10 record. The Wings led the International League for the month in batting average (.306), run scored (202), hits (315), doubles (82), total bases (521), on-base percentage (.379) and OPS (.885).
On Monday five different players registered multi-hit nights. Rooker, Nick Gordon and Tomás Telis led the way with three hits apiece.
"It provides an energy for sure, up and down the lineup when you got guys stepping up in big situations and coming up clutch when we need 'em," Rooker noted. "We've got a really, really talented lineup, really experienced hitters, really smart hitters."
Trailing 7-3 going into the bottom of the sixth, Rochester struck for two runs in the sixth, a run in the seventh and then three in the eighth.
Telis and Gordon knocked back-to-back two-out doubles in the sixth to start the comeback. Drew Maggi made it a 7-5 game when he plated Gordon with a triple.
Jaylin Davis plated LaMonte Wade Jr. with his second double of the night. The Wings trailed 7-6 after seven innings.
Telis started the eighth with a single and moved to second on a Gordon ground out. One out later, Cave knotted the game with a base hit. Cave moved to second on the throw to the plate, and Rooker finished it for the Wings.
"He hit it good," Wings manager Joel Skinner said. "He's a strong kid. Their pitcher was throwing hard. With that combination, you're going to get that."
Cody Stashak struck out three over two and a third innings of relief to pick up the win. Ian Krol hurled a scoreless ninth for his fifth save of the season.
Gordon and Rooker finished 3-for-5 apiece. Telis was 3-for-4 with three runs scored. Cave, Davis and Maggi each had two hits.
.@FlashGThe3rd sliding into tonight's @ESLFCU Top Play. pic.twitter.com/JHHsnRaqJE

— Rochester Red Wings (@RocRedWings) July 2, 2019
Rochester finished with 17 hits on the night including five doubles.
The same two teams play Tuesday night. A 7:05 PM first pitch is scheduled at Frontier Field.