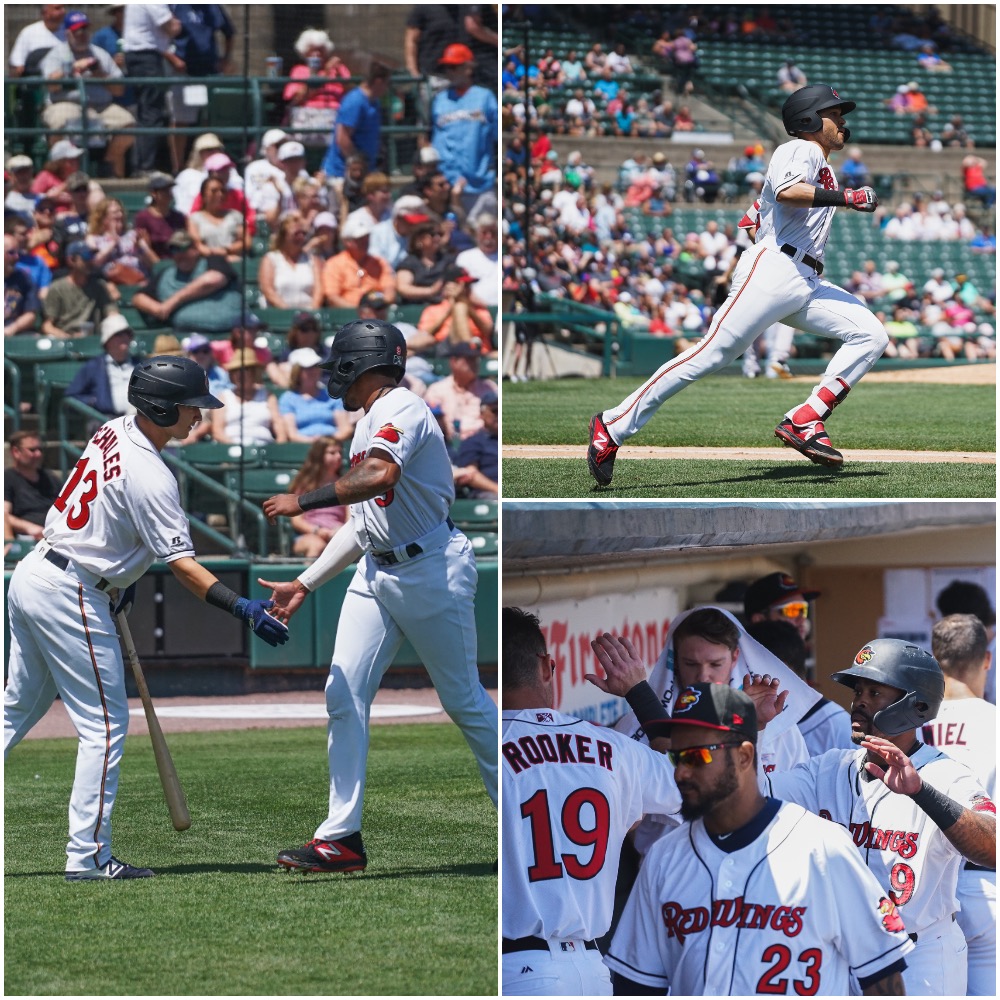 By PAUL GOTHAM
ROCHESTER, N.Y. — Twice during the early innings Tuesday afternoon, wind blew open the door to the visitor's bullpen at Frontier Field. The occurrences offered a hint of what was to come on a day that a consistent breeze kept the flags in left field at attention and relief pitchers got plenty of work.
Five balls left the yard, but it was a single with an exit velocity of 75 MPH that proved to be the difference.
Zander Wiel drove in Drew Maggi with a one-out, bases-loaded hit in the eighth, and the Rochester Red Wings took their second straight from IL North-leading Scranton/Wilkes-Barre, 10-9.
Wiel fisted his second hit of the day into shallow left for the game winner.
"More than anything, I was looking to get something up in the zone," he said of his approach at the plate. "I didn't want to hit a ground ball that could lead into a double play.
Maggi led the inning with a double. LaMonte Wade Jr. and Brent Rooker reached on back-to-back hit by pitches to load the bases. Wiel delivered from there.
"I was looking for something up to hit in the air or do something with. I was able to get a little dinker over the infield. It got the job done."
Jaylin Davis continued making a strong first impression at the Triple-A level. Playing in just his eighth game with the Wings, he finished 3-for-4 on the day with six RBI. He connected on a grand slam in the third inning and followed with a two-run shot in the fifth.
The second blast of the day was his third in four at bats having connected on a  go-ahead three-run shot in the Wings 8-6  win Monday night.
"I'm just going with the flow," Davis said with a smile. "I'm seeing the ball a lot better than I was before. Just working with my hitting coach about where to look for pitches and stuff like that. It's helped out a lot."
Davis also doubled and scored in the second.
"Obviously, when you hit a grand slam, that got us going," Wings manager Joel Skinner said. "He's been here a week or so now. He's started settling in. Having some success definitely helps."
Maggi went 4-for-5 out of the two hole with two doubles and three runs scored. He led four Wings who had three or more hits apiece. The two teams combined for 30 hits overall.
"Today with the wind blowing out it was a little bit like playing on the moon," Skinner said. "If they squared a ball up and hit it in the air, for both sides, it was a home run. We've seen that before this year and it's just something as a pitcher you want to try avoid as many as you can. It was just the environment we were in today."
Wade staked the Wings to a 9-4 lead with a solo shot to lead the sixth.
Scranton/Wilkes-Barre rallied in the seventh, Clint Frazier capped a four-run frame with a two-out RBI double.
The RailRiders used a two-out rally in the top of the eighth knot the score. Billy Burns singled and scored from first on a Mike Ford double.
Rochester (36-39) came into the game leading the IL in batting average (.294) for the month of June. The Wings also rank at the top for runs scored (156), hits (249), and doubles (62).
"It definitely feels good," Davis said. "We're swinging the bat well as a team."
Wade was 3-for-3 with a walk, two RBI and two runs scored.
Cody Stashak worked an inning and a third out of the bullpen for the win. The Wings used three relievers. The RailRiders used a pair of relievers after starter Brady Koerner gave up eight runs on 11 hits over five innings.
Rochester improved to 20-17 at home for the season and 17-8 overall in the month of June. The Wings finished May with a record of 19 wins and 31 losses.
"We've been able to settle in as a team and not have those big lulls for five or six games," Wiel said. "If we drop one, then we're able to come back out the next day with a new mindset, ready to go. If we win one, then we're not riding too high. We just come back in and treat it the same way every day."
Rochester heads to Lehigh Valley for two games against the IronPigs which the Wings lead by a half game in the standings. Rochester trails Scranton/Wilkes-Barre by eight games.
"To get back and in our division if you win some ballgames, you obviously help yourself in the standings," Skinner said. "The last two days definitely helps. It's good. It's divisional play, and that's what the guys look forward to."