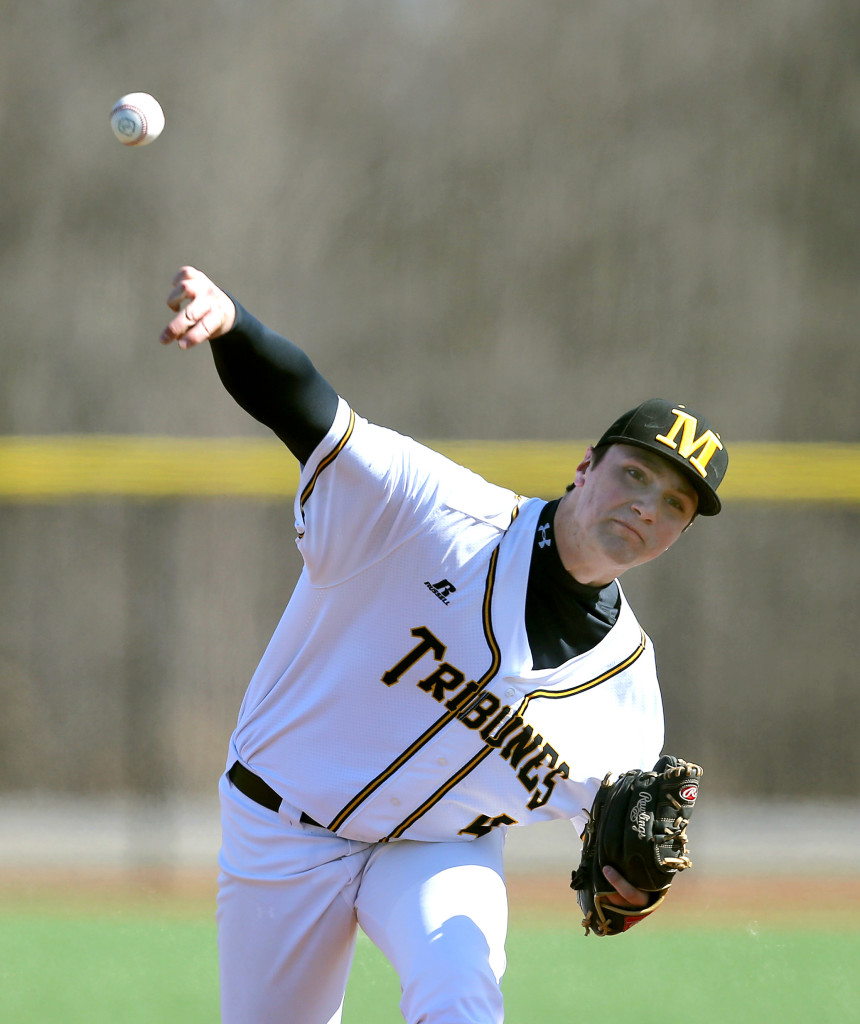 By PAUL GOTHAM
ROCHESTER, N.Y. — Three years ago, Zach Vennaro started in the NJCAA Division II World Series for the Monroe Community College Tribunes. Next time the 6-foot-6 right-hander climbs the bump will be as a member of the Milwaukee Brewers Rookie-League team.
"It feels amazing," Vennaro said by phone earlier this week. "It's been a lifelong dream of mine to get into affiliated ball. I couldn't be happier to be a part of this organization with the Brewers."
As a sophomore, Vennaro finished with a record of 9-2 for Dave Brust's Tribunes. He continued his scholastic career at Mount Olive in North Carolina. There Vennaro earned NCAA Division II First Team All-American honors his senior year when registered a 6-1 record with 11 saves in 23 relief appearances.
Vennaro struck out 52 and walked seven in 44.2 innings of work for Mount Olive in 2018 and logged an ERA of 0.81.
"He can get really good hitters out," Brust said of his former player. "Zach has a lower arm angle, so he sinks the ball. He keeps the ball down in the zone and has a very good breaking pitch. He throws a ton of strikes especially considering the angles he brings because he's 6-foot-6.
The New Hartford, New York native, though, watched the 2018 MLB Draft and did not hear his name called. He spent last summer pitching in the Coastal Plains League, a summer collegiate league that allows graduated players who have the intention of playing professionally to continue working in front of scouts.
In the off-season, he worked with Dan Kopitzke at K-Zone Academy in Raleigh North Carolina.
"After the whole draft went by my senior year of college, I didn't let it discourage me," he said. "It lit a fire under my butt. I worked harder this entire off-season. I worked a lot on getting bigger, stronger but also put a lot of emphasis on my mobility as well."

Vennaro started 2019 with the Ottawa Champions of the independent Can-Am League. He will be playing in the Rookie Arizona League.
"I was surprised MLB scouts didn't like him out of Mount Olive," Brust said. "In true Zach Vennaro fashion he didn't give up. He worked and worked. That will help him more in all phases of the game."
The game one starter on Brust's first NJCAA World Series team, Vennaro led the Tribs hurling 73.1 innings. He struck out 75 and walked 22.
"He brings a high level of competitiveness," Brust said. "There's a lot more upside to him than he's been given credit. He certainly was not the classic 94-95 miles per hour that they're looking for. He has a lower arm angle which should have forgiven him for not being 94-95 miles an hour."
Vennaro joins more than 25 former Tribunes who have continued their playing careers at the professional level. Vennaro and Danny Mendick represent the two MCC Tribune alums actively playing in affiliated baseball. Mendick, a 22nd round pick of the Chicago White Sox in the 2015 MLB Draft, currently plays with the Sox Triple-A farm team in Charlotte.
"Those times with Monroe were amazing," Vennaro said. "I learned so much from the other guys around me and Coach Brust. I loved every second of being there."