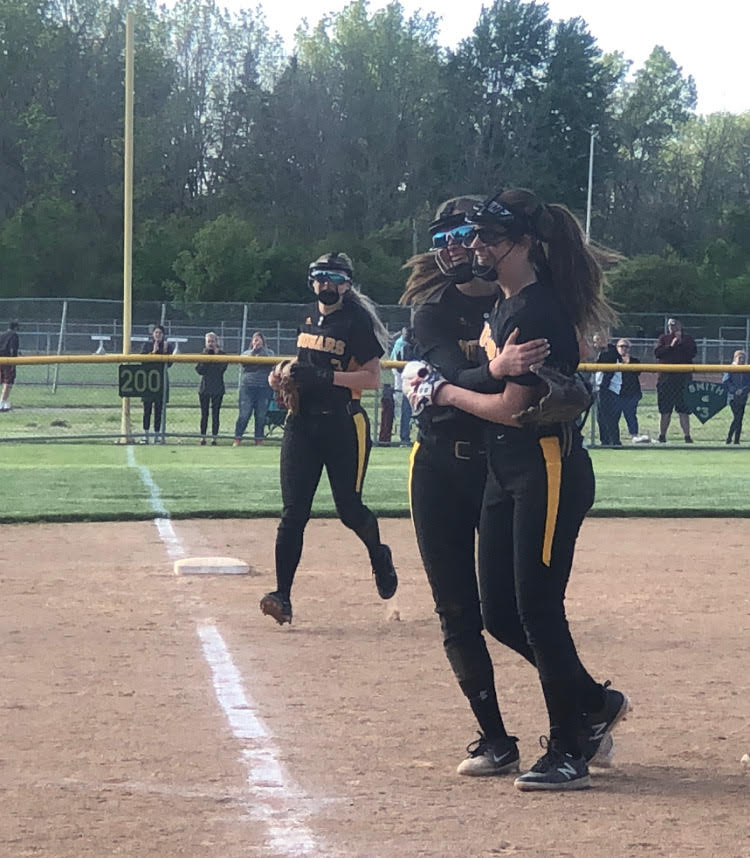 By BILLY HEYEN
HENRIETTA, N.Y. — Mackenzie Schayes is well aware of her tendency to swing at the first pitch. The Honeoye Falls-Lima senior strode to the plate in Monday's first inning after her teammate and leadoff batter, Kailey Lincourt, had doubled on the game's first offering.
Schayes wasted no time in turning around the game's second pitch, right over the heart of the plate, sending it beyond the fence in left-center field for a two-run home run. Two pitches. Two hits. Two runs. HF-L literally couldn't have had a better start.
"I just saw it come in, was like, that's the perfect pitch," Schayes said. "I knew I hit it pretty well, and then I looked up, and I saw it go over."
That's quite the start for @HFLCSDAthletics. 2-run HR for Mackenzie Schayes, 2-0 Cougars in the top of the first. @PickinSplinters pic.twitter.com/hY3MOLYPPR

— Billy Heyen (@Wheyen3) June 3, 2019
The bats didn't quiet much from there, as the Cougars beat Brighton, 10-5, in the Section V Class A regional qualifier on Monday at Rush-Henrietta High School. Mari Spitz added a home run of her own later in the ballgame, and HF-L pounded out 13 hits in total. The win sends the Cougars on to Saturday's Far West Regional against a Section VI representative, continuing the furthest postseason journey HF-L softball has ever made.
"Last time we played (Brighton), they came out with the victory," HF-L head coach Bailey Smith said. "So for us to come out and make a statement that we're here, ready to play, I think was huge for us."
Two runs in the top of the first were answered by one run against Cougars' righty Quinn Adcock in the bottom half. But then right away, HF-L responded with two more.
Lindsay Cody led off with an infield single to shortstop, which was followed by a Morgan Bellevia bunt hit. A wild pitch and groundout followed from the bottom of HF-L's order to score runs.
Again, Brighton had a reply, this time in the form of a Cassidy Evanetski home run to straightaway center. That's the last scoring the Barons would do until the seventh, though, when the game was out of reach. Adcock, who'd struck out 11 in the sectional final, proceeded to allow one hit from innings three through six, striking out five batters across those four innings.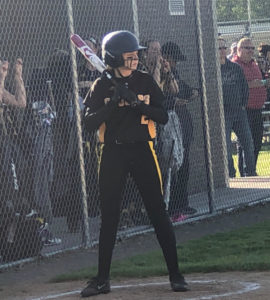 The sophomore right hander started to find the corners that she painted so consistently during Friday's Class A2 final. The strike zone, which had seemed tight in the early going, started to give Adcock the spots she was finding over and over. With her in cruise control in the middle innings, HF-L's bats just continued to tack on.
"I believe everything, with (Adcock's) best pitch, that she can strike the girl out," Spitz said.
In the fourth, Cougars' eight-hitter Olivia Friedlander lined a double into left center, then came around to score on a wild pitch. Schayes stayed hot with a lined single into center later in the inning, driving home nine-hitter Kelly Taylor, who'd reached via error.
Friedlander singled to lead off the sixth, coming around to score on Taylor's RBI double to right center field. The bottom of the order had gotten it done again.
"We're able to utilize people to get a little bunting going on," Smith said. "And then have those long hits and big hits when we need them to get the runners in."
In the seventh, a plausible deficit to comeback from turned into a romp. Spitz took the second pitch she saw over the left center field fence for a solo homer.
"I swung, and I saw it go up, and I was running and all of a sudden, I heard everybody cheering, and it was over the fence," Spitz said.
Adcock and Cody followed with singles. Two batters later, Friedlander laced a ball to right center, scoring both runs and winding up with her sliding into third with a two-run triple. Friedlander finished the game 3-for-3 with a sacrifice and two extra-base hits.
Olivia Friedlander lines a triple to right center for @HFLCSDAthletics. Two runs score. 10-2 @HFLCSDAthletics in the seventh. @PickinSplinters pic.twitter.com/HJxNsdHecg

— Billy Heyen (@Wheyen3) June 3, 2019
Adcock's roll slowed a bit in the seventh, as the Barons pushed three runs across for the final margin. But the HF-L bats had already ensured the Cougars' season would continue.
"We just knew we wanted to come out this season and play our best," Spitz said. "And prove to people that HF-L softball is more than everything. It's honestly amazing that we can all hit the ball."
Smith played softball at HF-L in the lean days of the late '00s. The final game of her high school career was a 15-0 loss to Mercy in the opening round of 2011 sectionals. A trip to the Far West Regional was nowhere near her mind as a player.
Now, though, that's exactly where the Smith-coached Cougars will be headed Saturday. Each time they win, they set a new program-best. With one through nine in the order hitting the way they are, the HF-L dream season could have a few more bests still to reach.
"Honestly, it's kind of unbelievable," Smith said. "When I played here we struggled quite a bit as a program. To see it come all this way. It starts from the youth program, from the girls working hard every day. And coming out and getting it is just incredible to see."