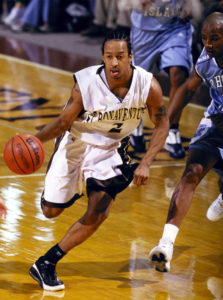 By CHUCKIE MAGGIO
The relationship between J.R. Bremer and Joe Lombardi is proof that the "Bona Bubble," a term affectionately coined by the St. Bonaventure community, is not limited to the university's alumni. If you have a connection to the school, you're liable to sustain those ties long after you leave Olean.
Lombardi hasn't been on the St. Bonaventure men's basketball coaching staff since 2001 and hadn't spoken much with his former point guard during Bremer's 15-year professional basketball career. But shortly after Bremer retired from European hoops in 2017, he reached out to Lombardi, the head coach at Division II power Indiana University of Pennsylvania since 2006, about his coaching aspirations.
Bremer's recruitment was one of the crowning achievements of Lombardi's nine-year tenure as an assistant at Bonaventure. In three years together they experienced two postseason runs, including the 2000 NCAA Tournament. Bremer developed into one of the best guards to ever wear a brown and white uniform, finishing fourth in the country in scoring in his senior season. The Cleveland Heights, Ohio native is still the last Bonnie to score 700 points in one season and one of just three players in program history to do so, along with Bob Lanier and Tom Stith. He played parts of three NBA seasons, earning an All-Rookie Second Team selection in 2002.
After learning of Bremer's intent to explore the coaching ranks, Lombardi offered him a volunteer coaching position on the IUP staff earlier this year. Bremer accepted, working with the Crimson Hawks four days a week for about two months. He worked out with the players, assisted with game preparation and gained experience with college-level coaching.
"I thought it would do him good in a couple of ways," Lombardi recalled. "Hopefully with some things to learn for him. I know that he had a lot to add to our guys, not only from a basketball strategic standpoint but also from a character standpoint, how to be a professional and how to go about being committed to your task… But the other thing was I thought it would help J.R. build his resume, getting some experience coaching. Although he was an NBA player at one time, it never came easy, and he's never afraid to do gruntwork.
"At the college coaching level, a lot of coaches hesitate to hire former NBA players because some of them do it not because of their love for the game but because they're not sure what else they can or want to do. Many of them aren't really ready to put in the grind that's there; they just see the sex appeal to the position of coaching, putting on a suit and coaching from the sideline. J.R. was contraire to that from a standpoint that he had no trouble getting up early. He sacrificed time with his family, he put in long hours and now he's earned himself a reference that he can be a guy that, if he wanted to get into college coaching or the NBA level, he'd be a guy that's gonna put in the work, not just be there for the status of it."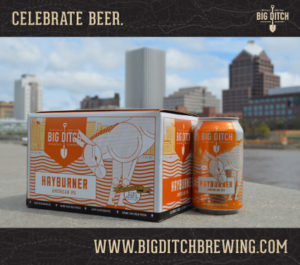 "He's been very important," Bremer said of Lombardi. "He's the one who recruited me from Cleveland Heights when I was a small kid who didn't have very many Division I offers. He saw something in me that a lot of the other teams didn't see… That's the good thing with basketball: you make so many relationships with so many different people. It's bigger than just basketball. Seventeen years later, everything comes full circle. Me and Coach Lombardi, when we talked it was like we had never not talked for a while… He taught me a lot talking to me and I learned a lot just watching."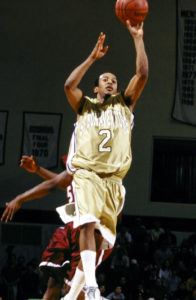 Bremer is starting his full-time coaching career at his high school alma mater, Cleveland Heights High School, where he won a state championship in 1997. Bremer, whose No. 22 was retired last year, was hired last week as the program's fourth head coach in as many years. After a 13-11 2018-19 led the school to another coaching search, Bremer was identified as the preferred candidate.
"Our school and community value alumni immensely so that weighed heavily," athletic director Joe D'Amato explained. "J.R. is our most successful basketball alum… It was a no-brainer for us. We just had to put together the right pieces to make it work for J.R."
Bremer didn't need much convincing. Lombardi was impressed with his stint at IUP, telling him coaching was something he should seriously look into. The prospect of coaching his alma mater while avoiding uprooting his young family made an overwhelming amount of sense.
One full circle experience was about to lead to another.
"I knew that coaching was something I wanted to do, and luckily the Heights job opened up a couple weeks later," Bremer commented. "From the time I was a kid I just loved the game of basketball. Every time I had the chance to play I gave it my all, playing for all these years and playing in different countries and at Bonaventure. I always gave 110 percent knowing that whatever happened, I gave my best. As my career winded down playing, I became more of a player-coach, teaching the younger guys on the team and they'd come to me for advice.
"Basketball is just a passion that I have and something that I love to do. Now that I'm not actually playing anymore I'm still able to teach and give advice and let kids know what it takes and what they need to do, from my past experiences. Basketball is great. I'm always gonna love it and I'm always gonna be passionate about it."
Watching St. Bonaventure play can be difficult for overseas basketball alumni, especially with the time difference challenges. Since Bremer has been home, he's been watching intently.
The 2000 team was Bona's first NCAA Tournament squad since 1978. Bremer, then a sophomore, scored 17 points in the first round overtime loss to Kentucky. He then dropped 22 in the next year's NIT loss at Pittsburgh and compiled 29 in his last college game, a 2002 NIT loss at Syracuse. He was a big-game bucket getter on a team that, pre-scandal, figured to be playing big games consistently in the 2000s.
Now that he's back in the same time zone and the Bonnies are back on the national stage, Bremer is enjoying SBU's success.
"I've been following them faithfully," he said. "I've been talking to (SBU strength and conditioning) Coach Fiske a lot through text message and Instagram and I'm just excited that they're back. We had a great run my four years there, going to NITs and the NCAAs, and then the scandal happened and the university and program fell off a little bit but now it's back going extremely hard.
"They're always the talk of the tournaments and they're always the talk of basketball. Even this year, they started off bad but they made an incredible run in the Atlantic 10 Tournament and just fell short at the end. They work hard and they continue to have success. Coach Schmidt really has the program going in the right direction."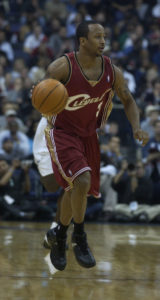 Shortly after he became a tournament talking point, Bremer played with the man who is now the talk of basketball: LeBron James. Bremer played 31 games for his hometown team in 2003-04, James's rookie campaign.
Before James was the most polarizing player in basketball history, he was a teenage phenom. A decade and a half later, Bremer still remembers playing with "The King" and witnessing his freak athleticism on a daily basis.
"Watching him progress has been amazing," Bremer said. "When I played with him he was a kid. Seventeen years old, he was a baby, coming straight out of high school. The progression has been amazing as far as how much he knows the game, understands the game, studies the game. He had the raw talent coming out of high school and now he's perfecting his craft. There's nothing that he can't do on the court and he's actually reading all the situations. He's one of the greatest, so that's been amazing to know that I started with him when he was a youngin. To see him now is incredible."
If Bremer's new players quiz him on his favorite memory of playing with LeBron, he already knows his anecdote.
"In practice, we were playing five-on-five and I threw an alley-oop that was terrible," he recalled. "I didn't think there was any way possible he was going to be able to catch it; there was a defender up under him. He jumped over the defender, and the ball had to be on the top of the square or a little bit higher. He jumped over the guy, caught it there and dunked it.
"That's when I knew he was gonna be a problem for many years."