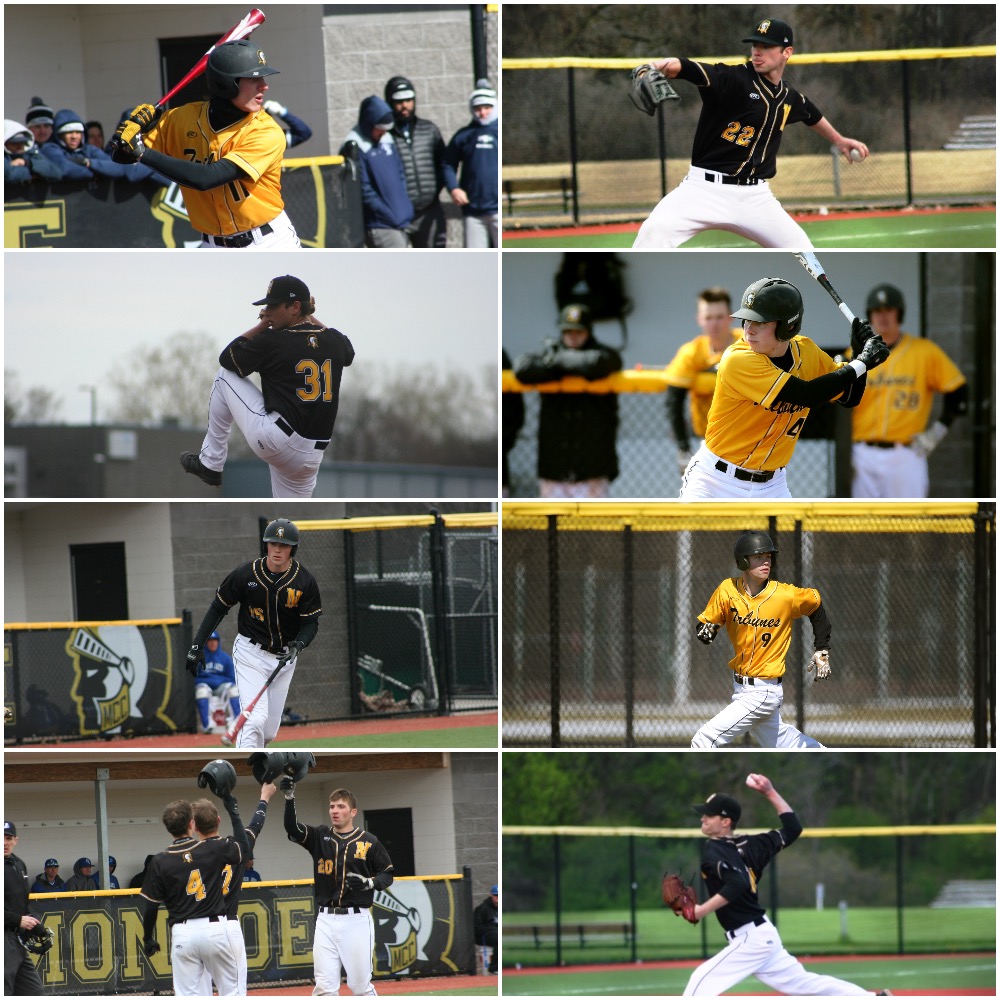 By PAUL GOTHAM
A trip to the 2019 NJCAA Division II World Series will be at stake when Monroe Community College hosts SUNY Ulster (20-19) in the East District Championship this weekend.
Coming off wins over UConn-Avery Point and Mercyhurst NE in last weekend's regionals, the Monroe nine (27-19) has won seven straight games.
Freshmen Trey Brown (Aquinas) and Evan Magill (Notre Dame Catholic/Ajax, ON) lead an MCC squad which is hitting .331 on the season with an on-base percentage (OBP) of .430.
Magill, hitting .368 with 13 extra-base hits, garnered MVP honors in last weekend's regional. Brown paces the offense with a .380 average and shares the lead in RBI with 38.
Cas Sobaszek (Rush-Henrietta) has crossed home a team-high 52 times. The sophomore shortstop leads the Tribunes with 26 base on balls. Sobaszek and Sean Flannery (Wayne) have swiped a team-high 23 bags.


Phil Ferranti (Webster Schroeder) broke a program career record with his 40th double last weekend. An NJCAA All-American a year ago, Ferranti has 38 RBI and a team-high slugging percentage of .519.
Sam Loew (Binghamton) has driven in 35 runs while Logan Martella-Tasick (Penfield) has three of the Tribunes nine home runs. TJ Lucey (Fairport) is hitting .328 with an OBP of .443 while Ethan Pasco (Saint Paul Catholic/Niagara Falls, ON) is hitting .325 with an OBP of .491.
Matt Petrossi (Fairport) has logged 50.2 innings on the mound for the Tribunes this season. The sophomore right-hander has struck out 45 batters with 14 walks. Brennen Smith (Webster Thomas) has set down 47 on strikes over 37.1 innings on the hill. Chris LeVere (King George/King George, VA) has four wins in nine starts. Jordan Bryant (Mitchell District/Mitchell, ON) earned Most Valuable Pitcher in the regionals last weekend.


SUNY Ulster, the Region 15 champion, snapped Rockland CC's 26-winning streak and knocked off the top seed in the championship game. The Senators opened the tournament with a loss and in effect won four straight elimination games to advance.
AJ Gonzalez leads Ulster hitting .438 with 51 RBI. Genesis Nunez hit .338 for the Senators with six home runs and 32 RBI. Yan Infante made 13 appearances on the mound with a record of 8-2.
The best-of-three series opens Friday with a 1 PM first pitch from Tribune Field. The series continues Saturday with a noon start again at MCC. Game three (if necessary) will follow game two on Saturday.