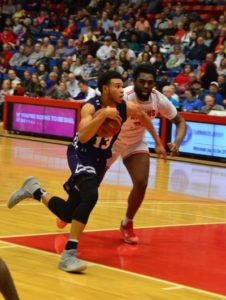 By CHUCKIE MAGGIO
Mark Schmidt looked Gia Holmes in the eyes and was direct as ever about the 6-foot-4 teenager in the room.
"I believe this is the best fit for your son," Schmidt said.
As they returned home to Detroit, Holmes and her son agreed with the 12th-year coach. St. Bonaventure's campus reminded Jaren English of Ranger College, where he spent his freshman year. SBU's academics satisfied Holmes, a long-time educator who has always stressed that school is the top priority in her household. The Jandoli School, where English will pursue a communications degree, passed the eye test.
English made his decision official Tuesday night, tweeting that he was "110% committed." The guard/forward, who said he's played the two-guard, small forward and even small-ball four positions, has three years of eligibility.
"Overall, the love that I felt there, it felt like home as soon as I touched campus," English said of Bonaventure. "I just fell in love with the people around, the teammates… the community. My mom and I went up there with high expectations and every expectation was met. Leaving there, we knew it was the right school; we just wanted to make sure and take our time. The presentation that Coach Schmidt and Coach (Steve) Curran laid out for us, they did a remarkable job presenting the school.
"I'm excited. I'm excited to play with the guys and hopefully get some A-10 championships in there and some NCAA Tourney runs."
English averaged 12 points on 49 percent shooting at Ranger, a school he "loved." He also grabbed five rebounds a contest along with averaging two assists and 1.3 steals. Ranger, coached by former Texas A&M and Kentucky coach Billy Gillispie, compiled a 31-4 record and advanced deep into March, falling to Vincennes University in the NJCAA Men's Division I National Championship.
English's play in his lone JUCO season earned him the elusive Division I offer he had been dreaming of. Despite powering Romulus High School to the Class A state semifinals and being named to the Detroit News All-Area basketball team in 2017, the highest caliber offers he received came from D-II coaches.
"Just the struggle," English remarked. "Coming out of high school, after really just playing hard and us going to the state semis, I had a great run that senior trial. … Then I played the summer of AAU as a senior and again, everybody just said I was a Division II player. So I took the prep school route and that just wasn't a good fit."
People told English his ceiling was Division II, which he bristled at.
"Overall, just knowing my worth and knowing how good I know I am, it just kind of motivated me to make sure that I make it Division I," English said. "Not to prove everybody wrong, because I don't really care what everybody thinks; I'm not that type of guy. But just really to prove to myself and make my mom proud and my grandparents proud, especially. A lot of people were telling them, trying to tell me what to do, and they stuck by me the whole way. I'm just blessed to have this opportunity to play for St. Bonaventure."
English comes from an athletic family; his brother William is a pitcher/outfielder in the Los Angeles Angels organization, a fifth round selection in last year's draft. The men credit Holmes, who raised them as a single mother, for their athletic and academic successes.
Bona's coaching staff took care of Holmes on the visit, talking with her while English was hanging out and playing pickup with his future teammates. Schmidt and the coaching staff prioritized those discussions as they made their pitch.
"They were always talking to her, trying to get a sense of where her head was at, making her feel at home," English said. "(Schmidt) basically said that he promises to help me in all my endeavors, trying to reach my goals. He believes in my dreams and my abilities."
English joins a packed Class of 2022 that includes Kyle Lofton, Osun Osunniyi, Dominick Welch, Bobby Planutis and Alpha Okoli. Six of the eight players currently committed for that season will be seniors.
Lofton's role in recruiting has become prolific, and English's recruitment was no different. Lofton texted English two days before he committed to Schmidt, asking what he was thinking and reiterating that he would be excited to play with him. The move "meant a lot," English commented, "after the year he had."
The rising sophomores were a "big part" of the process. English spent the entire weekend with Lofton, Welch and Okoli and ate lunch with Osunniyi before the big man had to go home.
"Those guys just opened their arms out to me and showed a lot of love, showed that it's a brotherhood," English recalled. "We just had a good time, having fun. … They were just telling me that they'd love to have me; we played open gym. I had a great time, really. It was fun."
English watched Bonaventure's narrow defeat to Saint Louis in the Atlantic 10 final. That game was proof that visions of conference titles and tourney runs will be difficult to make reality, no matter how much talent is on the roster. As he brings his winning pedigree to Olean, his goal is to be a difference-maker.
"I'm a person that's going to give his all… anything you need, really. Whatever they need me to do that night to make sure the Bonnies get a win," English said. "And that's what I plan on doing. I plan on helping the Bonnies make this run. They got so close last year… a couple plays and they win that game. I'm excited. If those plays are in my hands, I feel like I can make them.
"If it comes down to it and Coach Schmidt needs me to make a play, I feel like I can do it. So I'm excited."