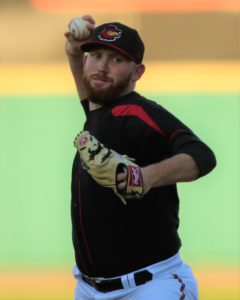 By PAUL GOTHAM
ROCHESTER, N.Y. — Zack Littell overcame a rocky first inning, and the Rochester Red Wings found their offense in the fourth and fifth frames for a 7-1 victory over the Toledo Mud Hens, Wednesday night at Frontier Field.
Littell (2-2) struck out seven and walked three over six innings for his second win in four starts.
"He kept the ball in the middle of the plate, challenged the hitters and put some guys away," second-year Wings manager Joel Skinner said. "He got some breaking balls over, so they had to respect that. Spotted up his fastball and then he was able to climb the ladder a couple times with it."
The right-hander walked two in the first, an inning in which he threw 31 of his 98 pitches on the night.
"If you take away the first inning and just give him let's say league average he was pretty efficient," Skinner noted. "First inning got him a little bit pitch-count wise. He settled in, had a good mix of pitches and went from there."
VIEW MORE JOE TERRITO PHOTOS HERE.
The 11th round pick in the 2013 MLB Draft out of Eastern Alamance High School (North Carolina) retired 10 of the last 11 he faced including his final frame when he needed 15 pitches to fan the side in order.
"It was a matter of getting through the first inning," Littell said. "I went out there and my mechanics felt a little bit off. Just had to get going. Once I found that groove, got going after the first inning and it was pretty smooth sailing after that.
"Breaking stuff was good tonight. It took me a little while to find the fastball command but later innings it was there."
John Andreoli gave Rochester the lead in the fourth with his third home run of the season. After going down 0-2 in the count, the Wings centerfielder connected on a Tyler Alexander fastball.
"Zack Littell absolutely pitched a gem," Andreoli said. "He pounded the zone. Walked a couple guys early but found himself. He put us in a really good position to come back and score some runs and give us a chance to win a game."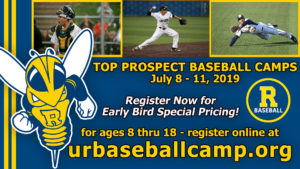 Seeing a heavy dose of change-ups early in the at-bat, Andreoli fouled off six pitches before finding one he liked.
"I was able to just nick off and compete," Andreoli explained. "Eventually got a fastball out over the plate and was able to stay through it.
"Just wanted to compete and felt pretty good with my timing. Fought off a couple really good pitches that he made."
Andreoli plated Zander Wiel with the blast to left field.
"Andreoli hitting the home run kinda sparked everybody," Skinner stated. "That was a long at bat, and he finally got something he could handle. That was big to put us ahead."
Nick Gordon capped a four-run fifth with a bases-loaded single that brought in Andreoli and Jordan Valdespin.
"He's had some good at-bats," Skinner said of his leadoff man who was making his fifth start since opening the season on the disabled list.  "Got some hits on the road."
Brent Rooker started the fifth-inning outburst with a one-out single. Wiel put runners on first and second with one of his three hits on the night. After a balk and a wild pitch brought in the first run of the frame, Valdespin singled and scored Wiel. Drew Maggi walked to load the bases, and Gordon delivered with two outs.
BUY ROCHESTER RED WING TICKETS HERE. 
"He's giving himself a chance at the plate," Skinner said. "He's laid off some tough pitches."
Gordon finished 2-for-5 on the night. Booker went 2-for-4 with two runs scored. Valdespin was 2-for-4.
Tyler Duffey struck out three and allowed one hit over two shutout innings of relief.
Austin Adams retired all three batters he faced in the ninth.
The win was third in the last four games for Rochester (13-17).
Rochester and Toledo continue their series Thursday night with 7:05 start. Chase De Jong (0-3) will get the ball for Rochester.