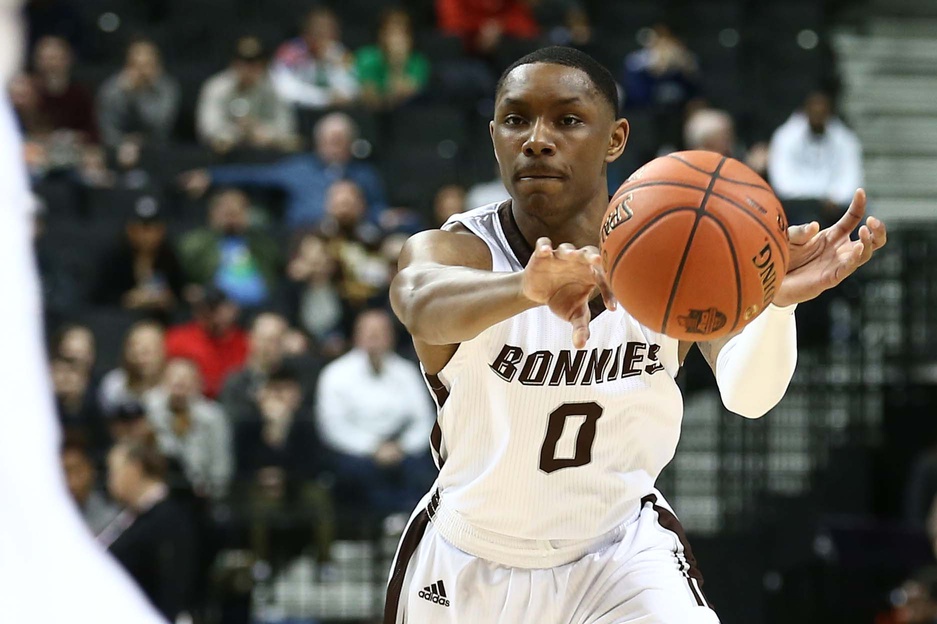 By CHUCKIE MAGGIO
While St. Bonaventure, Syracuse and Georgetown fans intently awaited Osun Osunniyi's decision last spring, Kyle Lofton was laughing.
"Osun Osunniyi will announce his decision at the #PSAhoops National Championship Dinner Monday!" Putnam Science Academy's Twitter account reported. Lofton's response: "LOL." "You know where he going bro," he told a friend in the live stream's comments section, after he had thrown in some eye emojis to feign the suspense.
Lofton, like many people, is reserved when you first meet him. The soft-spoken star isn't as comfortable as Osunniyi in front of a press conference microphone and is a man of few words when queries are directed his way. To see the outgoing, gregarious Lofton, you have to see him with his peers. When the "LOL" social media personality starts translating to real life, you understand how he became one of St. Bonaventure's most important recruiters.
Putnam's "Pipeline" to Bonaventure is three links long now, as Lofton and Osunniyi will welcome Justin Winston to campus this summer. A fourth Putnam product, Kareem Reid, visited earlier this week. Lofton was in the Reilly Center gym, of course, during Reid's SBU jersey photoshoot. He was at Olean sushi restaurant Oishi with fellow tri-state basketball product Alejandro Vasquez on Vasquez's visit last weekend. When Vasquez asked his Instagram followers how he looked in the gray Bonnies jersey, Lofton was in the comments with a smirk emoji.
NBA players have been routinely criticized for teaming up to try to win a championship. In college ball, player involvement in recruiting has become a successful aspect of the process. If there's a recruit to be signed, Lofton is there.
"He's the general manager over there," Putnam coach Tom Espinosa said with a laugh. "Kyle's a leader, he's's a winner. I could see when he played for me, people just follow Kyle. He's one of those natural leaders. I don't think anyone wants to win more than Kyle Lofton. … Because he wants to win so bad, he wants the best players around him."
Don't let the Pipeline's rapid ascension fool you; not every Putnam player is welcomed to the southern tier for a visit. Lofton communicates with both coaching staffs, telling them which players he wants at Bonaventure and which players he wants SBU to pass on.
While Osunniyi, Winston and Reid clearly passed their evaluations, not every PSA prospect was as fortunate.
"He's picky," Espinosa said. "He's very particular, because he wants to win. … His number one thing is, 'Does he play hard enough?' Just playing at that level for 40 minutes as hard as you can. He's all business when it comes to basketball, in all aspects. And the kids can see that and they respect that. That's what we stress at Putnam."
Lofton and Osunniyi were each selected to the Atlantic 10 All-Rookie team after impressive freshman seasons. Lofton was second on the team in scoring while leading the Bonnies in assists and steals. Osunniyi ranked sixth in Division I in blocks per game and was Bona's leading rebounder.
Bonnies head coach Mark Schmidt and associate head coach Steve Curran found two four-year starters at Connecticut's small basketball powerhouse. Some Bonnies fans have embraced the prep school more than they support their own high school alma maters. After all, how many of their alma maters are sending elite college ballplayers to Allegany?
"It's a great thing. Steve Curran, he's in our gym more than almost any other college coach in the country," Espinosa said. "People will joke about that, non-St. Bonnies fans from other schools, they'll be like, 'Oh, are you gonna send him to St. Bonnies? You gonna send him to St. Bonnies?' But they work hard, they're in our gym a lot. They're in our gym probably more than any other A-10 school.
"You get that trend. I sent three kids in a row to Quinnipiac, three guys in a row to Rider. Next year we'll have a junior, sophomore and a freshman at Texas Tech. Coaches will keep coming back to schools that they recruit successful kids, so they'll keep coming back. I'm happy to send them to whoever deserves them."
Espinosa wouldn't put a number on how far the Pipeline can go and wouldn't break any news on Reid's decision, but the connection between the two schools is still going strong.
"For years to come? Who knows. I can say this, it's worked out thus far with Kyle and Osun, and there'll be other guys going there and I'm sure they'll be successful," Espinosa commented. "The coaching staff, we've built a great relationship with them and like I said, they work hard. That's what the business is all about. I'm happy to send them to St. Bonnies. It makes me feel good that they're going there because I know they'll do the right thing and they'll push the kids and they'll reach their full potential on and off the court.
"We'll continue to send kids to St. Bonnies, I'm sure."