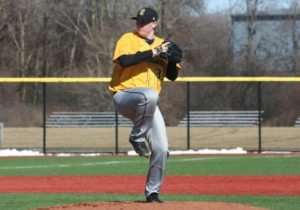 By PAUL GOTHAM
ROCHESTER, N.Y. —  Nate Hampson (Victor) was one out away from tossing five shutout innings when the freshman starter left one up in the zone to Mercyhurst NE's Brandon Scheidmantle. One inning later, the Monroe Community College baseball team fell behind for the first time on the afternoon and did not recover.
Scheidmantle collected two hits including an RBI triple and scored two runs as Mercyhurst NE downed MCC, 5-3 in NJCAA Region 3 Division II action from Tribune Field, Tuesday.
Monroe (20-19) had won four straight, including three of those against Mercyhurst, coming into the game.
Hampson allowed two runs on four hits and three walks. The left-hander, who went five innings in a win over Erie CC in his most recent outing, struck out four. He had retired six of seven and had not allowed a runner past second through 4.2 frames when Scheidmantle plated Santos Cruz with a two-out three-bagger into the right field corner. Scheidmantle then scored on a passed ball.
Cas Sobaszek (Rush-Henrietta) spotted the Tribunes an early lead when the sophomore shortstop plated Sean Flannery (Wayne) and Ethan Pasco (Saint Paul Catholic/Niagara Falls, ON) with a two-out double in the second inning.


Scheidmantle robbed Sobaszek of a sure hit in the fourth inning. With Pasco breaking from second on contact, Sobaszek sent a sinking line drive into center field that Scheidmantle plucked before it hit the turf with a diving catch.
Monroe put two runners on with one out in the fifth, but a base running mistake short-circuited the rally.
Padraig O'Shaughnessy added two insurance runs for Mercyhurst NE in the ninth with a two-out double that scored Scheidmantle and pinch runner Devin Bishop.

Monroe threatened in the final at bat. Logan Martella-Tasick (Penfield) and Sobaszek worked back-to-back walks. Evan Magill (Notre Dame Catholic/Ajax, ON) brought in a run with a single.
Magill finished with two hits including a two-double in the seventh.
The same two teams will regional tournament scheduled for next month at Tribune Field.
Monroe travels to play Utica College JV on Thursday.
The Tribunes host Ithaca College JV on Saturday. A 1 PM first pitch is scheduled.