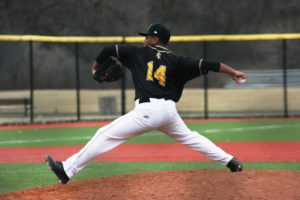 By PAUL GOTHAM
ROCHESTER, N.Y. — On Thursday afternoon the Monroe Community College baseball team showed glimpses of what head coach Dave Brust envisioned for the 2019 season.
And for all 16 innings played, the Tribunes did not trail in a doubleheader sweep (4-2/12-1) of regional foe, Mercyhurst NE.
"The things I thought we were good at are starting to show up," Brust said after the Tribs' (20-18) fourth straight win and fifth in the last six games. "It's good to see us getting momentum."
The defense played errorless ball. Five pitchers held opposing batters in check, and the offense exploded for eight runs in the first inning of game two. With the wins, Monroe secured home-field advantage for the Region 3 Division II tournament in May.


"Getting the No. 1 seed is big," Brust noted.
Sean Flannery (Wayne) snapped a scoreless tie in the fourth inning of game one with a two-out RBI single. One inning later, Logan Martella-Tasick (Penfield) took advantage of a Mercyhurst error to the give the Black and Gold a lead it did not surrender.
"The whole offense was pretty good," Brust noted. "Today was a perfect example of the offense taking pressure off the pitching."
Chris Levere (King George, VA) and Brennen Smith (Webster Thomas) combined to hold Mercyhurst to two runs on four hits in game one. Levere hurled 4.2 innings and faced the minimum in three of the first four innings. He surrendered three consecutive two-out hits in the fifth before giving way to Smith.
Mercyhurst scored two runs in the inning. It was the last time the Saints really threatened for the afternoon.
Smith, who fell one pitch shy of an Immaculate Inning in a recent outing, had a wild pitch, hit a batter and gave up a single.
"Brennen didn't have his best stuff today," Brust said. "But he did what we needed to get a win."


Phil Ferranti (Webster Schroeder) capped three straight two-out hits in the fifth to get MCC another run. With the bases empty, Evan Magill (Notre Dame Catholic/Ajax, ON) doubled to left center. Jose Ramos (Poinciana/Kissimmee, FL) put runners on the corners with an infield single, and Ferranti delivered from there.
Monroe left little to chance in the nightcap sending 14 to the plate in an eight-run first inning. Ethan Pasco (Saint Paul Catholic/Niagara Falls, ON) highlighted the deluge with a bases-clearing double.
"Pasco is a variable they weren't prepared for," Brust said referring to doubleheader split at Mercyhurst earlier in the month.
The Tribunes outfielder didn't play when Monroe opened conference play on April 9th and has been sidelined off and on throughout the early going of the season with a nagging leg injury. He was in the lineup on Thursday as well as Flannery and Trey Brown (Aquinas). Flannery has been limited because of an injury to designated hitter responsibilities since March. On Thursday, the freshman played second base and was a part of two double plays turned by the Monroe infield. Brown, who has been struggling with a hamstring pull, played right field and made a spectacular sliding catch.
"The defense showed its capabilities today," Brust stated.
Pasco scored on a Sam Loew (Binghamton) RBI single. Cas Sobaszek (Rush-Henrietta) and Brown followed with back-to-back RBI hits to give Monroe a commanding lead.
Flannery reached on an error in the fourth and scored on a Loew sacrifice fly. Flannery doubled and scored in the sixth.
TJ Lucey (Fairport) added the final two runs with a two-out, two-run single in the seventh.
Matt Petrossi (Fairport) started and hurled six complete for his third win of the season. The sophomore right-hander struck out four and surrendered seven hits. Kyle Clark (Milton District/Milton, ON) tossed two scoreless frames and retired six of the seven batters he faced. Jordan Bryant (Mitchell District/Mitchell, ON) worked a perfect ninth.
Monroe travels to play at Ithaca College JV this Saturday. The Tribunes host Mercyhurst NE again on Tuesday for a single nine-inning game. A 1 PM first pitch is scheduled.