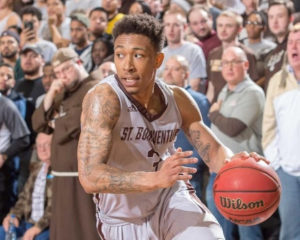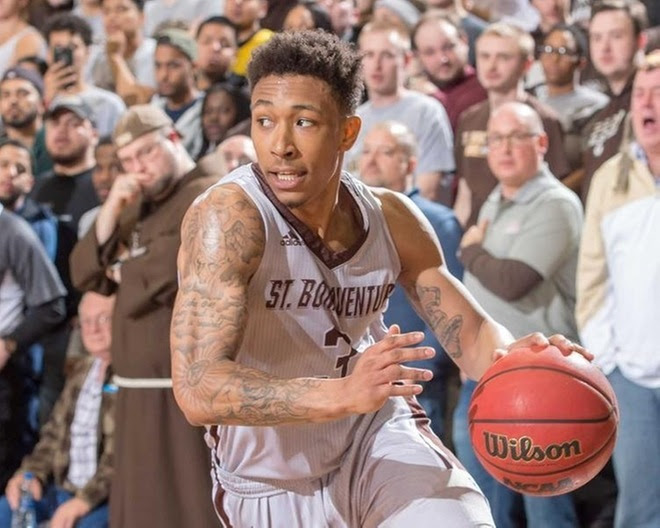 By CHUCKIE MAGGIO
Let their 23-59 record this season fool you at your own risk: the Atlanta Hawks have a promising future. While other Eastern Conference lottery teams are praying for marquee free agents (looking at you, New York), resigning to the fact that they need to rebuild (hello, Washington) or caught somewhere between the future and still signing J.R. Smith's checks, the Hawks have a transparent plan in place.
Atlanta has just two players over 30 and one is a Hall of Fame lock. Twelve of the 16 players who finished the season on the Hawks roster are 25 or younger. Included in that group are NBA Rookie of the Year candidate Trae Young, budding young forward John Collins and, of course, St. Bonaventure alumnus Jaylen Adams.
As an undrafted two-way player, Adams didn't enter the season with the same NBA assurance as his fellow rookies. After averaging 14 points and nearly six assists in 20 G-League games, however, the former Atlantic 10 Player of the Year was signed to a multi-year NBA contract when Jeremy Lin's contract was bought out in February.
Adams averaged four points, 2.5 assists and 2.3 rebounds in about 16 minutes a game after his promotion. His best game was a 14-point, four-assist, four-rebound game in Chicago on March 3. The Hawks went 10-14 after he became a full-time NBA player, with wins over playoff teams like the Philadelphia 76ers (twice), Utah Jazz and Milwaukee Bucks. He earned his first start in the penultimate game of the season, recording a career-high five rebounds.
Back home in Baltimore, Adams has some down time before Summer League in July. After six months of travel, four of which were split between Erie and Atlanta, he could finally reflect on year one.
"I think it was a good year overall, just considering where I started and where I ended up, for sure," Adams said. "That was the goal going in, just talking to my agent and talking to everybody throughout the team since really Summer League, but a little bit before Summer League. It was a good year, I learned a lot and definitely look forward to next year."
Adams played in 54 games between G-League and the Association, 20 more than his senior season at St. Bonaventure. The extended schedule causes some rookies to hit a "Rookie Wall," a natural midseason slump where the rigors of pro ball are starting to set in.
While there is certainly an adjustment period, Adams offered a different view of life as a professional.
"Work-wise, going in, you know there's no more class, no more anything that you've gotta do; it's your job now. So it kind of makes it easier to show up and think about the work, come in and play hard," Adams said. "That simple fact kind of makes it easier to go out there and do what you've gotta do every day. But the whole Bonaventure grind of it all, I had to get better every year at Bonaventure in order to get where I'm at, so I hope to keep building and growing every single year. I'm blessed to be in this league."
The Hawks were on a shortlist of organizations who invited Adams to pre-draft workouts in both 2017 and 2018, and general manager Travis Schlenk scouted the Bonaventure-Davidson triple overtime thriller at the Reilly Center in Adams's senior season. Atlanta was a fan of Adams's game well before last summer.
Schlenk and coach Lloyd Pierce were pleased with their young point guard's first campaign, giving him valuable feedback in the end-of-season exit meeting. Adams, who will be playing on the Hawks' Summer League roster for the second consecutive year, took a proactive role in assessing what he needs to work on.
"They let me know it was a good year… it was special to really be in the mix and be a part of that. I had a lot of fun knowing that they think the kinds of things I think," he said. "Probably the biggest thing that I really took away from the meeting was I want to speed my release up; they agreed with me on that. Just being able to get it off quicker, especially seeing the way I was defended towards the end of the year, a lot more (undercuts) than I'm used to. I definitely want to be able to get back to shooting every single one of those.
"And they just told me to get ready for Summer League. Summer League is going to be me, a couple young guys plus the new guys they bring in, so I think this is going to be another opportunity to me to grow and really prove I belong here."
With so much youth on one team, 42-year-old Vince Carter took on an important leadership role when he signed a one-year contract before the season. When Carter made his NBA debut on Feb. 5, 1999, Adams was two; Young was five months old.
The 21-year vet can still ball; he posted two 21-point games this season, breaking his own record as the oldest player to score 20 points in a game. "Vinsanity" made an appearance in November, when Carter earned his 25,000th NBA point by way of, of course, a dunk.
Carter plans to return for a 22nd season, to "stretch it out one more." Whether the last ride is with the Hawks or elsewhere (he's an unrestricted free agent this summer), the legend has made an impact on Adams.
"The first thing you get from him is how professional he is," Adams said. "Comes in, he's all about his work, he makes sure he gets treatment every day. It's not easy to play in the league and he's already being doubted off his age… it's not easy to be a part of a team at that age, let alone contribute. It was crazy, just to watch him come in and knock down shots and be important off the bench.
"Just being around him every day, you pick up a few things and you realize he's a cool guy, like legend you grew up with turns out to like the same things as you. It's been a crazy experience and I definitely think it's gonna help me moving forward."