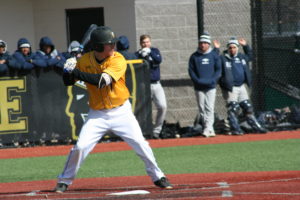 By PAUL GOTHAM
ROCHESTER, N.Y. — Dylan Clark (Milton District/Milton, ON) allowed two runs on four hits in a complete-game effort, and the Monroe Community College baseball team swept Erie Community College (15-3/8-2) in NJCAA action at Tribune Field, Saturday.
Clark struck out eight, walked none and improved to 2-1 with his longest outing of the season. The sophomore right-hander allowed two runs on a pair of one-out doubles and a hit batsman in the first inning. He retired 20 of the next 22 batters he faced including 12 straight from the end of the third inning until surrendering a two-out base hit in the seventh frame.
"His slider was really good," Monroe head coach Dave Brust said. "It was great to see Dylan throwing strikes and competing. He bounced back after a bumpy first inning. I'm very happy for him."
Clark's previous longest outing was a six-inning effort in an 8-4 win over Northampton Community College on April 6th. He has now thrown 18 innings this season.
Evan Magill (Notre Dame Catholic/Ajax, ON) finished 3-for-4 in the game. Magill got Monroe on the scoreboard in the second inning with a solo shot to left center. He gave Monroe a lead it did not surrender when he plated Sam Loew (Binghamton) with a two-out RBI base hit in the third inning.
Trey Brown (Aquinas) went 2-for-3 with a walk and supplied insurance runs with a two-out single in the fifth that brought home Sean Flannery (Wayne) and Logan Martella-Tasick (Penfield) for the final margin of victory.


Martella-Tasick drove in five runs in the opener going 2-for-3 with a double and a home run.
"Logan is very committed, very dedicated," Brust noted. "He works all the time, super coachable. It's paying off with games like today."
Martella-Tasick's three-run shot in the third inning helped the Tribs stretch their advantage to six at 8-2. One inning later, the sophomore centerfielder drove in two with a double as the Tribunes put the game  out of reach at 15-2.
Flannery went 4-for-5 in the twin bill with two walks, four runs scored and three RBI.
TJ Lucey (Fairport) went 2-for-2 with a double, a walk, two RBI and three runs scored in the first game. Jose Ramos (Poinciana/Kissimmee, FL) with an RBI and two runs scored. Phil Ferranti (Webster Schroeder) was 2-for-4 and scored a run.


Nate Hampson (Victor) picked up the win in game one. The freshman left-hander struck out eight, walked one and matched his previous longest outing of the season going five frames. He improved to 2-2.
Monroe improved to 18-18 with their first sweep since March 28th. Since then the Tribunes have four DH splits and one instance where they dropped a pair.
"We're close," said Brust whose 2018 club started 12-18 before rattling off 18 straight wins and advancing to the NJCAA Division II World Series. "We're right there. We have all the right pieces. It's just that guys have to be committed to playing team baseball."
Monroe travels to play at Erie on Sunday. A 1 PM first pitch is scheduled.  The Tribunes next home date is Thursday, April 18th when they host regional foe Mercyhurst NE.