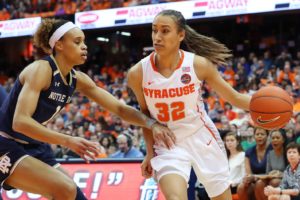 By CHUCKIE MAGGIO
The first glimpses of Miranda Drummond's professional basketball potential came in the Reilly Center in December 2015.
St. Bonaventure was 4-2 with a three-game win streak entering a Dec. 5 matchup with Georgetown, but star forward Katie Healy was on the bench in a walking boot. Healy suffered an ankle injury the day before that sidelined her for four games, leaving the Bonnies without their leading scorer and rebounder.
All the then-sophomore Drummond did during that four-game stretch was average 16 points on 53 percent shooting, including 11 three-pointers and her first two 20-point games. She also grabbed over five rebounds a contest to ease the defensive impact of Healy's absence.
Bonaventure won all four games, an accomplishment that loomed large in March when SBU earned an at-large bid to the NCAA Tournament.
The Binghamton native wasn't thinking about the pro ranks that December, or even throughout most of her senior season three years later. The 6-foot-1 forward doesn't have a favorite pro player and hasn't dreamt of playing at the highest level. Physical therapy school was still the postgraduate plan until Syracuse coach Quentin Hillsman was contacted by coaches about Drummond playing for their teams overseas.
According to women's basketball writer Howard Megdal, Drummond may not have to go international; he projects her as a third round pick in Wednesday's WNBA Draft, going 33rd to the Connecticut Sun.
The second-leading scorer on a 25-win Orange team is bound to garner the consideration of WNBA scouts. Drummond was a three-point threat her entire career, knocking down 38 percent of her long-range attempts. She was also one of the best two-way players, averaging about 5.5 boards at Syracuse while committing fewer than two fouls a game.
If you haven't received a draft watch party invitation, however, don't worry: Drummond isn't having one, saying she will most likely be out to eat with her friends while names are announced.
"It's exciting but I'm not getting my hopes up," Drummond said. "I do not think I will get drafted but if I were to get invited to a training camp that would be cool."
Drummond would be the first former St. Bonaventure player to play in the top women's league, but one of the main reasons she is in the conversation is the Atlantic Coast Conference exposure she received after she transferred to SU in summer 2016. That move was a direct result of coach Jim Crowley leaving Bona to coach at Providence College after the brown and white's run in the big dance. The team learned of Crowley's departure on May 10, while Drummond was granted a release from her scholarship on May 23 and committed to Syracuse on June 14.
Drummond still keeps close contact with former Bonaventure teammates and paid visits during the college hoops offseason. Despite not graduating from SBU, she is well aware of the well-traveled saying: "Once a Bonnie, Always a Bonnie."
"Looking back at my time at St. Bonaventure, I love the university, I love the people and you know the atmosphere is something that I will never be able to experience at any other place," Drummond said. "To be a Bonnie means a lot to me and I will never forget the time that I spent there on and off the court.
"I have thought about it… I don't think it would've come to my mind to just leave especially after we came off a great season. However, my time at Syracuse has been a great experience. I've learned a lot and to play on such a big stage has given me more exposure for overseas and possibly WNBA coaches to watch me play."
Crowley and Hillsman were both major supporters of Drummond's game. Crowley encouraged Drummond to attack the basket more and playfully attributed her modest first-year playing time to "bad coaching," while Hillsman told her he was taking her out if she didn't shoot the ball.
Drummond cited that shooting, as well as her endurance to run the floor in transition, as her biggest assets for the next stage in her career. She noted that she needs to work on her mid range game as well as attacking the basket more like she used to rather than relying solely on her three-point jumper.
One thing's for sure: Drummond will be playing ball somewhere next year. The overseas coaches are making sure of that.
"I guess that's when I started to consider putting aside physical therapy school for a year to see what it's like."