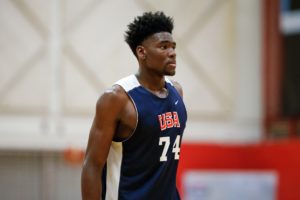 By PAUL GOTHAM
Scott Fitch spent the better part of four months preparing his Fairport Red Raiders for the 2019 Section V Class AA playoffs. He will condense that approach into three days as head coach of the USA Basketball Junior National Select Team that will compete in the 2019 Nike Hoop Summit.
"Definitely excited for the challenge of it," Fitch said earlier this week while waiting to board a plane from Chicago's O'Hare International Airport heading to Portland, Oregon. "It seems like a little dose of reality getting on the plane to actually go like it's really going to happen. I've done a lot to prepare. I feel ready."
The USA Junior National Team will take the court Friday night for a 10 PM (EST) tip off  in the 22nd annual event held at the Moda Center – the home of the NBA's Portland Trail Blazers. ESPN2 will televise the game pitting the best high school seniors from the United States against a roster of international stars.
"The challenge is it's such a short stint to try and be organized," Fitch added.  "I love connecting with the guys. You've only got about 48 hours to do that. I've tried to do things in preparation to help me make those connections."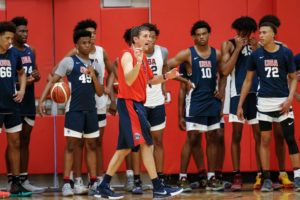 Guiding the 2019 junior squad, Fitch will be in his fourth role with USA Basketball having served as an assistant with the 2018 U17 World Cup team which took the gold medal and the 2017 U16 national team. He served as court coach for the 2018 Junior National Team October Minicamp.
"It's not like our trip to Argentina where we had 10, 11 days to prepare," Fitch said referring to the World Cup team. "You had scrimmages and practice games and then you get to the tournament. This is very different. This is very intense.
"You're trying to put everything in, man offense, zone offense, defense all within a matter of three practices which is pretty close to impossible."
Nine former No. 1 overall picks in the NBA Draft have played in the Nike Hoop Summit in past years with league MVPs Kevin Durant, Kevin Garnett, Dirk Nowitzki and Derrick Rose being a part of past events.
"In about a year, these will be the names that everybody hears and sees," Fitch said referring to the current squad. "A lot of the NBA representatives will be there just because you're dealing with kids who will be lottery picks in 2020."
One of those names is former McQuaid Jesuit star Isaiah Stewart.
"He's been playing great," Fitch said of Stewart who is the only player on the team from Upstate New York. "It's such a great thing for our area to have a kid of that caliber. It's a really nice compliment to him. The fact that we're represented in this game is pretty incredible."
Stewart, a University of Washington commit, will team up with Jeremiah Robinson-Earl (Villanova) from IMG Academy. The two faced each other last weekend in the GEICO Nationals – a game that IMG won. Robinson-Earl scored 18 points and earned tournament MVP. Stewart scored 14 points and grabbed seven rebounds. (Former Irondequoit start Gerald Drumgoole hit a pair of threes in the game).
Memphis commit James Wiseman (No. 1 ESPN Class of 2019) will wear the Red, White and Blue as well as Cole Anthony (No. 2 ESPN Class of 2019), Wendell Moore, Jr. (Duke), Tyrese Maxey (Kentucky), Justin Moore (Villanova) and Isaac Okoro (Auburn).
Team USA is 5-5 in the last 10 games of this event.
"A lot of them are coming from the McDonald's All-Star Game, so you've got to get them back into team mode as opposed to individual mode," Fitch explained. "I think that's going to be one of the challenges for us is trying to get a cohesive group in a matter of 48 hours."
The World Team roster includes Oscar Tshiebwe (West Virginia) and Kofi Cockburn (Illinois).