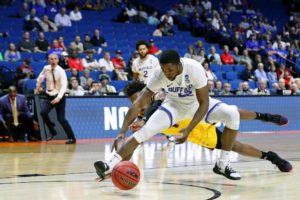 By PAUL GOTHAM
It's a contrast of styles with a wrinkle.
N0. 6 seed University at Buffalo (32-3) meets No. 3 Texas Tech (27-6) Sunday in West Region action with a spot in the Sweet Sixteen at stake.
At first glance the game pits one of the best defenses in the nation (Texas Tech – allowing 59.3 points per game/sixth in the country) going up against a top ten offense (Buffalo 84.9 points per game/fifth).
Just don't think either team is incapable at both ends of the floor.
"They're just tough and physical and hard-nosed," UB head coach Nate Oats said during Saturday's press conference. "Schematic-wise, they don't let you get to your stuff. They get the ball to a side. They keep it to the side. Their help defense is better than anybody in the country. When they come to help, they're coming and coming aggressive and trying the steal the ball."
While forcing turnovers on 23.1 percent of their defensive possessions, the Texas Tech Red Raiders also hold opponents under 42 percent (third in the nation) from the floor and block shots on 15.5 percent (sixth in the country).
"Look, if you put your head down on a drive, you're going to get a charge," Oats added. "They take charges better than anybody in the country. If you come and you're soft going to the rim, they're going to block your shot. So you're either getting a charge or getting shot blocked.
"We got to be really smart on our drives. We can't overdrive. We got to make sure we've got our spacing exactly right with guys where they're supposed to be. And I mean, our offense we played against some pretty good defenses. Different ones. I mean, Syracuse's zone was great and figured it out. Our offense is pretty good."
How good is UB's offense?
The Bulls adjusted efficiency (metric used to estimate number of points per 40 minutes against the average NCAA defense per KenPom) of 115.5 ranks 20th in the nation. UB plays fast. Their average possession length is estimated at 14.5 seconds (third fastest in the country) and yet they commit turnovers on 15.7 percent (22nd in the nation) of the time.
And the UB defense?
The Bulls adjusted defense efficiency of 94.9 ranks 29th in the country. They limit opponents to 47.2 percent (30th) from the floor and 29.3 from 3-point land (ninth).
"I went through all the Big 12 numbers and analytics," Oats explained. "Nobody in the Big 12 plays quite as fast as we do. Hopefully we can get out in transition a little bit. Our defense going to have to be elite in order to do that. It's hard to run off makes. It's a lot easier running off stops and rebounds and turnovers. Our defense will have to be elite, which will help our offense in turn."
Tech sophomore guard Jarrett Culver leads three in double figures with 18.8 points per game. Davide Moretti scores 11.5, and Matt Mooney adds 10.9 for a Red Raider offense which scores 73.1 points per game.
"It's not just Culver," said UB senior Dontay Caruthers who was named Mid-American Conference Defensive Player of the Year.  "Those guys are a great team. They got five guys in the rotation, not just one guy out there playing basketball. They got a great point guard, shooting almost 55, 60 percent from 3.
"Culver is a big piece of them, and that's something that our main guys are going to have to be ready for. I mean, we're going to do what we do."
CJ Massinburg leads UB with 18.3 points per game. Nick Perkins scores 14.6 and Jeremy Harris 14.2.
Harris scored 21 in UB's 91-74 win over over Arizona State in the first round. The senior guard has reached double figures in each of the last six games.
"I just see how he really takes everything more seriously," Caruthers said of his teammate. "I think now he's really out here having fun. He's not letting all the stuff and the crazy get to him about anything. He's the type of guy that can really get hot, and I think he's really just out here having fun."
A 6:10 PM tip off is scheduled. TNT will televise the game.
Transcriptions courtesy of ASAP Sports.