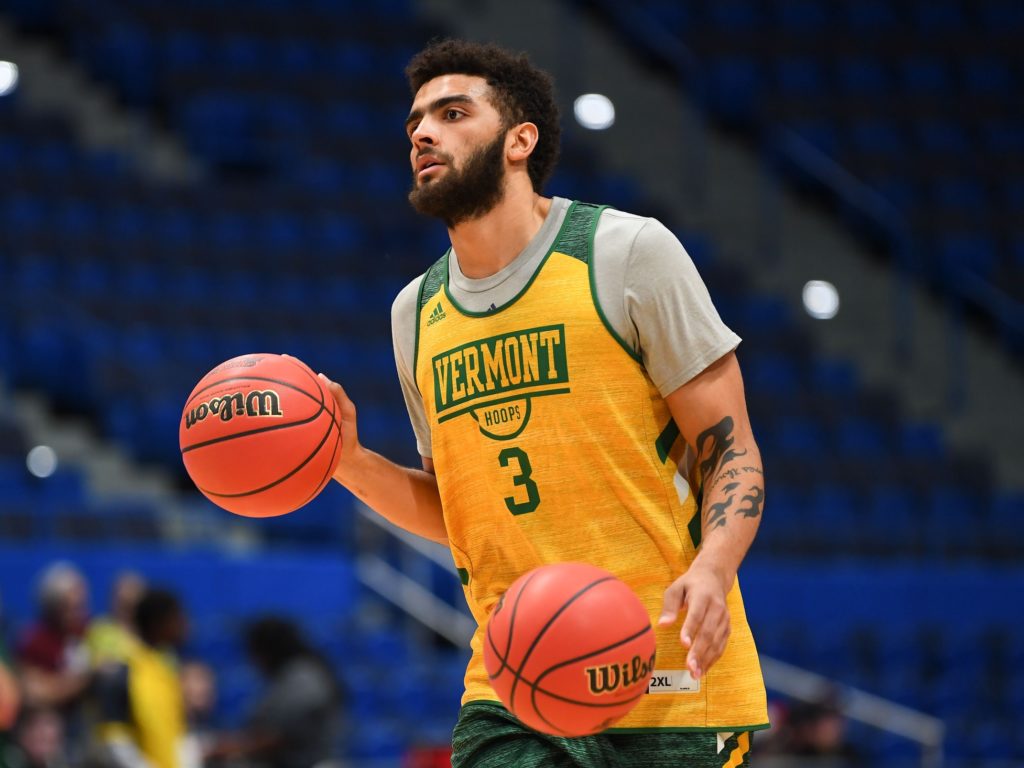 By PAUL GOTHAM
When John Becker and Anthony Lamb talk about the University of Vermont's first-round opponent in the NCAA Tournament, the coach and junior forward won't deny the size and athleticism of the Florida State Seminoles.
The two also know they have had this experience in the past.
At 6-foot-6, Lamb represents the tallest player in Vermont's starting lineup. He will face a Seminoles five that features Christ Koumadje (7-foot-4), Phil Cofer (6-foot-8) and Terance Mann (6-foot-7).
"We haven't faced a team as long or athletic as them," Lamb said during Wednesday's press conference from the XL Center in Hartford, Connecticut. "I think it's our job to understand that and go into the game, being prepared for that.
"It's really understanding where we can get to on the court and how we can best exploit our advantages versus their strengths."
Lamb led Vermont and the America East scoring 21.4 points per game (27th Division I) this past season. The conference player of the year ranks 22nd in the country with 238 field goals made. He grabbed 7.8 rebounds and handed out 2.2 assists.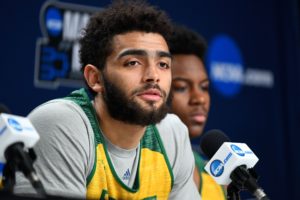 With wins over Virginia and Virginia Tech, Florida State advanced to Saturday's finals of the Atlantic Coast Conference tournament where they lost to Duke, the overall top seed of the NCAA Tournament.
Earlier this season, Lamb scored 25 points in an 86-78 loss to Louisville. The Greece Athena graduate connected on 9-of-15 shots from the floor including hitting both of his 3-point attempts.
Four days prior to that, he scored 24 in an 84-68 loss to Kansas. After that game, Kansas head coach Bill Self didn't hold back his praise.
"Lamb was such a hard matchup and he toyed with us all night long. He got the best of everybody who guarded him."
"Hopefully, that will pay benefits tomorrow," Becker said of the earlier non-conference matchups against Louisville (ACC) and Kansas (Big 12). "I think this will be the most athletic and longest team we play all year. I think it will be an adjustment getting used to the size and athleticism. Hopefully once the game starts and we get a feel for that, we'll settle in."
Lamb's ability to hit from the outside will play a pivotal role in Vermont's success Thursday on the offensive end. The junior forward connected on 47 of 127 (37 percent) attempts from 3-point land this season.
Florida State limited their three opponents in the ACC Tournament to 19.3 percent from long-range.
"It's a pretty simple game plan and offensively, we're going to have to make a lot of shots, shoot a lot of threes just because of their size in and around the basket," Becker explained. "And offensively, rebound is important. We're a really good defensive team, but we haven't played the likes of this size before. So we're going to have to really clean up the glass and box out and get rebounds."
Lamb, though, presents a front court threat who can draw Florida State's bigs away from the basket.
"Anthony's been amazing this year," Becker added. "You know, his growth as a player, he's really — his perimeter skills have really improved in three-point shot, it really made him a hard cover.
"He shoots 35 percent of our shots which is very different than how most Vermont teams play, where it's much more balanced scoring. We've really relied on Anthony, night in and night out. And he's delivered."
This will be Lamb's second appearance in the NCAA Tournament. In 2017 as a freshman, he scored 20 points and grabbed nine rebounds in Vermont's 80-70 loss to Purdue in first round Midwest Region action.
"It was a great game two years ago," Lamb said. "We were able to step up on the big stage and now we know what it takes in the game like that, playing against higher competition and how it feels to play in front of that many people in front of such a great crowd."
What: No. 13 Vermont (27-6/14-2) vs. No. 4 Florida State (27-7/13-5)
When: Thursday, March 21st – 2 PM.
Where: XL Center – Hartford Connecticut
How to Watch: TBS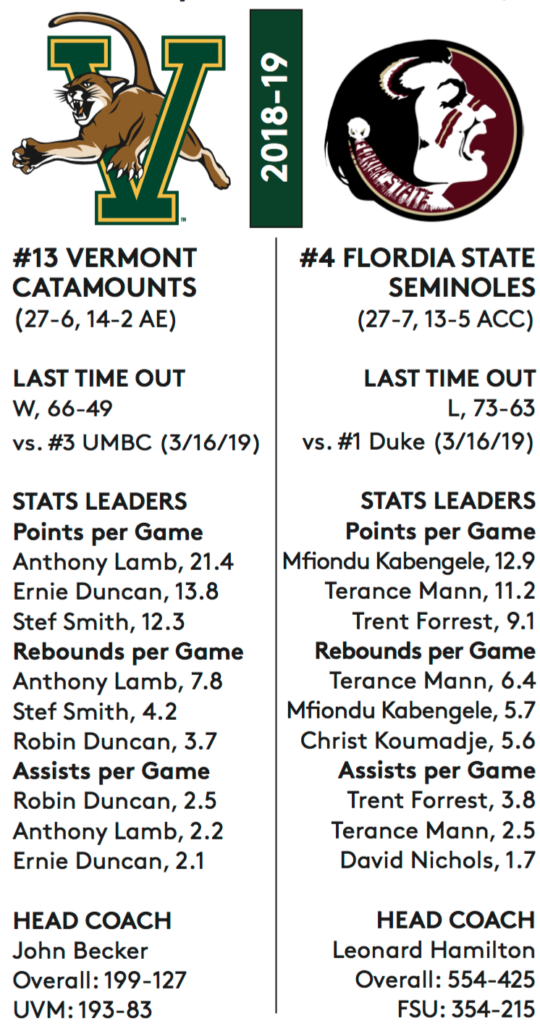 Graphic courtesy of University of Vermont Athletic Communications. 
Transcriptions courtesy of ASAP Sports.