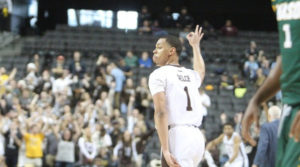 By CHUCKIE MAGGIO
BROOKLYN — St. Bonaventure's players and coaching staff didn't react either way, especially since the Bonnies had lost at Rhode Island in mid-January and they had a game to win to make Semifinal Saturday possible anyhow.
"No matter who we were gonna play, VCU or Rhode Island, (they're) physical," coach Mark Schmidt said. "They play very similar. For us, it didn't really matter."
The team can't look ahead, but the fans certainly can. And when Rhody pulled off the No. 8 v.s. No. 1 upset over VCU in the day's first game, eliminating what was arguably Bona's biggest matchup nightmare, the fan base saw opportunity.
The window to an improbable Atlantic 10 championship appeared to open wider. SBU just had to check George Mason off the to-do list.
Bona missed six of its first eight shots but quickly got them to fall, drilling 10 three-pointers and getting 40 combined points out of freshmen Kyle Lofton and Dominick Welch to top Mason 68-57 in front of 7,194 fans at the Barclays Center. The Bonnies advanced to their second consecutive conference semifinal and will play URI at 1 p.m. on Saturday.
Schmidt revealed that Lofton hadn't practiced the last three days with an ankle injury, but the point guard showed no signs of hindrance. Lofton, who played the entire game, made four of his six three-point attempts and six of his 12 shots from the floor overall, complementing his shooting display with five assists to just one turnover. Welch put up all 12 field goal tries from three-point land, making six. The Buffalo native was three treys shy of 2018 alum Matt Mobley's tournament record.
The 20 points each frosh produced were the most a Bonaventure freshman has scored in A-10 Tournament play since at least 2010. Lofton's dominant year against the Patriots continued, as he went 12 of 16 from long range in the three games against GMU. Welch, who earned his career high in the victory, is in the midst of a 15-of-35 stretch from behind the arc in the last four games.
Courtney Stockard was limited to nine first half minutes due to foul trouble and took just six shots all afternoon, although one of his three buckets was a vicious coast-to-coast slam dunk to give the Bonnies a 54-42 lead with 7:38 remaining. Stockard did lead the team in assists, while LaDarien Griffin had a 10-point, 11-rebound double-double.
The freshmen, however, were the quarterfinal standouts. Not only did Lofton and Welch share the game's scoring lead with Justin Kier, Osun Osunniyi had seven points, eight rebounds and three blocks, passing Andrew Nicholson for blocks by a Bona freshman.
"The reason why we're where we're at is because of our freshmen," Schmidt assessed. "We've had good leadership from Courtney and LaDarien when they got healthy, but those three young guys have blossomed into really good players… They play like veteran guys. They're not caught up in the environment.
"All three of those guys love to play, they compete, they're Bonaventure players. Not highly recruited guys per se… but guys who have a passion for the game, guys we feel have a great ceiling, and they just love to play. They're great guys, they're humble and I'm lucky to have the opportunity to coach them, hopefully for the next three years. They're special players."
The Bonnies improved to 14-0 when they hold the opposition under 60 points. Kier and Jordan Miller had double-figure showings for Mason, but veteran guard Otis Livingston II scored just six on 2-of-9 shooting, Goanar Mar was held to a single three-pointer, Javon Greene made a single free throw and Jarred Reuter was shut out.
GMU shot 35 percent (21 of 60) as a team and 28.6 percent (8 of 28) from three. The Patriots also missed half of their 14 free throw attempts. A rebounding advantage (43-34, 17-9 in offensive rebounds) was almost nullified by their inability to hit outside shots.
"We knew going into the game, George Mason (has) two really good guards; we have to have at least one of them have an off night," Schmidt commented. "I thought Kier played extremely well, I thought we did a really good job on Livingston, and that's the key. We kept them off the foul line and it was a good victory."
After the 2-for-10 start, SBU made 11 of its 17 shots before halftime. The Bonnies cooled in the second half, shooting 33 percent and allowing the Patriots to cut the lead to seven with 2:26 left. Even when Mason got close, however, Bona never looked the part of a team in serious danger.
"I just think we had to get used to the hoops in the arena," Welch said. "It's our first time playing here and we only got 20 minutes to get some shots up. So I think we had to get a feel of the rim and everything. I've been feeling good for a while now shooting the ball, so once the first one went in I just felt good every time I shot the ball."
"We got open shots; it's not like we were taking contested shots," Schmidt said. "Our offense was there, we were just missing shots. And the shots were close, it's not like we were throwing airballs. And we knew, the staple of our team has been defense. If we continue to defend, and those shots aren't falling, we'll be fine. But the question was, are those shots gonna fall?"
SBU fell 75-63 to Rhody in Kingston on Jan. 16. The Rams featured four players in double figures, with Tyrese Martin and Fatts Russell leading all scorers with 18 apiece. Bonaventure had significant foul trouble in that matchup, with Stockard and Osunniyi fouling out. The Bonnies did themselves no favors with 18 turnovers and a 5-of-18 clip from three-point range. Griffin led the team with 17 points, while Stockard and Welch each posted 12.
Bona shot well on Friday and committed just seven turnovers. Against a Rhody team playing its third game in three days, the brown and white will attempt to complete Schmidt's winning formula: defense, rebounding and taking care of the ball.
"They're good; they beat us…" Schmidt noted. "They're physical, they have good guards, they have (Langevine) inside…
"I feel bad for VCU because they lost their best player, and that's sad. But Rhode Island's playing really well right now."