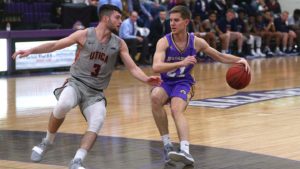 Courtesy of NazAthletics.com
ROCHESTER, NY – Senior Tyler Stenglein has been selected as a member of the D3hoops.com All-East Region team for the second consecutive year. D3hoops.com made the all-region announcement on its website Monday afternoon.
Stenglein finished his career at Nazareth with 1,782 points and averaged 15.6 points per game this season as he helped the Golden Flyers to an 18-8 overall record. He was selected to the Empire 8 All-Star team as a first team selection.
Stenglein was a second team selection to the All-Region team this season after earning first team honors last season.
2019 D3hoops.com All-East Region
Player of the Year: Edvinas Rupkus, Sr., Skidmore
Coach of the Year: Russell Phillips, Alfred
Rookie of the Year: Latrell Carroll, F, Penn State-Berks
First team
Pos., Player, School, Yr., Hometown
G, Ryan Clamage, Rochester, Sr., Lake Forest, Ill.
G, Dom LeMorta, Alfred, Sr., Scotia, N.Y.
G, Edvinas Rupkus, Skidmore, Sr., Naujoji Akmene, Lithuania
F, Jonathan Patron, Plattsburgh, Sr., Huntington, N.Y.
F, Kevin Dennis, Morrisville, Jr., Bronx, N.Y.
Second team
Pos., Player, School, Yr., Hometown
G, Colin Dougherty, Hobart, Sr., Lockport, N.Y.
G, Tyler Stenglein, Nazareth, Sr., Rochester, N.Y.
G, Noah Meren, Skidmore, So., Providence, R.I.
F, Ryan Henderson, St. John Fisher, Sr., Cazenovia, N.Y.
C, Tyler Pierre, Oswego State, Sr., Deer Park, N.Y.
Third team
Pos., Player, School, Yr., Hometown
G, Jacob Wittig, Rochester, Sr., Manilus, N.Y.
G, Justin Cooper, Cortland, Sr., Pine Plains, N.Y.
G, Liam Sanborn, Oswego State, So., Staten Island, N.Y.
F, Riley Naclerio, St. Lawrence, Sr., Cohoes, N.Y.
F, Justin Summers, Brockport, Jr., Brooklyn, N.Y.