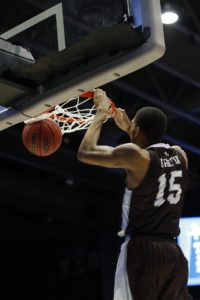 By CHUCKIE MAGGIO
LaDarien Griffin and Courtney Stockard knew they needed to put on a show in their last game in front of a full St. Bonaventure student section.
After all, Jaylen Adams and Matt Mobley combined for 67 points in their last hurrah in front of the Wolfpack. Denzel Gregg recorded a 15-point, 14-rebound double-double in his RC goodbye, a Homecoming win over Duquesne. Putting on a show for your classmates, one last time, is expected.
Griffin and Stockard took "showtime" literally. Not only did they combine for 37 points (Stockard 21, Griffin 16), they added some flair. Griffin produced two SportsCenter Top 10 nominees while Stockard, not to be completely outdone, decided to throw down a reverse jam of his own as the 68-47 victory's exclamation point.
The Bonnies held serve on their pursuit of the Atlantic 10's fourth seed and a double-bye in the A-10 Tournament. By sweeping the Dukes in the season series, SBU now holds the head-to-head tiebreaker if the teams finish with the same league record. Bona slides out of the fourth slot for now, however, because George Mason defeated Richmond and holds the two-team tiebreaker due to a win over Dayton, the highest common opponent in the standings.
Takeaways from SBU's 10th A-10 win this season:
Player of the Game: LaDarien Griffin, St. Bonaventure. Griffin's first highlight dunk was a posterization of Dukes center Michael Hughes that got the RC jumping. His second memorable rimrocker was an "everybody out of the way" throwdown that punished the rim. Those plays were part of an 8-of-11 night from the field for Griffin, which he complimented with 11 boards for his 10th career double-double.
In Griffin's Reilly Center debut, he played just one scoreless minute against Binghamton. The 6-foot-6 forward is ending his career strong.
Honorable mention: Courtney Stockard, St. Bonaventure (21 points on 8-of-14 shooting, six assists), Osun Osunniyi, St. Bonaventure (10 points, nine rebounds), Lamar Norman, Jr., Duquesne (20 points, including four three-pointers)
Stat of the Game: St. Bonaventure is 11-0 when it holds opponents under 60 points this season, as Bonnies coach Mark Schmidt made note of in his postgame interview with WPIG. Bona has allowed no more than 60 points on its five-game win streak.
Stretch(es) of the Game: Schmidt always stresses the importance of the first five minutes of the game and first five minutes of the second half. Bona started strong in both of those intervals, racing to an 11-3 start that included three layups, three Duquesne turnovers and an Osun Osunniyi block. The Bonnies didn't falter, starting the second stanza on an 8-0 run that extended their lead to 19 with 15:34 remaining.
Quote of the Game: "I thought LaDarien was terrific," Schmidt said. "Courtney had 21 points and hit some shots, but I thought LaDarien really was the difference from an offensive standpoint and rebounding. He can switch ball screens which is so effective in guarding these guys that screen and pop. I thought the seniors, Courtney and LaDarien, were terrific."