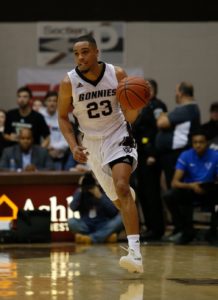 By CHUCKIE MAGGIO
For most of the season, the St. Bonaventure Bonnies were the opposite of road warriors.
Road pacifists? Road civilians? Regardless of the moniker, SBU's 0-9 start away from the Reilly Center was a representation of a young, oft-injured team that appeared to be in for a long season.
The Bonnies have responded with five straight road wins, the latest coming at Fordham's Rose Hill Gym on Saturday afternoon.
Bona started slow offensively, scoring just 12 points in the first 10 minutes and trailing the Rams for the first 11:50. But the Bonnies' defense allowed fewer than 70 points for the seventh time in the last nine games and their offense received a big boost from a starter-turned-reserve. The result was a 74-53 win that improved their record to 13-14, 9-5 in the Atlantic 10.
Bonaventure's win combined with a Duquesne win over George Mason has the three teams in a tie for fourth place in the A-10 standings. The Bonnies currently hold the tiebreaker due to having the best record against the other teams in the group (2-1 while Duquesne is 1-1 and Mason is 1-2). The winner of Wednesday's St. Bonaventure-Duquesne game at the Reilly Center clinches any three-way tiebreak between those three teams.
Takeaways from an important Bonaventure win:
Player of the Game: Jalen Poyser, St. Bonaventure. Poyser, who lost his spot in the starting lineup after the non-conference finale against Syracuse and missed four league games with a concussion, played 24 minutes against Fordham, his most minutes of the A-10 slate. He scored 20 points, his most since a Dec. 1 win over Delaware State, by way of an efficient stat line: 8-of-12 shooting, 4-of-6 three-point shooting. That Delaware State game was also the last time the Canadian had led the team in scoring.
Stat of the Game: Fordham shot 36.5 percent (19 of 52). The Bonnies have held the Rams under 40 percent shooting in four of the last six matchups, winning all of them.
Stretch of the Game: Fordham led 13-12 until a Poyser three-pointer gave Bonaventure its first lead with 8:10 remaining in the first half. Poyser then hit a layup about a minute later, jump-starting a 17-9 run to end the half in which he scored 10 points. The Bonnies made seven of their 15 shot attempts on that run while Fordham had four turnovers. SBU never trailed again.
Quote of the Game: "I wouldn't want to face St. Bonaventure in March, just with the way they're defending lately." -NBC Sports color commentator Blaine Fowler