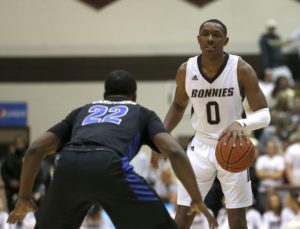 By CHUCKIE MAGGIO
Kyle Lofton was fresh off the highest-scoring game a St. Bonaventure freshman ever produced. He was never on track for another 32-point outing against La Salle at the Reilly Center on Wednesday, but he accomplished another rare first-year feat.
With 10 seconds left and the game tied at 60, Lofton collected an inbounds pass from Courtney Stockard and called his own number. He dribbled his way out of tight pressure from Explorers guard David Beatty, used a LaDarien Griffin screen at the top of the key to gain a split-second of separation, pulled up at the free throw line and drained a jumper with 3.1 seconds to play.
La Salle's last-ditch effort to grab the win was inhibited by controversial game clock operation. The clock appeared to start running before the ball even left Beatty's hand and expired before Explorers star Pookie Powell could get a shot off. Officials reviewed the play, declined to add time to the clock and signaled ballgame, 62-60 Bonnies.
St. Bonaventure improved its record to 12-14, 8-5 in the Atlantic 10. Bona gained the head-to-head tiebreaker over La Salle and remains a game out fourth place with five games left in the regular season.
Takeaways from a photo finish at the RC:
Player of the Game: Kyle Lofton, St. Bonaventure. Lofton's game-winner was one of seven made field goals in 10 attempts, making him 17 for his last 25. The Putnam Science Academy product has scored 50 points in the last two games. He also swiped four steals, tied for a career high, and grabbed four rebounds.
Honorable mention: Courtney Stockard, St. Bonaventure (16 points, a career-high seven assists, five rebounds), Pookie Powell, La Salle (20 points, a game high)
Stat of the Game: The Bonnies won despite committing 17 turnovers. Wednesday was just their second win this season with 15 turnovers or more (2-5).
Stretch of the Game: The Bonnies had a nine-point lead with 7:09 remaining before La Salle made its next three field goals and two free throws to help cut the lead to two. After Bona stretched its advantage back to five with 2:45 to play, Powell hit a jumper, SBU missed twice on one possession and Saul Phiri splashed a three-ball to knot the contest at 60 with 1:14 left. The Explorers' comeback made Bonaventure's theatrics a necessity.
"Quote" (Tweet) of the Game: 
Yall better get hip on Kyle Lofton‼️🗣

— Courtney Stockard (@cstock_15) February 21, 2019