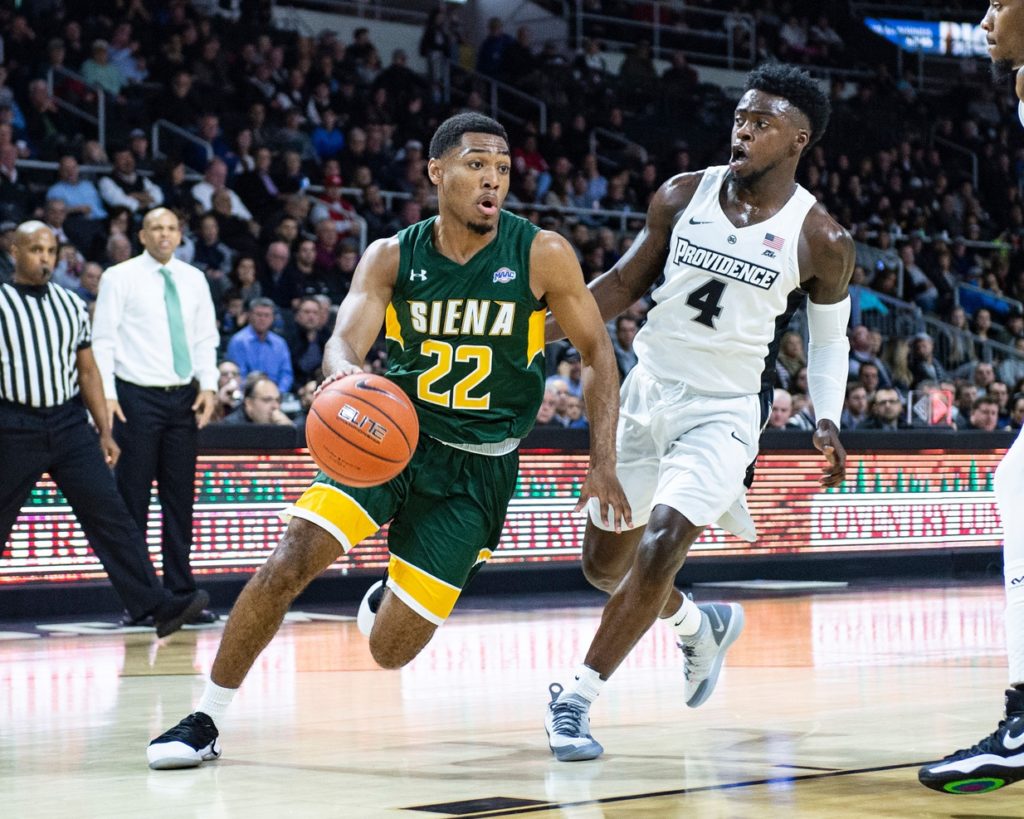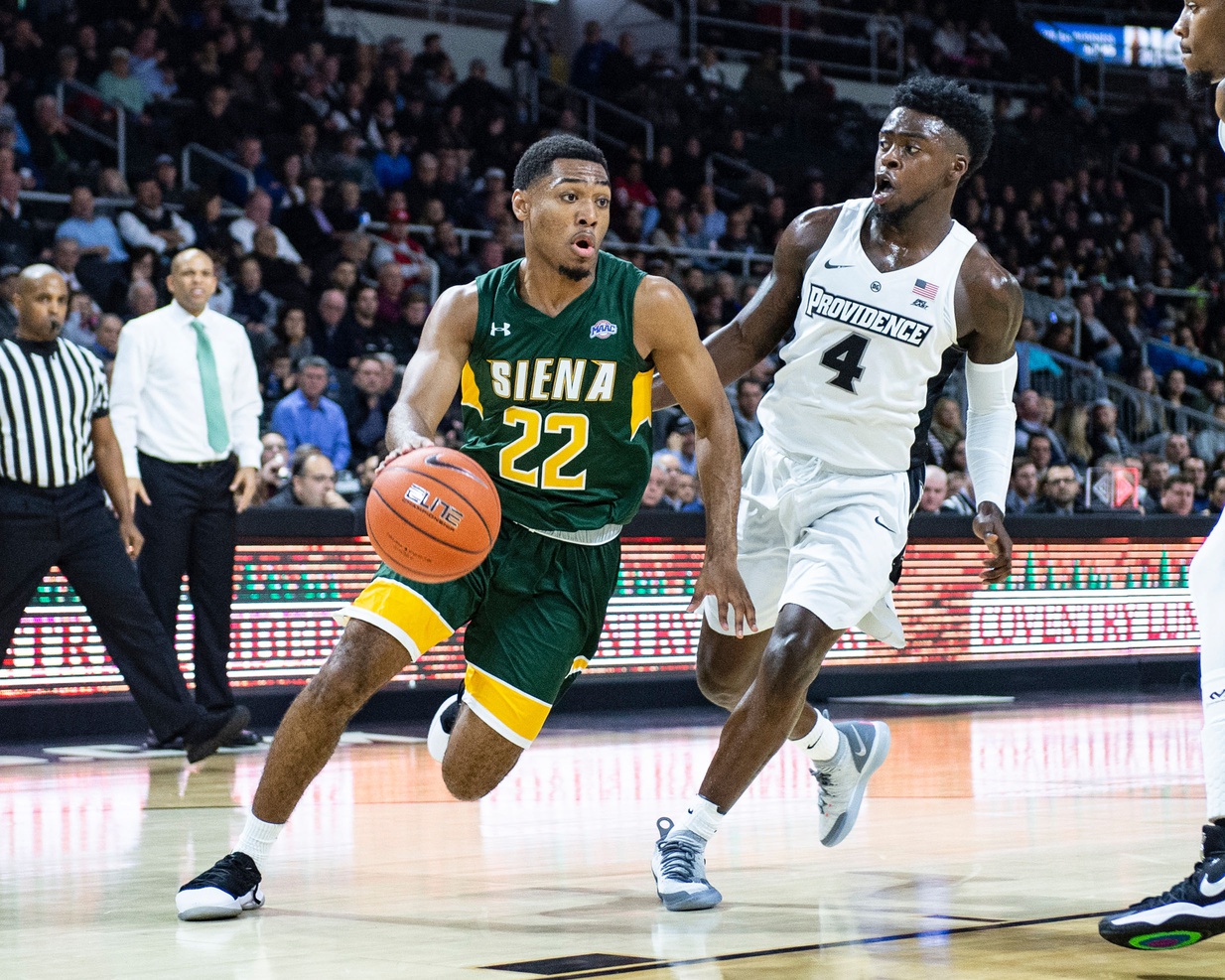 By PAUL GOTHAM
ROCHESTER, N.Y. — On Sunday, Jalen Pickett (Aquinas) did something that only one other player has accomplished this century in NCAA Division I men's basketball competition. Monday, Pickett stood alone in Siena Saints program history.
Pickett became the first player since Antawn Dobie (LIU-Brooklyn) in 2003 to post a performance with 45+-point and 10 assists when he scored and handed out 13 assists in Siena's triple overtime loss to Quinnipiac on Sunday.
Pickett connected on 14 of 26 shots from the floor including 4-of-8 from 3-point land to finish with 46 points. In 53 minutes of playing time, he grabbed four rebounds, collected four steals, blocked one shot and committed just one (1) turnover.
This is the final basket of 46 points for Jalen Pickett (@jalenpickett2) today for Siena. Tough-luck losers in 3OT to Quinnipiac. Pickett goes 14-25, 4-7 on 3s, 14-17 from the line. Adds 13 assists, 4 steals, 4 rebounds. @PickinSplinters @TrabsMatt @AQBoys_Hoops @AQAlumni pic.twitter.com/SBL834d86E

— Billy Heyen (@Wheyen3) February 17, 2019

Earlier in the week, the 6-foot-4 guard scored 10 points, to go with five rebounds, four assists, four steals and three blocks.
The two performances earned Pickett his ninth Metro Atlantic Athletic Conference (MAAC) Rookie of the Week honor – a Siena program record.
Pickett leads MAAC in assists (6.4) and assist-to-turnover ratio (2.46). He is second in steal (2.1) and sixth in scoring (15.5). He has connected on 55 3-pointers – good for eight in the conference. He is 29 points shy of breaking the Siena program mark for freshman scoring.
For those of you that missed it this was a game for the ages…@jalenpickett2 became the first D1 player in 20 years to go for
40+ points and 10+ assists
His final line was
4️⃣6️⃣ Points
1️⃣3️⃣ Assists
4️⃣ Rebounds
4️⃣ Steals and just
1️⃣ Turnover in the 2nd OT
Video Below ⬇️ https://t.co/U2DZ4GpuKw

— CityRocksBasketball (@TheCityRocks) February 19, 2019

His 6.4 assists rank 18th in the country and third among eligible freshmen. KenPom lists Pickett's assist rate (metric that estimates the percentage of field goals made by a team on which a particular player collected assists while in the game) of 41.3 at sixth in the nation.
Earlier this year, Pickett became one of four MAAC student-athletes to earn Rookie and Player of the Week simultaneously. He joined former National Player of the Year and NBA veteran Lionel Simmons and current East High head coach Darrell Barley to earn that distinction.
Jalen Pickett becomes just the second D-I player this century to put up 45+ points and 10+ assists in a game, per @StatsBySTATS.

He joins LIU's Antawn Dobie (53 & 15) on February 22, 2003 – Dobie also did so in a loss (142-140 in 2OT at St. Francis-NY).

— Billy Heyen (@Wheyen3) February 17, 2019

Simmons (La Salle) and Derek Needham hold the MAAC record with 10 Rookie of the Week honors.
Pickett averaged 19.6 points and grabbed nine rebounds per game during his senior season at Aquinas. He earned All-Tournament team honors as a junior when AQ won the Section V title under then head coach Mike Grosodonia. He was named MVP when Aquinas won the program's first state title in a run which included a win over reigning champ Shenendehowa and current NBA player Kevin Huerter. He also earned another All-Tournament nod in the Federation Tournament of Champions when the Li'l Irish fell in the final to Jefferson, 72-65.
The two most statistically similar seasons in KenPom's estimation to the one Pickett is having are now Dennis Smith Jr. and Markelle Fultz's freshmen years at NC State and Washington, respectively.

— Billy Heyen (@Wheyen3) February 18, 2019
Pickett played one season at SPIRE Institute in Ohio after Aquinas.
Siena plays at Canisius on March 1 and Niagara on March 3rd.