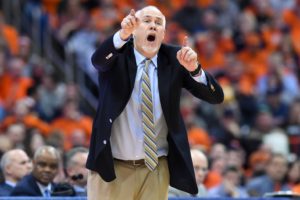 By CHUCKIE MAGGIO
ST. BONAVENTURE — Mark Schmidt was emotional, as were many of the 4,803 fans in attendance. The 12th year coach had just broken St. Bonaventure's all-time coaching wins record with his 203rd victory, heard the Bona student section chant his name and listened to the arena, his arena, stand and applaud.
The postgame festivities after Sunday's 79-56 win over George Mason were only beginning. The greatest coach in the history of Bonaventure basketball watched on the video board as friends and family congratulated him on a milestone he couldn't have envisioned at his introductory press conference in April 2007.
Atlantic 10 Conference commissioner Bernadette McGlade, who took over the league a year after Schmidt took over the Bonnies, was the first well-wisher. Five years before McGlade was hired, the conference's administration had taken away SBU's A-10 wins and mulled the possibility of kicking Bonaventure out of the league. The ineligible player scandal, the darkest period in school history, cast a cloud over the university's future.
After McGlade's clip the video got decidedly more personal. Andrew Nicholson, the generational star of Schmidt's first NCAA Tournament team in 2012, expressed how happy he was for his former coach. ESPN NBA insider Adrian Wojnarowski, one of the program's biggest supporters, said Schmidt "saved us. You saved the program, you may have saved the university." Gary Williams, Schmidt's coach at Boston College, recognized his former player for his hard work and dedication in his coaching career.
Jim Satalin and Larry Weise, the two men Schmidt most recently passed on the wins list, each spoke before the video closed with Jim and Jean Schmidt, his parents.
The sentiment of the ceremony wasn't lost on Schmidt, who is always hyper-focused on the next play during game action but allowed himself time to reflect postgame.
"It's humbling. It's emotional," Schmidt said. "When you see the first couple years… it brings back memories; that's 12 years ago. It's life. You see your old college coach and you see your mom and dad, it's emotional. The gentleman who put it together did a tremendous job. It brings back memories, and they're good memories. Makes you feel good."
Freshman point guard Kyle Lofton was a major reason the afternoon turned out to be so memorable. One of the latest under-recruited freshmen to play for Schmidt, Lofton made his first four shots, including three three-pointers. The Hillside, N.J. native scored 11 of Bonaventure's 16 unanswered points to start the game. By the time Mason scored its first field goal with 15:47 remaining in the first half, the Patriots were in a 16-2 hole. The Bonnies' start was a far cry from last Saturday, when they fell behind 20-4 against VCU.
Lofton registered a career-high 32 points on 10-of-15 shooting, making seven of eight three-point tries. He had made three of his last 18 long-range attempts entering the contest but found open looks and knocked them down on Sunday. He drilled a three for the first basket of the game.
"Confidence," Lofton responded when asked about his deep shot prowess. "Just from our last game, St. Joe's. Since then I've just been in the gym, mornings, nights and just getting reps up. So I was confident."
Mason (15-11, 9-4 A-10) threatened late, going on a 12-2 run from the 9:25 mark of the second half until there was 5:21 remaining to trim SBU's lead to 61-51. A win that looked like a foregone conclusion had been put in some doubt, but Bona answered with a Dom Welch three-ball, LaDarien Griffin defensive charge and Courtney Stockard and-one layup to bring the lead back to 16 with 4:16 to play. Lofton made two more treys to seal the deal.
Stockard scored 17 points on 7-of-12 shooting while Welch recorded 10 points, including two threes. The Bonnies shot 56 percent (31-of-55) from the field, 58 percent (11-of-19) from three and dished out 18 assists to just eight turnovers. Osun Osunniyi had another stellar defensive game, corralling 11 rebounds and blocking five shots.
The Patriots made just eight of 25 three-pointers and shot 38 percent. Otis Livingston II left the game due to injury after 10 points in 21 minutes, leaving Justin Kier to assume the scoring load. Kier scored 21 points to the rest of the squad's 37. He made eight of 14 shots but his teammates shot just 32 percent.
The win improved Bonaventure's overall to 11-14 and its conference record to 7-5. The Bonnies are just a game behind Dayton for fourth place in the league standings with six games to play. Though Dayton holds the head-to-head tiebreaker after its double overtime victory last month, Bona is exceeding expectations after a 4-9 non-conference. Schmidt and Lofton reiterated their belief that they can still earn a top four seed and double-bye in next month's Atlantic 10 Tournament.
When Schmidt took the job 12 years ago, he didn't discuss double-bye contention in 2019 or sending two players to the NBA with full contracts. He just wanted to bring the program back from the figurative death it was facing when Anthony Solomon was shown the door. Win 203 was a sign of how far the program has come under his leadership.
"No," Schmidt said when asked if he envisioned still being at Bonaventure 12 years after his first presser. "And I've said this before, when you make family decisions like we made, you never know if it's the right decision or not until you get here four or five months. After four or five months you get comfortable and you sit there and say, 'You know something, we can get this thing done.' Or we can't. And it started going and we had some success…
"To say that I would've been here for 12 years, in this business I don't know what the percentage of years that a guy stays as a coach of a Division I. But I know it's not 12 years… (Bonaventure) feels like home. The people here have taken us in, have made us feel comfortable.
"It's been a good marriage."