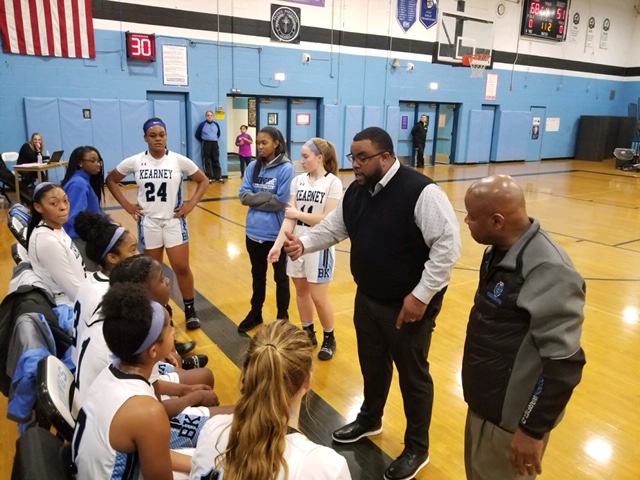 By JOHN LIKANJE
IRONDEQUOIT, N.Y. – Due to rescheduling from earlier in the season, the Bishop Kearney girls varsity basketball team faced a stretch of three games in as many days. Two of the three opponents were state-ranked (Penfield (No. 7 NYSSWA Class AA) and Amherst (VI/No. 12 NYSSWA Class A)) while the other was an honorable mention in the recent poll (Our Lady of Mercy).
"Three games in three days against really good competition," Bishop Kearney head coach Kevin Sheppard said. "It really took a toll on the team. We definitely weren't planning on playing six games in seven days."
However, the Bishop Kearney Lady Kings were up to the challenge. After back-to-back road wins over the Penfield Lady Patriots and Mercy Monarchs, Sheppard's squad took down the Amherst Lady Tigers (13-2) Thursday night, 84-70, for their fifth consecutive victory.
"We play a really tough schedule and that schedule is to prepare us for March," Sheppard explained. "It's okay to lose a game right now. It's not okay to lose a game next month."
After giving up 24 points in the first quarter, the Lady Kings (15-1/No. 4 NYSSWA Class AA) held the Lady Tigers to five points, on 11 missed field goals and four turnovers in 17 possessions in the second period.
"The adjustment was we decided to defend them (Amherst)," Sheppard said when explaining his squad's second quarter defense. "We left them way too open in the first quarter and I think it was the start of the game and the physical wear and tear of playing a third day in a row."
Sophomore guard Mariana Freeman netted 13 points on a trio of three-pointers, a mid-range jumpshot and a floater in the second quarter as the Lady Kings outscored the Lady Tigers, 21-5, for a 40-29 lead going into the locker room.
"It was really just effort and playing with heart," Freeman said. "The first quarter, I feel like we were stuck on the fact that we just had two tough biggest games and that we were just tired. But come second quarter, I feel as though we were just more intense and we didn't want to lose another game at home."
Lytoya Baker, Kaia Goode, Saniaa Wilson and Taylor Norris each made a layup in the second period as well.
Norris made a layup and knocked down a corner three-pointer during a 15-2 run at the end of the third quarter as the Lady Kings surged out to a 68-49 edge, the largest of the second half. Freeman hit a mid-range jumper, a layup and a free throw. Goode swished her third long-range shot of the period and Wilson had a layup of her own. During the run, the Lady Kings forced the Lady Tigers into five missed field goals and a turnover in seven possessions.
"We had to take advantages of mismatches," Sheppard explained. "Spread the floor, allow Mariana to go."
The Lady Kings went on a 7-0 spurt in the beginning of the fourth quarter for a 75-56 lead. Baker and Wilson each made a layup and Freeman hit her sixth three-pointer of the game. The Lady Kings held the Lady Tigers to four turnovers and a missed field goal in five possessions.
"Every game, it's going to be a different leading scorer," Sheppard said.
Freeman poured in 25 of her game-high 31 points after the first quarter on four shots from beyond the arc, three layups, two mid-range jump shots, a floater and a free throw. The sophomore guard dished out seven assists.
"I've been talking to my coach lately about being a point guard, shooting when you're open and making all the right plays at the right time, so I've been focusing on that," Freeman explained. "Just trying to contribute to the game as much as I can."
"It was just her night," Sheppard said about his sophomore guard. "She had the mismatch and we just kept going to her."
Wilson scored 10 points in the opening period and had a trio of layups and a foul shot to finish with 17. The sophomore center collected 16 rebounds and blocked six shots.
"I stepped up when my team needed me to be, so I feel good about that," Wilson said about her performance.
"She's going to roll out of bed and give you a double-double," Sheppard said about Wilson. "She's going to hold down the paint, she's going to own the boards and she's going to make a huge dent on them in the middle. She's very consistent."
Baker netted 10 of her 12 points after the first 12 minutes of game play on three floaters and a pair of layups. The senior guard hauled in 13 rebounds and recorded five blocks. Goode scored 12 points on three long-range shots, a layup and a free throw. The freshman guard handed out six assists and swiped five steals.
Norris (9) and Emily Tytler (3) rounded out the scoring for the Lady Kings.
For the Lady Tigers, sophomore guard Ella Wanzer knocked down a three-pointer and made a layup during a 8-0 surge in the beginning of the third quarter to close the gap to 44-37. Senior forward Emma Stelley hit a long-range shot. During the run, the Lady Tigers forced three consecutive turnovers against the Lady Kings.
Wanzer netted 18 of her team-high 24 points in the second half on four shots from beyond the arc, a layup, floater, mid-range jump shot and made two attempts from the charity stripe.
Senior guard Leah Shutts knocked down five three-pointers en route to 17 points. Stelley made three long-range shots, a mid-range jumper and a layup for 13 points.
Morgan Halt (8), Emma Klein (7) and Isabel Steimle (1) rounded out the scoring for the Lady Tigers.
Bishop Kearney will host Jamesville-Dewitt (III/No. 2 NYSSWA Class A) Saturday morning at 11:00 AM.