By PAUL GOTHAM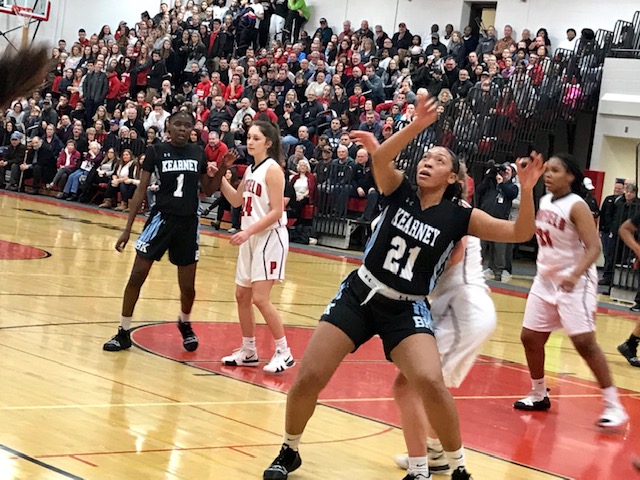 PENFIELD, N.Y. — Kevan Sheppard didn't sugar coat his words when preparing his team for Tuesday's meeting of state-ranked squads.
When looking at the matchup against Penfield, the Bishop Kearney girls' basketball coach knew his opponent would focus its efforts on stopping Toya Baker, Marianna Freeman and Saniaa Wilson.
That left two players remaining.
"I told Kaia Goode and Taylor Norris 'if I'm playing against you guys, I'm going to guard these three and I'm going to let you two beat me,'" Sheppard said. "That pretty much was their game plan. Unfortunately, those are two people you can't really give shots to."
Goode and Norris combined to score 11 points over their averages as Kearney (No. 4 NYSSWA Class AA) downed Penfield (No. 7 NYSSWA Class AA), 64-51 in non-league action.
Kaia Goode connects from 3-point land. 4:12 remaining Bishop Kearney 56 Penfield 42 pic.twitter.com/nAlx7xmFnf

— Paul Gotham (@PickinSplinters) February 6, 2019
"They work really hard on making open shots," Sheppard added. "They were looking forward to this moment."
Norris, averaging 7.5 points per game, scored seven of her 15 points during the third quarter when BK turned a six-point lead into a double-digit advantage.
Goode connected on two of her four 3-pointers on the night to help Kearney secure victory in the fourth quarter.
"Coach told us to get after it," Goode said. "The second half is always our half, so we just came out with full energy. We just used that energy to pull away."
Goode, averaging 9.9 points, scored eight early in the fourth. With Kearney leading 51-42, she hit from behind the 3-point arc along the right side of the floor. Two possessions later, Freeman led her into the open for a layup. The 5-foot-2 guard capped the personal run with a triple, her fourth of the night, from the left wing.
"Kaia is a freshman, but this is her third year playing varsity," Sheppard noted. "She's been in two sectional championships, so she's been in pressure-packed situations. She's been groomed for these types of situations."
Freeman splashed two from 3-point land in the first quarter to pace Kearney to a 16-8 lead. The sophomore guard landed another triple, and Wilson scored inside to push the advantage to 15 at 25-10.
"They're a very good team," Penfield coach Mark Vogt said. "They play very well together.
"We didn't get any defensive rebounds in the first quarter. A team like that, if they're getting seconds and third shots, they're going to make 'em."
Nyara Simmons and Baylee Teal paced a 14-2 Penfield (15-1) run during the second quarter to cut the deficit to three at 27-24. Simmons fed Teal for an inside-out 3-pointer. After Simmons converted a pair from the free throw line, Teal connected again from long range.
"We started getting defensive rebounds, then we were getting out on the break," Vogt explained. "We were moving the ball really good. That got us back into it."
Brianne Moxley found Simmons for two in the paint. Another Simmons bucket made it five-point game, and Teal followed with a runner in the lane.
Nyara Simmons finishes in the lane. Penfield trails Bishop Kearney 59-46 with 2:37 remaining pic.twitter.com/WSTZLSf83b

— Paul Gotham (@PickinSplinters) February 6, 2019
"Penfield's always tough," Sheppard said. "You go against Mark, you know you got a battle on your hands. I was lucky we were up to the task tonight. His team played great."
The Patriots, though, could not sustain the pace.
"When you dig a hole and you climb out and they go on a little run, it's like here we go again," Vogt said. "It was good to play them and kinda figure out what their strengths are. With a little luck we'll see them again. We'll make some adjustments and we'll be ready. "
Freeman led BK (13-1) with 16 points. Goode added 14. Wilson scored 12. Baker chipped in with seven points.
Marianna Freeman hits the runner. 1:32 remaining Bishop Kearney 62 Penfield 51 pic.twitter.com/sOwoi46SvT— Paul Gotham (@PickinSplinters) February 6, 2019
Teal topped all scorers with 21. Simmons had 11. Moxley scored nine. Nina Nesselbush added seven, and Jessica Rinere had three.