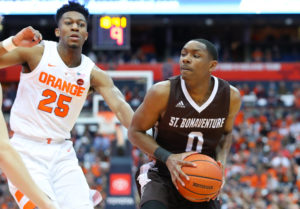 By CHUCKIE MAGGIO
Before St. Bonaventure hosts Davidson at the Reilly Center Friday night, in a matchup that will be broadcast nationally on ESPN2, here's a grab bag of 12 stats and facts about the Bonnies and Wildcats:
1. St. Bonaventure and Davidson have played seven times since Davidson joined the A-10 in 2014. Four of those games have been decided by five points or fewer and two have gone into overtime.
2. In last year's triple overtime game at the Reilly Center, the Bonnies became the only Division I team in the past 20 seasons to have three 30-point scorers in the same game: Jaylen Adams (34), Matt Mobley (33) and Courtney Stockard (31).
3. The Bonnies have averaged 68.1 points per game in conference play, tied for sixth in the league. Davidson is 10th, averaging 64.6 per contest.
4. Davidson has allowed just 58.9 points per game in conference play, the best defense in the league. Bonaventure is fifth-best at 64.4 a night.
5. Friday's game features four of the top 20 scorers in the A-10: Kellan Grady (fourth overall, 12th during conference play), Courtney Stockard (fifth overall, fifth during conference play), Jon Axel Gudmundsson (ninth overall, 18th during conference play) and Kyle Lofton (16th overall, ninth during conference play).
6. Lofton needs 92 points to pass Andrew Nicholson for most points by a Bonaventure freshman since 1992.
7. Grady's three games against Bonaventure: 26 points per game, 46 percent shooting, 11 total three-pointers.
8. The Bonnies are 8-3 when leading at the half this season, 0-9 when trailing.
9. The Bonnies are 8-2 when leading at the five minute mark of regulation this season, 0-10 when they trail at that point.
10. Game-tying or go-ahead shots in the second half or overtime this season (including free throws):
Kyle Lofton: 8
Amadi Ikpeze: 4
Dom Welch: 2
Jalen Poyser: 1
11. Mark Schmidt earned his 200th Bonaventure win last Saturday against Richmond. His other milestone wins as Bona's head coach were all at the Reilly Center:
No. 1: Nov. 12, 2007, a 97-80 win over Binghamton
No. 50: Feb. 5, 2011, a 64-62 win over Duquesne
No. 100: Jan. 22, 2014, a 66-51 win over La Salle
No. 150: Nov. 30, 2016, an 81-74 win over Siena
12. Bona plays six of its last 11 A-10 games at home. Three of its five road games are against teams with losing conference records.
Many of these stats were researched using Sports-Reference.com.