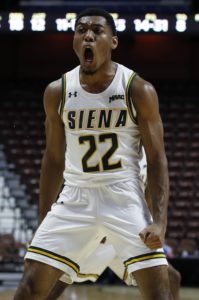 By PAUL GOTHAM
One more makes it six. For the fourth straight week and sixth overall, Jalen Pickett (Aquinas) earned Metro Atlantic Athletic Conference (MAAC) Rookie of the Week.
Pickett became the first freshman in 11 years to garner the award in four straight weeks.
The 6-foot-4 guard averaged 16 points, 6.5 assists, 5.5 rebounds, two steals and a block in a pair of games last week. Pickett connected on 5-of-10 attempts behind the 3-point arc and finished with 15 points in an overtime loss to Monmouth to start the week. He scored 17 points and handed out seven assists in a 66-57 win over Niagara close the week.
Handing out 7.3 assists per contests, Pickett ranks fourth nationally and second among all eligible freshmen at the Division I level. He is 38th in the country with an assist-to-turnover rate of 2.79. Per KenPom, Pickett ranks second in the nation with an assist rate of 45.0.
Pickett leads all MAAC freshmen in scoring (14.8), assists, steals (1.9), assist-to-turnover rate, free-throw percentage (67.3) and offensive rebounding (1.8).
Former Siena Saint Kenny Hasbrouck holds the program record when he won the award eight times during his freshman campaign at the Loudonville, New York school. The league record of 10 is shared by Fairfield's Derek Needham and La Salle's Lionel Simmons.
Earlier this season, Pickett became just the fourth student-athlete in MAAC history to earn Rookie and Player of the Week simultaneously. He joined former Canisius Golden Griffin and current East High coach Darrell Barley to receive this distinction.
READ FULL CONFERENCE RELEASE HERE.
Pickett was the first recruit signed to play at Siena under first-year head coach Jamion Christian.
Pickett averaged 19.6 points and grabbed nine rebounds per game during his senior season at Aquinas. He earned All-Tournament team honors as a junior when AQ won the Section V title under then head coach Mike Grosodonia. He was named MVP when Aquinas won the program's first state title in a run which included a win over reigning champ Shenendehowa and current NBA player Kevin Huerter. He also earned another All-Tournament nod in the Federation Tournament of Champions when the Li'l Irish fell in the final to Jefferson, 72-65.
Pickett played one season at SPIRE Institute in Ohio after Aquinas.
Siena plays at Canisius on March 1.