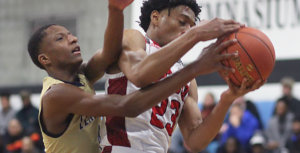 By WOLVERIDGE LANGAN
Over halfway through the season, undefeated teams remain few and far between. For Section V, three of these rare beasts, Pittsford Mendon, East and Northstar Christian all hold Top 10 positions in this week's NYSSWA Top 25 Class A Rankings.
The Pittsford Mendon Vikings (11-0) own one of the most explosive offenses in the league at their No. 3 NYSSWA Class A spot. Bob Nally's squad averages 82.9 ppg, with last week's back-to-back wins over Greece Arcadia 101-38 and Rush-Henrietta 94-62 proving showcasing their scoring prowess. The Vikings' rematch with crosstown rival Pittsford Sutherland (8-6) will test established scorers Dan Cook (20.2 ppg) and Michael Harrington (19.1 ppg) against a defense which limited them to their lowest scoring output of the season when the teams met earlier this season. They play on January 26th.
Exhibiting another high octane offense, East (13-0) continues to climb the rankings, vaulting another two spots to get to No. 7 NYWSSA Class A for this week. A composed win over a tough Bishop Kearney (6-8) squad Monday, 61-59, will only help their case as a top team in the state led by Zechariah Harris-Scott who averages 21.46 ppg.  East faces another Class AA team, fellow Section V representative McQuaid, in a ranked matchup at East High School on January 26th.
Section V's all-time leading scorer Miles Brown (36.69 ppg) and the Northstar Christian Knights (13-0) continue a trend of prolific attackers among Class A's elite. The No. 8 NYWSSA Class A team moved up three spots after a 3-0 week, beating Vertus 69-44, Buffalo East 85-69 and Wilson Magnet 74-61. The Knights face Hornell (9-4) in their next game on January 25th.
Greece Athena (12-2) won a pair of close contests over Irondequoit 64-61 and Pittsford Sutherland 66-65 to jump to the No. 19 NYWSSA Class A spot. Irondequoit (9-2) took a step back, falling to No. 20 NYWSSA Class A after splitting the week with the loss to Athena and a win over Canandaigua 84-53.
Notable Section V Class A Honorable Mentions include Monroe (9-4), Wayne (11-2), Pittsford Sutherland, SOTA (10-4) and NE Douglass (9-3).
In the Class AA Top 25, McQuaid (9-3) started moving up again, now at the No. 14 NYWSSA Class AA position after a win over Wilson Magnet 72-58. As mentioned previously, the Knights travel to East in a ranked clash on January 26th for their next matchup.
A few Section V teams retained their places in Class AA Honorable Mentions. Gate-Chili (11-2), Fairport (9-4) and Hilton (9-2) all made the list in attempts to crack the Top 25.
Section V representative and Top 25 mainstay Greece Odyssey (11-2) dropped five places to No. 19 NYWSSA Class B after a .500 week featuring a loss to Pittsford Mendon 54-72 and a victory over Greece Olympia 79-54. Joining them is Wellsville (10-4), slipping in at the No. 25 NYWSSA Class B spot following a 58-43 win over Attica. Wellsville and Odyssey face each other on January 26th in another ranked showcase.
Newark (9-3) and Geneva (10-5) represent Section V among the Class B Honorable Mentions.
Minimal movement occurred among Top 20 Class C Section V teams. Lyons (13-1), Caledonia-Mumford (13-1) and Marcus Whitman (11-1) kept their No. 5, No. 11 and No.12 rankings after all three went undefeated last week. C.G. Finney (11-3) and Avon (11-2) both fell two places to No. 9 and No. 10 respectfully.
Section V squads on the outside looking in are Addison (11-2), Gananda (12-3), Naples (11-2) and Alexander (10-3), who all found themselves in Class C Honorable Mentions this week.
Avoca (12-2) remained in the Top 5 but slid to No. 3 NYWSSA Class D while Prattsburgh (13-0) stayed on top at No. 1. Elba (12-2) and Mount Morris (10-3) both retained their rankings, with Elba at No. 4 and Mount Morris at No.14.
Notable Section V Class D Honorable Mentions include Genesee Valley (8-4), Jasper-Troupsburg (11-4) and Belfast (7-5).