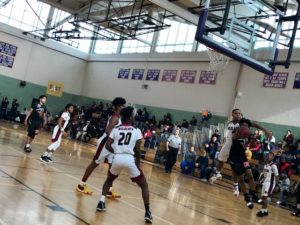 By PAUL GOTHAM
ROCHESTER, N.Y. — Late in the third quarter of Monday's second game at the Valenti Sports RAP Invitational, Northstar Christian coach JJ Garwood walked to the end of his team's bench and made note of a defensive play at the other end of the floor.
"That's the fourth charge taken by one of the Brown brothers this afternoon," he said.
The fact didn't go unnoticed.
On an afternoon when Northstar didn't possess its usual scoring touch, the Knights still walked away with a victory. That the margin was double-digits only added to the emphasis.
"We're going to have days like that where we're going to have to grind it out and keep the opposing team in the 60s on nights where we're only going to be good for 70 or so," Garwood said after Northstar's 74-61 victory over Wilson Magnet. "That first half was incredible defense against this Wilson team that can score in bunches."
Averaging better than 85 points per game, Northstar (No. 11 NYSSWA Class A) managed just 29 points through the first 13 minutes of action. Section V's all-time leading scorer Miles Brown was held without point in the first quarter – the first such occurrence over an eight minute span this season.
"He was getting good looks," Garwood said. "He just wasn't connecting. I know he's not going to go a whole game like that."
Credit Garwood for knowing his player.
Brown connected twice behind the 3-point arc and contributed 12 points in the second quarter. The senior guard scored nine during a 14-3 run to close the half as Northstar took a 40-23 lead into the locker room.
Miles Brown gets in the lane for 2. 3:36 remaining in the half. @NCA1972 27 @wildcats_wilson 21 pic.twitter.com/GQfUE3UfLs

— Paul Gotham (@PickinSplinters) January 21, 2019

"It was just a matter of getting rolling," Garwood noted. "Miles was unusually off in the first quarter. Those are all good signs in that we got a good shot every time down.
"I was confident that second quarter if those same looks presented themselves it would translate into a few more points on the board."
Brown finished with a game-high 25 points. he led four in double figures including Sean Smith who connected four times from 3-point land and finished with 20 points. Ryan Garwood added 14, and Mike Brown had 12. Khalil Iverson added three points.
Khalil Iverson converts the rebound and putback. @NCA1972 24 @wildcats_wilson 20 5:30 remaining in half. pic.twitter.com/NJur2yC4bU

— Paul Gotham (@PickinSplinters) January 21, 2019

"Our playmakers always find the players and they aren't worried about their points," Garwood noted.  "They know they naturally come. They're more concerned with Northstar scoring. Sean can fill the basket quickly. We have a lot of weapons aside from Miles."
And there was two of those playmakers (twin brothers Mike and Miles Brown) showing their defensive prowess as well on Monday.
"A charge is pretty much the best stat you can get in a game," Garwood said of the four taken by the brothers. "It's a turnover for them, essentially. It's a team foul, and it gives us possession. Also, it does something to a team's psyche. You're going to think twice about it the next time you come in the lane.
"Of course, Miles and Michael are our leaders both offensively and defensively and that they look to take charges. They set the example."
Robert Davis paced Wilson with 21 points. Malikk Johnson added 17. Desi Floyd scored seven while Arthur Wilson, Latief Holmes and Maurice Young added four apiece. Dejzhon Crumity and Tory Bradley both chipped in with two points.
With Monday's 25 points, Brown brought his career total to 2,706. He remains in fifth place, 79 points shy of fourth place and former NBA veteran Sebastian Telfair.