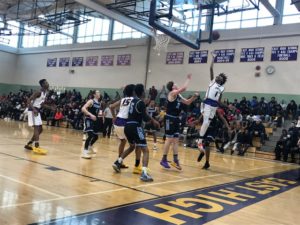 By CHUCKIE MAGGIO
ROCHESTER, N.Y. — The most believable thing about Bishop Kearney junior Kidtrell Blocker's dunk in the final game of the Valenti Sports RAP Invitational at East High on Monday may have been the final result.
None of the teenage observers who gleefully sprinted around the gymnasium after Blocker's poster dunk off a Deiontray Dixon lob will recount East guard Damani Barley's basket after officials cleared the floor and resumed play. Very few will even discuss Eagles senior Chaz Washington's game-winning free throws with a second left to keep East perfect.
That's the nature of highlight plays like Blocker's that receive thousands of views and go viral in the high school sports community: the final score doesn't get people buzzing like a potential Sportscenter nominee does. But that doesn't make East's response, and 14th win of the season, any less notable.
The Eagles went on a 7-3 run after the alley-oop, including four of Washington's 18 points, to turn a two-point deficit into a 61-59 win. After the free throws, which Washington drew on a drive to the basket, East effectively defended Kearney's inbound pass, forcing Blocker to heave a contested attempt from his own paint area as time expired.
The teams each entered having played just one contest that was decided by three points or fewer this year. With 28 lead changes and 15 ties over the course of the afternoon, they let everyone in the building know the last few minutes were going to be crucial. East's biggest lead was three. Kearney's biggest lead was five.
"Just staying with each other," Washington replied when asked how his team was able to keep its composure after the alley-oop. "Keeping each other's spirits up, listening to our coaching staff and staying focused, really."
Even before the 'Oop Heard Around the 585,' the game was simply made for the highlight reel. Blocker's "other" slam was a one-handed tomahawk in the second quarter, also off a Dixon assist. East junior Zechariah Harris-Scott was overshadowed but not outdone, throwing down two dunks of his own.
This just happened…@ESPNSCTop10 pic.twitter.com/1fUIifgo6k

— John Mitchell Likanje Junior (@jml5798) January 21, 2019

Those who didn't dunk put on a formidable three-point display. There were 15 made threes in total (nine for Kearney, six for East), including five of the first eight baskets of the fourth quarter. Dyllon Scott recorded four triples for East while Blocker, Dixon, Michael Gentile and Miles Monchecourt each hit two for Kearney.
"Counting on them, that's big," Washington said of his teammates' ability to made clutch shots. "We're big on sharing the ball and trusting each other's shots. That's what came up big."
The biggest shots of all belonged to Washington, but he had to wait through two timeouts before he attempted the free throws. The Eagles' captain wanted to stay put at the foul stripe during the breaks, lingering at the spot where he would ice the game, but ultimately joined the team's huddle. He was still able to calmly cash in.
"It's a lot of mental," Washington explained. "Talking to myself, just really staying true to what I know. I'm a pretty good free throw shooter and I just kept telling myself that."
Chaz Washington hits 2 FTs with 1.1 seconds left to give @GoEastEagles 61-59 win over @KearneyBoys in the final game of the @RAP_Hoops Invitational. @PickinSplinters @chuckiemaggio @SecVBBasketball pic.twitter.com/R4tg1lViBs

— John Mitchell Likanje Junior (@jml5798) January 21, 2019

Dyllon Scott scored 18 to tie Washington for the scoring lead. Harris-Scott was the third Eagle in double figures with a 13-point contribution. Monchecourt totaled 16 to lead the Kings; he scored 11 straight BK points from the end of the third quarter into the early stages of the fourth. Blocker (12 points), Gentile (10 points) and Antwan Williams (10 points) were Kearney's other double-digit scorers.
East defended home court in a game that Kearney could have easily swiped. Eagles coach Darrell Barley was pleased with his team's ability to pass its latest test.
Zachariah Harris-Scott with the emphatic dunk for @GoEastEagles pic.twitter.com/GewuJjPEVj

— John Mitchell Likanje Junior (@jml5798) January 21, 2019

"We were going back and forth with threes, the Blocker kid, Miles Monchecourt," Barley said. "Those kids are really good players. They probably could play high level Division III or I think two of those guys, especially Blocker is a Division I player.
"I think Dyllon Scott was a key… Every time they made a three, he came down and hit two threes. Damani hit a big three. Chaz was a leader, a floor general with the kickouts and getting to the basket and hitting the two free throws to seal the game."
Chaz Washington reverse layup knots game up at 40 apiece at the end of the 3rd quarter between @KearneyBoys and @GoEastEagles. @PickinSplinters @chuckiemaggio @RAP_Hoops @SecVBBasketball pic.twitter.com/S9n1S9KSrL

— John Mitchell Likanje Junior (@jml5798) January 21, 2019

The holiday tripleheader featured over five hours of competitive high school hoops, with each game hovering around single-digits with two minutes left. But the victorious Eagles knew their pick for the game of the day.
"I think people got their money's worth with all the games today," Barley commented. "But this one being the last game was a true highlight, with all the dunks and threes and nice passes."