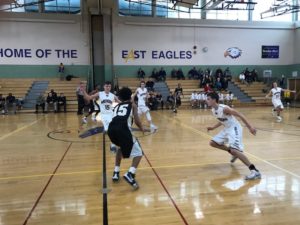 By JOHN LIKANJE
ROCHESTER, N.Y. – The Pittsford Mendon Varsity Boys Basketball team continues to be one of the consistently dominant squads in Section V. After defeating Rush-Henrietta, 94-62, Saturday morning at the RAP High School Invitational at East High School, Mendon has now won nine games by double-digits this season.
"Just a really special group that shares the ball with each other," Vikings head coach Bob Nally commented after the victory. "They have dedicated themselves to playing good defense too."
The Vikings (11-0/No. 4 NYSSWA Class A) outscored the Rush-Henrietta Royal Comets (7-6), 28-12, in the second quarter to extend their eight-point lead to a 48-24 edge at halftime. Senior guard Michael Harrington made two layups-one which resulted in a three-point play and three free throws as part of a 12-4 run to start the period for a 32-16 lead.
"A lot of the starters play together, we play AAU and we were always told to work the ball around, push it up the floor, and make sure everyone gets touches because we can all score so well," Harrington explained. "I think that's the most important thing."
Senior guard Connor Krapf hit a three-pointer and junior forward Nate Strauf finished a layup of his own. During the run, the Vikings held the Royal Comets to six missed field goals and two turnovers in 10 possessions.
"First quarter, the guys came out strong," Nally said. "Made a good run. Things got a little bit close, but in the second half, we sort of pulled away with it and got really good energy for a morning game."
Six players scored for the Vikings during a 14-3 spurt in the last three minutes of the second quarter. Harrington and senior guard Charles Bennett each knocked down a shot from beyond the 3-point arc. Strauf and junior forward Caleb Arena netted a pair of free throws. Krapf and sophomore guard Jacob Shadders made one layup each. The Vikings forced the Royal Comets into five missed field goals and one turnover in eight possessions.
"I think when we went to zone on defense, it sort of pushed our offense a little bit in transition," Nally explained about the adjustment his squad made in the second quarter. "They weren't able to find our matchups and our shooters were knocking them down."
Charlie Bennett nails a triple for @mendonbball pic.twitter.com/LamWe4jBaD

— Paul Gotham (@PickinSplinters) January 19, 2019
Leading 57-32 midway through the third quarter, senior forward Dan Cook finished two layups as part of a 10-2 run to extend the edge to 67-34. Harrington netted a three-pointer, Shadders hit a pair of attempts from the foul line, and Strauf made a free throw of his own. During the run, the Vikings held the Royal Comets to four missed field goals and one turnover in six possessions.
"It was a great win," Cook said after the game. "We always come out there, play well, and pass the ball together."
Cook swished back-to-back long-range shots from the top of the key and Strauf made a layup to cap an 8-0 run and give the Vikings a 75-37 lead, the largest of the game.
"We start off games pretty slow," Cook explained. "We get in there and we say 'We're better than the next team.' Then we go out there and we play hard."
Cook scored 14 of his team-high 21 points in the third quarter on three layups, two shots from beyond the arc, and a floater. The senior forward hauled in 10 rebounds to tally his tenth double-double of the season.
"I'm just trying to do my role," Cook said when evaluating his season. "We all got our own special talents and we all work together really well. That's how we win games."
"He's been Mr. Steady for us. He's got a knack for the glass," Nally said about his senior forward. "He's got what it takes to rebound and he's got great hands, so he finishes around the rim. He's got a good kiss off the glass down pat. He works hard in the offseason, so I'm not surprised."
Harrington netted 10 of his 16 points in the second quarter on a pair of layups-one resulting in a three-point play, three free throws, and a long-range shot.
"The guys were looking for me and we ran out very well," Harrington explained on his scoring during the second quarter. "Everyone worked the ball around and I just happened to hit my shots."
"When Mike decides to go to the basket, he's really strong," Nally said about his senior guard. "He's got great hands as well. He's been shooting really well for us this year. He's had 14 and 15 (points) in quarters before."
Shadders had 10 in the first half and finished with 12 points to go with 10 assists. The sophomore guard knocked down two three-pointers. Krapf and Arena each added 10 points. Krapf netted a pair of shots from beyond the arc and Arena scored eight in the fourth quarter on four layups.
Jacob Shadders turns down the ball and gets the floater to fall. pic.twitter.com/mSBk08vCIK

— Paul Gotham (@PickinSplinters) January 19, 2019
Strauf (9), Bennett (7), Isaiah Cotton (4), Kevin Keneally (3), and Kyle Hennessey (2) rounded out the scoring for the Vikings, who have amassed 90 or more points in six games this season, including four of their last five.
For Rush-Henrietta, junior guard Charles Bowden had 17 of his game-high 22 points in the second half, including 13 in the third quarter on a trio of long-range shots and a pair of layups.
Patrick Sherron (8), Shamire Broyld (8), Quinn Hargrave (6), Javonte Williams (5), Tim Jackson (3), Nyles Goodwin (2), Tyshawn Searight (2), Eddie Beverly (2), Abdule Bori (2), and Kevin Leysath (2) rounded out the scoring for the Royal Comets.
Timmy Jackson grabs his own miss and finishes for @rh_hoops pic.twitter.com/a2HuGbh1ty

— Paul Gotham (@PickinSplinters) January 19, 2019
Pittsford Mendon will host local rival Pittsford Sutherland next Saturday at 7:00 PM. The Vikings defeated the Pittsford Sutherland Knights in the Rainbow Classic on December 21.