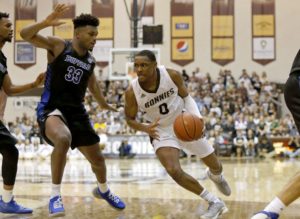 By CHUCKIE MAGGIO
With at-large talk dwindling, the Atlantic 10 Rookie of the Year race is becoming an alluring storyline.
The A-10's young talent is on full display, mostly out of pure necessity after last year's senior class graduated. Davidson had to replace Peyton Aldridge, St. Bonaventure had to replace Jaylen Adams and Matt Mobley and St. Joseph's had to replace Shavar Newkirk and James Demery, just to name a few.
St. Bonaventure center Osun Osunniyi was the conference's seventh different Rookie of the Week this year, and he's not even the leading Rookie of the Year candidate on his own team; that teammate hasn't even received Rookie of the Week yet.
The last five years have set a precedent for which freshmen are the leading candidates to be in the headlines at season's end. Who is in the running this year?
Since 2013-14, each A-10 Rookie of the Year has fit the following criteria:
Played at least 25 minutes per game

Started at least 65 percent of his team's games

Averaged at least 10 points per game

Made at least three field goals a game
These freshmen currently fit that criteria (sorted by alphabetical order):
Luka Brajkovic, Davidson

: If your name is Luka, you're a frontrunner for the 2019 Rookie of the Year Award. The 6-foot-10 Austrian averages 11.6 points per game on 53.7 percent shooting and is the A-10's freshman rebounding leader with 6.4 rebounds a contest. Brajkovic's averages have dipped a bit since conference play started, but his a 19-point, 14-rebound effort at Wake Forest showed star potential.
Jared Bynum, St. Joseph's. Bynum's stat line in last night's upset win over Davidson: 12 points, nine assists, seven rebounds. The only other St. Joseph's Hawks to have at least 12 points, nine assists and seven rebounds are DeAndre' Bembry and Lamarr Kimble. Bodes well for SJU's third-leading scorer, who will need to produce Rookie of the Year numbers with Kimble out indefinitely and Pierfrancesco Oliva done for the season.
Sincere Carry, Duquesne.

Carry is second in the league in steals and third in assists. The Ohioan is not only averaging two more points and two more assists in Duquesne wins, he's shooting 23 percent better in victories. Carry has been the Dukes' leading assist-getter in 12 of their 16 games this year and has scored double-figure points in seven of the last 10.
Nick Honor, Fordham.

Honor is Fordham's leading scorer and has the fifth-most points in the conference. His 23-point performance against St. Bonaventure on Saturday was his third 20-plus point game this season, with a 30-point output in a win over Rutgers marking his career high.
Kyle Lofton, St. Bonaventure. The last Bona freshman to fit the Rookie of the Year criteria was Andrew Nicholson, who won the award in 2009. Lofton is currently playing more minutes, averaging more points and making as many field goals a game as Nicholson did that year. The Putnam Science Academy product ranks 16th in scoring, ninth in assists and 15th in steals, the only freshman to rank in the Top 20 of all three categories. Lofton may have the most responsibility of any first-year and is exceeding expectations.
These two freshmen don't fit all of those criteria but are in the conversation:
Obi Toppin, Dayton. Toppin has been named Rookie of the Week three times this season and has the conference's between-the-legs highlight dunk of the year. While he has only started four of 16 games and averages just 23 minutes a game, he has made the most of those minutes by scoring 12.3 points a game, grabbing 4.4 boards a contest and making over five field goals a night.
Osun Osunniyi, St. Bonaventure. Osunniyi is the A-10's blocks leader and ranks 22nd nationally in swats. Lofton's prep school teammate at Putnam recorded a double-double in each of the last two games to earn Rookie of the Week. He has worked his way into SBU's starting lineup, giving him the chance to start meeting the Rookie of the Week criteria.