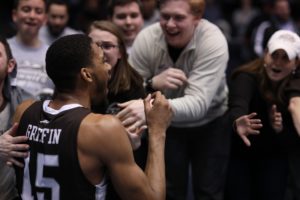 By CHUCKIE MAGGIO
LaDarien Griffin collected Kyle Lofton's dish, realized he was all alone at the restricted area and did what he does best, did what he wasn't able to do a lot the last two months.
The senior switched the ball to his right hand, reached back and unleashed a tomahawk slam. With only 80 seconds remaining in the game, the dunk was the icing on a blown-out cake.
Griffin and the Bonnies defended home court with a 73-47 thumping of the St. Joseph's Hawks on Wednesday night at the Reilly Center. The 26-point margin of victory was Bona's largest over SJU since a 35-point win in 1969. The Bonnies have now won nine of the last 10 games in the series.
Takeaways from a dominant SBU victory:
Player of the Game: LaDarien Griffin. Griffin looked healthy against George Mason. He looked like himself on Wednesday. The Jacksonville native scored 19 points, two off his career high, on a highly efficient 8-of-12 shooting clip from the field. He also grabbed seven rebounds, dished out two assists and had a block and steal in 34 minutes of action, the most minutes he has logged since the season opener against Bucknell.
Wednesday was Griffin's first career game with at least 15 points and five rebounds. Courtney Stockard is the only other Bonnie to have a game with 15 and five this year.
Honorable mention: Nelson Kaputo (12 points), Osun Osunniyi (10 points, 12 rebounds)
Stat of the Game: All five Bona starters scored in double figures for the first time this season. Bonnies coach Mark Schmidt started Kyle Lofton, Kaputo, Stockard, Griffin and Osunniyi, the eighth different lineup combination in the team's 15 games.
Stretch of the Game: Bonaventure led wire-to-wire, asserting its dominance early with a 17-1 start. The Hawks didn't make a field goal for the first seven minutes and didn't score their 10th point until over 15 minutes had been played. Griffin's three-pointer just before the halftime buzzer gave the Bonnies a 39-12 lead going into the locker room.
Quote of the Game: Mark Schmidt to WPIG on why Osunniyi got the start: "He's playing better, and you reward guys who are playing good in practice. That's how I've been doing it for a long time. You play like you practice, so I thought he deserved it, I thought he played well in the George Mason game. He gives us something. He blocks shots and is more of a presence. Amadi's more physical, but I like Osun. He's gonna be a really good player for us."
Miscellaneous Notes: Jalen Poyser missed his first game of the season due to what Schmidt termed a "coach's decision." Poyser scored three points and missed eight of his nine field goal attempts in Sunday's loss at George Mason.