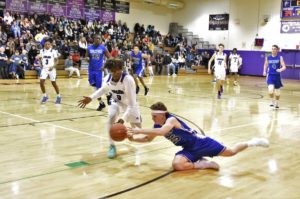 By JOHN LIKANJE
SCHOOL OF THE ARTS (6-4) 71
EARLY COLLEGE (1-8) 51
After taking down the undefeated Avon Braves in their previous game, the Silverhawks got their second consecutive victory. Junior guard Logan Hayes led with 20 points, all in the second half, and knocked down five three-pointers. Sophomore forward Ethain Clarke-Desouza scored 11 of his 18 in the first half. He hit three shots from beyond the arc and was 3-of-4 from the free throw line. Sophomores Ke'vion Mitchell and Reggie Smith each netted 12 points. For the Cobras, junior forward Sam Jackson scored 19 points and senior forward Ahmir Buckhannon contributed 10. Other scorers- School of the Arts: Joe Denegal (5), Keshaun Chatman (4) Early College: Jaequon Nesmith (7), Joe Williams (6), Marquis Crawford (3), Jaiden Daymon (3), Jahan Richetts (2), Jahlil Johnson (1)
WILSON MAGNET (4-5) 71
EDISON TECH (1-11) 59
Senior guard Robert Davis scored a team-high 19 points to lead the Wildcats to their third victory in the last four games. Davis got to the free throw line 13 times and converted 11. Juniors Tory Bradley and Maurice Young each netted 12 points. Bradley had all of his points in the first three quarters. Young scored 11 of his 12 points in the first half and hit six shots from the charity stripe in 10 attempts. For the Inventors, senior guard Alton Knight poured in a game-high 26 points, knocked down four three-pointers, and went 8-9 from the foul line. Other scorers- Wilson Magnet: Desi Floyd (9), Malikk Johnson (9), Dejzhon Crumity (6), Latief Holmes (3) Edison Tech: Jawaun Holt (7), Kevis Heard (5), Javonte McKnight (5), Kevin Jackson (4), Tahaj Washington (3), Torrean Lewis (2), Edgar Bass (2).

EAST (11-0) 89
WORLD OF INQUIRY (2-6) 67
Zack Harris-Scott poured in 19 of his season and game-high 35 points in the third when East (No. 11 NYSSWA Class A) recovered from a halftime deficit to take a double-digit lead. Scott connected eight times from the floor during the stanza as the Eagles outscored WOI, 34-11 to take a 61-44 lead into the fourth quarter. Chaz Washington added 16 points, and Dyllon Scott scored a dozen for East. Kaori Barley and Freddie Brock contributed eight apiece. Maurice Coney (3), Jordan Randolph (3) and Howard Eagle (2) rounded out the scoring for East. Scott, averaging 21.6 points per game, has scored 20 or more in each of his last six outings. Tremier Dollar paced four Griffins in double figures with 17 points. Bobby Searight added 14. Jamil Bell scored 12, and Jeshua Shaw had 11. Michael Thomas (8) and JaQuan Close (5) rounded out the scoring for WOI.
MCQUAID (6-2) 76
LEADERSHIP (5-4) 81
Rondell Watson eclipses 1,000 career points as the Lions held off the Knights (No. 8 NYSSWA Class AA.
MONROE (6-3) 62
NE DOUGLASS (8-2) 85
Junior guard Lamar Lovelace poured in 27 points, hauled in 11 rebounds, and had four steals as the Panthers snapped the Red Jackets' five-game winning streak. Lovelace got off to a hot start with 12 in the first quarter. The junior guard also went 4-for-4 from the free throw line and knocked down three shots from beyond the arc. Junior forward Adonis Flagler netted 16 of his 20 points in the second and fourth quarters combined and grabbed seven rebounds. Senior guard Jiahmere Mitchell chipped in 17 of his own, including hitting four shots from the charity stripe and three long-range shots. Senior guard Maurice Glenn had five rebounds and dished out seven assists. For the Red Jackets, senior guard Fidel Brock scored 11 of his 20 points in the first half. He hit five free throws in six attempts. Senior forward Tyquil Glasgow netted all 18 of his points in the first three quarters. Other scorers- NE Douglass: Glenn (6), Trevion Miller (5), Casey Diometre (4), Ezekiel Irishura (3), Nicolas Jeanty (2), Jonathan Rowley (1), Monroe: Javar Williams (8), Jo-Nathan Jones (6), Trevone Glasgow (4), Zaikai Titus (4), Kerone Kearse (2).
RUSH-HENRIETTA (6-3) 39
IRONDEQUOIT (6-1) 62
Leading 12-8 after the first eight minutes of play, Irondequoit (No. 19 NYSSWA Class A) outscored Rush-Henrietta 16-7 in the second quarter and put the game away in the third. Keenan Robertson paced three in doubled figures with 20 points. The Irondequoit sophomore contributed 11 in the third quarter when the Eagles outscored R-H 19-8. Patrick Thomas added 12 points in the game, and Josh Stenglein had 10 to lead Irondequoit to back-to-back wins. Kenny Gonzalez also scored eight for Irondequoit. The Eagles came into the contest leading Monroe County in team defense holding opponents to 48.83 points per game and limited R-H to 12 field goals for the night. Nyles Goodwin led Rush-Henrietta with nine points. The Royal Comets played without starting forward Shamire Broyld because of an undisclosed injury. Other scorers: Irondequoit – Tim Jackson (2), Tyshaun Seawright (2), Eddie Beverly (2), Javonte Williams (8), Abdul Bori (2), Patrick Sherron (2), Charles Bowden (2), Quentin Hargrave (2), Ziemere Howard (7) and Kevin Leysath (1). Irondequoit – Freddie June, Jr. (2), Jack Brennan (5), Keegan Vankerkhove (2), McGuire Craig (2) and Luke Melidona (1).
WEBSTER SCHROEDER (2-6) 64
GATES-CHILI (8-2) 75
Keith Slack led Gates with 32 points and five steals, while Adam Williams scored 18 points and grabbed 11 rebounds, and Mitchell Harris netted 11 points and pulled in five boards. Slack got going early, dropping 14 points in the first quarter as Gates took a 21-14 lead to open the game. Luke Insley topped Schroeder to the tune of 20 points, including 12 in the third quarter alone. Ky'mere Meeks contributed 17 points of his own. Other scorers: Gates- Turner Harris (5), Traylan McCray (4), Tre Green (2), Andrew Newcombe (2), Devin Walton (1), Schroeder- JoJo Plummer (7), Collin Donnelly (6), Josh Hauman (5), Colin Merkey (4), Evan Ferrari (3), Nick Hauman (2)
PENFIELD (3-7) 50
CHURCHVILLE-CHILI (4-3) 52
Junior forward Griffin Stella scored a team-high 15 points for the Saints. Junior John Keele netted 11 while Marcus Postell contributed 10. For the Patriots, senior guard Patrick Piampiano had a game-high 16 points. Senior guard Javion Monroe scored 12. Other scorers- Churchville-Chili: Kamerin Poromon (8), Tylor Allen (4), Terrence Wilson (2), Garland Akins (1), Marcellus James (1), Penfield: RJ Green (8), Ethan Fici (5), Matt Gable (3), Dan Vercruysse (2), Ty Salmon (2), Ryan Wensley (2)
VICTOR (2-6) 64
WEBSTER THOMAS (6-3) 66
Andrew Mason drilled nine three-pointers en route to a team-high 31 points. Thomas entered the fourth quarter trailing 58-44, but outscored Victor 22-6 to complete the comeback win, thanks in part to Mason's four threes in the quarter. Matt Caggiano led Victor with 17 points, followed by Jon Crowley's 13 points, Phil Nwugwo's 11 points and Jeremy Summerson's 10 points. Other scorers: Thomas- Garrett Reeves (10), Dannie Palmer (7), Aristo Visca (6), Stephen Katz (6), Tyler Williams (3), Evan Mitchell (3), Victor- Connor Williams (6), Will Stone (5), Alex Newton (2)
PITTSFORD MENDON (6-0) 70
HONEOYE FALLS-LIMA (5-4) 38
Pittsford Mendon (No. 5 NYSSWA Class A) went on an 18-0 run in the last four minutes of the second quarter, after Honeoye Falls-Lima's Trevor Chamberlain hit a three-pointer to give the Cougars a 22-21 lead, to take a 39-22 lead at halftime. Senior guard Michael Harrington led the Vikings with 27 points, including 22 in the first half, and senior forward Dan Cook tallied his fifth double-double of the season with 14 points and 14 rebounds. For the Cougars, sophomore forward Patrick Lustyk scored a team-high 12 points. Other scorers- Pittsford Mendon: Connor Krapf (8), Jacob Shadders (7), Nate Strauf (7), Tommy Birmingham (2), Kyle Hennessey (2), Caleb Arena (2), Will Orzell (1), Honeoye Falls-Lima: Chamberlain (7),  Derek Childs (7), Josh Vogt (7), Hayden Smith (5)
PITTSFORD SUTHERLAND (5-4) 56
EASTRIDGE (4-5) 50
Kevin Ryan scored 23 points to lead the Knights. READ MORE.
GREECE ATHENA (8-2) 88 
GREECE OLYMPIA (4-3) 59
The Greece Athena Trojans used a 12-3 fourth quarter run led by transition defense to put the Greece Olympia Spartans away. Athena had a 56-46 lead after the third quarter and outscored Olympia 29-13 in the final period. The Trojans finished the game with 11 assists and 11 steals. Junior guard Melvin Council Junior had a big night with 21 points, eight steals, and five blocks. Senior guard Kelvin Reaves, Jr. scored 20 and grabbed four rebounds while sophomore forward Austin Brown added 16 points. Junior guard DeAndre Newsome contributed nine points, three assists, and three steals. While the Spartans were lead by sophomore forward Collin James who finished with 22 points, 12 rebounds and six blocks, the offense was rounded out by Darnell Williams, who had 12 points and four assists, and seniors Jeff Jung and Kris Perez, who added 12 and 10 respectively. Other scorers- Greece Athena: Johny Salone (4), Noah Horn (4), Tyler Curtis (3), Isaiah Brock (3), Brandon Smith (3), Greece Olympia: Trevari Sharpton-Clark (3)
BROCKPORT (6-3) 59
GREECE ODYSSEY (8-1) 85
Jaden Hartsfield topped Odyssey (No. 16 NYSSWA Class B) with a career-high 30 points, including six makes from three-point range. Hartsfield scored 15 of his 30 points in the fourth quarter, helping Odyssey, who entered the quarter up 56-50, bust the game open. Ray Colbert added 12 points and Aric Williams had 10 points. Odyssey extended its winning streak to four straight games, while snapping Brockport's three game winning streak. Kyle Palka led Brockport with 17 points, followed by Collin Contrell with 12 points and Troy Liebert with nine points. Other scorers: Odyssey- Travon Harper (9), Josh Haff (6), Korey Canton (5), Preston Mathis (5), Jonah Holloway (3), Dylan Kolmetz (3), Brockport- Kevin Lawrenz (6), Willie Ball (4), Ishmael Hannah (4), Shamar Lee (3), Sam Velletri (3), Oscar Vandetta (1)
SPENCERPORT (2-7) 39
BRIGHTON (3-4) 42
Senior center Nate Sponsel scored a team-high 19 points for the Barons. Senior forward Chase Seibold had all 10 of his points through the first three quarters. For the Rangers, junior guard Gino Pellett netted 12 points. Other scorers- Brighton: Jack Falter (6), Agathia Visveswaran (3), Lukas Stanat (2), Casey McDermott (2), Spencerport: Alex Anderson (7), Patrick Uebelacker (6), Nick Thibeau (5), Mike Contestabile (4), Ben Reding (3), Jon Taylor (2)
HILTON (7-0) 80
CANANDAIGUA (0-10) 43
Junior guard Tah'Jae Hill poured in 33 points and now has 30 or more points in six games for the Cadets this season. Junior forward Najier Daniels broke out for 18 of his own. Junior forward Alex Mistretta contributed 14 points. For the Braves, junior center Ryan Welch scored 14. Senior guard Chris Kurowski netted 12 points. Other scorers- Hilton: Ryan Kurtz (8), Joe Gombatto (3), Mitchell Carr (3), Sean Alabaugh (1), Canandaigua: Casey Herod (5), Joey Brinza (4), Mitch Pfeiffer (2), Ambrose Carey (2)
GREECE ARCADIA (0-9) 35
BATAVIA (3-4) 73
Senior guard Mason McFollins poured in 29 points, including six three-pointers, in the first three quarters to spark the Blue Devils to their third consecutive victory. McFollins got off to a hot start with 19 and four long-range shots in the first quarter. He grabbed five rebounds and dished out six assists. Senior guard Andrew Francis contributed 11 to go along with six rebounds and two assists. Sophomore guard Zach Gilebarto handed out a team-high seven assists. For the Titans, senior guard Kyle Blum scored nine points. Other scorers- Batavia: Joe Martinucci (9), Caeden White (8), Luke Grammatico (4), Camden White (4), Tyivon Ayala (3), Jake Humes (3) Greece Arcadia: Adam Hurlbutt (7), Evan Caufield (6), Casey Amato (6), Evan Insley (3), Elijah Barnard (2), Sean Crowell (2)
MEEKEL CHRISTIAN (II) 75
NORTHSTAR CHRISTIAN (9-0) 77
Miles Brown scored 21 of his game-high 41 points in fourth quarter as Northstar (No. 15 NYSSWA Class A) erased a double-digit deficit late in the game. Section V's all-time career scoring leader connected three times behind the 3-point arc in the fourth quarter and converted five of six free throws. Brown's layup in the final :20 seconds proved to be the game winner as the Knights defeated the reigning NYSPHSAA Class B champions. Northstar trailed by 13 with 3:36 remaining and by five with :50 seconds to go. Michael Brown scored 15 points and handed out seven assists for Northstar. Sean Smith and Josh Pickett added five points apiece for Northstar. Josh Capolaretti had four points. Ryan Garwood (2), Tim Hinds (3) and Khalil Iverson (2) rounded out the scoring for Northstar. Brown now has 2,538 points and moved into 11thall-time in New York high school boys' basketball history. Ozzie DeJesus paced Mekeel with 37 points including 24 in the first half. Josh Winfield scored 14. Cam Stewart hit three 3-pointers and finished with nine.
WAYLAND-COHOCTON (4-7) 82
YORK (7-4) 63
The Wayland-Cohocton Eagles hit four three-pointers in the final period. Senior guard Connor Englert poured in seven shots from beyond the arc en route to 31 points. Junior forward Cameron Huber hit four long-range of his own and finished with 18 points. "Really disappointing defensive effort for us," York head coach Edward Orman said. "Give a lot of credit to Wayland-Cohocton for their offensive execution. We had no answer for them." For the Knights, junior forward Riley Stella netted 28 points. Josh Davis and Matthew McFarland each scored 11.
NEWARK (8-1) 63
PENN YAN (5-5) 33
Senior forward Jayden Peters hit three shots from beyond the arc and went 3-3 from the free throw line as he finished with 20 points to lead the Reds. Senior forward Mason VanDeMortel netted 16 while junior guard Josh Green contributed 13. For the Mustangs, senior guard Peyton Schuck scored 15 points and knocked down a game-high four long-range shots. Other scorers- Newark: Dustin Case (8), Kyle Martinez (2), Kyle French (2), Blade Case (2), Penn Yan: Connor Fingar (5), Kyler Lloyd (4), Brennan Prather (3), Kyle Berna (2), Colton Smith (2), Peter Nicholson (2)
LIVONIA (3-5) 50
GENESEO (6-4) 53
Sophomore forward Adam Wright scored 19 points and hit the go-ahead three-pointer with 11 seconds remaining to give the Geneseo Blue Devils a 51-50 lead. He also dished out four assists. Junior center Noah Reilly chipped in 11, including two free throws push the margin to three. Junior forward Danny Kelly netted 12 points and grabbed eight rebounds. "This was a great win for us," Blue Devils head coach Brian Paganin said. "We dug ourselves a hole with a number of turnovers but we battled for 32 minutes and were able to pull it out down the stretch. Hopefully we can build off of this as we move into the second half of the season." For the Bulldogs, sophomore center Alex Minnehan scored a team-high 14. Junior center AJ Davin netted 13 while sophomore guard Shawn Minnehan contributed 11.
NAPLES (7-2) 47
MARCUS WHITMAN (8-1) 86
Junior guard Seth Benedict knocked four three-pointers and seven shots from two-point range to finish with 26 points as he led the Wildcats (No. 13 NYSSWA Class C) to their seventh consecutive victory. Junior forward Liam Prendergast scored 14 while sophomore guard Ryan Herod contributed 13. For the Big Green, senior guard Cole Rathbun netted 12 points. Sophomore forward Ben Green had 11. Other scorers- Marcus Whitman: Connor Tomion (8), Jon Donovan (7), Jordan Lahue (7), Aidan Royston (3), Naples: Nick Green (7), Jake LaPrairie (6), Adam Quarterman (4), Owen Kennedy (3), Ben Gordon (2), Nick Clearman (2)
DANSVILLE (5-5) 73
KESHEQUA (2-9) 53
Junior guard Arrik Gerber hit three shots from beyond the arc and scored in 23 points, grabbed eight rebounds, dished out three assists and had three steals and the Mustangs got out to a quick 16-1 start to the first quarter. Senior forward Dylan Race compiled a double-double of 18 points and 10 rebounds along with five steals. Freshman forward Drew Morrow hauled in a team-high 15 rebounds as the Mustangs had six players with at least seven boards. Junior guard Tanner Dettman handed out a team-high eight assists. For the Indians, senior guard Cameren Chestnut poured in six three-pointers en route to a game-high 30 points. Junior guard Bryson Mellin contributed 12. Other scorers- Dansville: Jacob Failla (9), Morrow (7), Noah Holland (7), Carter Davis (4), Dettman (3), Ben Caruso (2) Keshequa: Caleb Buchinger (8), Vanderpool (3)
WHITESVILLE (0-7) 33
HINSDALE (2-5) 35
Sophomore guard Jesse Pensyl led the Whitesville Blue Jays with 11 points, seven rebounds, four steals, and three assists. Other scorers- Whitesville: Chris Gullett (9), Colby Gaines (8), Brendal Jackson (3), Robert Whitesell (2)
MIDLAKES (4-6) 46
WAYNE (7-2) 75
Wayne senior center Nick Carmichael poured in 26 points, grabbed nine rebounds, dished out three assists, and blocked a shot for the Eagles. Senior guard Logan Blankenberg racked up a double-double of 19 points and 14 rebounds. Blankenberg also had five assists, four steals, and two blocks. Senior forward Jaiden Burlee almost had a double-double as well with 12 points, nine rebounds, and two steals. For the Screaming Eagles, senior guard Matt Mattoon scored 13 points. Other scorers – Wayne: Billy Thomson (7), Nathan McKenna (6), Max LaRocco (4), Logan Holgado (2), Kyle Russell (1), Midlakes: Kyle McCann (9), Trevor VanNostrand (9), Kaleb Mahoney (4), Chris Weston (2)
GENEVA (6-4) 56
WATERLOO (6-5) 48
Senior center Reid Patchett led the Panthers with a double-double of 17 points and 11 rebounds. He also handed out four assists. Senior forward Christian Tapscott dished out a team-high five assists. For the Indians, senior guard Derek Slywka scored 16 points, grabbed eight rebounds, had three steals, and two assists. Junior guard Julian Ruiz netted 11 with two rebounds, two assists, and a steal. Other scorers- Geneva: Tapscott (7), Akim Hudson (7), Liam Ryan (6), Jagger Kerr (6), Nick Askin (5), Dante Reid (5), Parker Bossard (3), Waterloo: Kyle Slywka (6), John Lawerence (5), Michael Hubbard (3), Nash Ridley (3), Joel Kraft (2), JaiQuon Lewis (2)
MYNDERSE (5-4) 61
PALMYRA-MACEDON (1-8) 41
NOTRE DAME (4-5) 65
ATTICA (7-3) 57
PEMBROKE (3-6) 48
LYNDONVILLE (9-0) 52
HOLLEY (2-7) 40
ELBA (7-2/No. 6 NYSSWA Class D) 68
BYRON-BERGEN (3-6) 71
WHEATLAND-CHILI (0-8) 44
HAVERLING (3-6) 60
PAVILION (5-6) 58
CUBA-RUSHFORD (4-2) 63
BOLIVAR-RICHBURG (4-5) 47
KENDALL (3-6) 81
OAKFIELD-ALABAMA (4-5) 85
MOUNT MORRIS (7-3) 80
CAMPBELL-SAVONA (3-8) 50
FILLMORE (4-1)
BELFAST (1-4)
HORNELL (7-1)
PERRY (3-4)