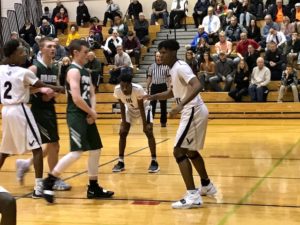 By PAUL GOTHAM
ROCHESTER, N.Y. — Al Nash wanted his team to get the ball into the paint. Ke'Vion Mitchell saw enough space from behind the 3-point arc. The latter possessed the ball. The former relented.
In a game of dramatic runs, Mitchell's exclamation point proved to be the difference. Trailing by one with less than 15 seconds remaining on the clock, the sophomore guard drilled a 3-pointer from the right side of the floor.
"I saw that he was sagging off me a little bit," Mitchell said of the defense on his game winner. "I saw that I could pull it over him, so I just pulled it. I knew I had it. I felt it."
The bucket capped a 10-2 SOTA run over the final 1:46 as the Silverhawks defeated Avon, 94-90 in double overtime.
"We needed it," Mitchell added. "It was do or die. I just did it. We needed that win."
With those points, Mitchell matched teammate Ethain Clarke-DeSouza with a team-high 22 points.
"I'm thinking no, but when it went through I said, 'yes,'" Nash commented about the winner. "We were in the double bonus. I wanted to try to get it inside, get fouled and maybe see what happens there. But he hit a big shot."
The triple was Mitchell's fourth of the game and second of the second overtime.
Down 1, Ke'Vion Mitchell nails the eventual game winner as SOTA outlasts Avon in 2OT: 94-90 pic.twitter.com/123LlCjLgA

— Paul Gotham (@PickinSplinters) January 3, 2019
"He's improved his shot a lot since last year," Nash added. "He was wide open, and we take open shots. We want to take open shots, not contested shots, so I can live with it at that time."
The win looked unlikely for SOTA which surrendered a 12-point advantage in the final two minutes of regulation.
Trailing 74-62, Avon's Tyler Dailey finished what he started. The junior guard sparked the run with a 3-ball. He beat the buzzer with another trey to send the game to overtime. In between, Nick Rowland connected from long range. Dailey hit a runner in the lane, and Connor Taylor finished a layup as Avon produced points on five of its last six possessions.
Tyler Dailey drills this 3 to send us to overtime. pic.twitter.com/zLSMJltW3m

— Paul Gotham (@PickinSplinters) January 3, 2019
Still SOTA managed to recover in overtime.
"It's a character builder," Nash said of the win for his young squad which starts two sophomores in Clarke-DeSouza and Mitchell and a freshman in Keshaun Chatman. "They understand now that they can't stop playing because anything can happen."
Clarke-DeSouza rolled an ankle with 36.7 seconds remaining in the first quarter. The 6-foot-2 guard did not return until the second half. He drilled a trio of midrange jumpers in the third quarter. That served as the opening act for his overtime performance.
"He's got a good motor for a young kid," Nash said of his player. "He's got great athleticism. He wants to win. He has that winning mentality and I can't say enough about him and his effort."
He scored five SOTA's seven points in the first overtime and drew a charge in the lane. It was Clarke-DeSouza who iced the game hitting a pair of free throws with 3.8 seconds remaining.
"It means a lot" he said of the win. "It shows that we can handle in-game situations and a lot of pressure. We kept up with them and we did everything we can."
Avon (No. 19 NYSSWA Class C) came into the game undefeated. The Braves (8-1) looked the part early as they jumped to 12-0 lead less than four minutes into the contest.
"We had to adjust to the defense they were playing," Mitchell explained. "They were in a zone (defense), and we kept shooting threes, so we had to get to the paint."
Clarke-DeSouza started the scoring for SOTA with his only 3-pointer of the game.
"That kinda changed the momentum," Mitchell said of his teammate's basket. "Once one goes in, we all kinda feed off it."
Chatman scored 11 for SOTA (5-4). Logan Hayes had 17. Joe Denegal added 14 points, and Reggie Smith chipped in eight points.
Joe Denegal hurt and harm sparks 8-0 SOTA run. Silverhawks lead 41-36 with 1:46 remaining in the half. pic.twitter.com/JQKZf3eEw3

— Paul Gotham (@PickinSplinters) January 2, 2019
Avon's Taylor finished with 23 points, 10 rebounds and 10 assists. The triple-double was the senior guard's fifth of the season including a quadruple-double (29 points/ 13 rebounds/ 12 assists/ 10 steals) in Avon's win over Keshequa on December 21st. Dailey scored 25 points. Rowland poured in a game-high 31 points and snared 16 caroms.
Jaden Brown (6), Andrew Rowland (3) and Padraig Coyne (2) rounded out the scoring for Avon.