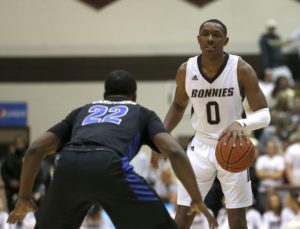 By CHUCKIE MAGGIO
The St. Bonaventure men's basketball team used six different starting lineup combinations during non-conference play. From the beginning of preseason, when senior Courtney Stockard wasn't yet cleared for full contact practices, injuries have prohibited head coach Mark Schmidt from penciling in his ideal starting five.
Freshman guard Dominick Welch's return to practice this week means the Bonnies are one step closer to rolling out a starting group Schmidt partially hinted at during the team's Reilly Center Media Day in October.
Welch found an immediate role in the lineup this season, starting all four games before injuring his foot in the opening game of the Cayman Islands Classic. The Buffalo native may come off the bench in his first game or two back, like Stockard and LaDarien Griffin did in their returns, and could have a minutes limit as well. But once he is deemed to be back in game shape, he will likely be out for tip-off at the small forward position.
As long as Welch is effective, the double-figure scoring threat he was before he was sidelined, Stockard will slide to the "four" spot and Griffin will slide to the "five." The projected lineup for Atlantic 10 play looks this:
1- Kyle Lofton
2- Jalen Poyser
3- Dom Welch
4- Courtney Stockard
5- LaDarien Griffin
Centers Amadi Ikpeze and Osun Osunniyi will still frequently see the floor, but Schmidt acknowledged at Media Day that a traditional frontcourt does not seamlessly fit his system.
"We're not gonna change; we're still gonna be guard-oriented," Schmidt said. "Courtney will be the four, we go small and you've got LaDarien at the five and we just open it up. We're never gonna play, quote, 'power ball,' we're never gonna have a true center and a true power forward. That game went down (Route) 417 about five years ago.
"It's like, try to score in the first 12 seconds of the shot clock and just go and play, play fast. I think it's a fun way and I think the crowd enjoys that. We're not gonna play a power game, other than Amadi when you throw (the ball) in."
SBU is tied for 235th in the country in field goals made per game, 235th in possessions per game and 256th in offensive efficiency. It has also made just 48 percent of its two-point field goal attempts, ranking 229th in the nation.
Ikpeze has not scored in double figures since Dec. 1 against Delaware State, his only double-digit output this season. Despite being the A-10's blocks leader, Osunniyi has totaled just 19 points since scoring 13 against Siena on Dec. 5. Foul trouble has been a concern for both players, who have 10 combined games with at least four fouls.
A shift to a reserve role could serve as motivation for Ikpeze. Before the Delaware State game, where he poured in 14 points in 17 minutes and made five of his seven field goal attempts, the junior had scored 11 points over the previous four games.
Ikpeze noted in the postgame press conference that the performance "was very needed just because of all those games previously. All the games previously I really wasn't playing to the level my team needed me to be and where the coaches expected me. So it's kind of great to get a little bit of pressure and take it on my shoulders, playing good today."
Applying the pressure of a demotion wouldn't be out of the ordinary for Schmidt, who isn't the type of coach to stand pat during a string of losses. Besides, a projected lineup with Griffin at the five could stretch the floor and employ a level of spacing Bonaventure's offense hasn't worked with this year.
"He's long enough to be able to guard (the five) and he's stronger than he appears," Schmidt said of Griffin. "And now we can run some ball screen stuff with him being a five man, that's hard to guard."
Unless you're Bucknell, Delaware State, Siena or Vermont, the Bonnies haven't been very hard to guard. This new lineup, a rotation the Bonaventure coaching staff has probably been looking forward to, gives them a chance to compete in conference play.