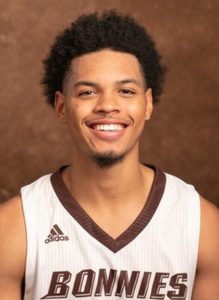 By CHUCKIE MAGGIO
New year, new health for the St. Bonaventure men's basketball team.
Bonnies freshman Dominick Welch posted on Twitter Tuesday that he has returned to practice, six weeks after suffering a foot injury in SBU's Cayman Islands Classic loss to Georgia State. While his return to game action is still unknown, Bonaventure is close to having a full scholarship roster for the first time this season.
Welch started all four games he played before the injury and scored 10 points in games against Bucknell and Niagara, an early career high. The Buffalo native also grabbed six rebounds in each of those games.
Western New York high school basketball's all-time leading scorer could be the answer to one of SBU's recent glaring weaknesses: three-point shooting. Welch has made five of his 16 three-point attempts, including a 2-for-4 clip against the Purple Eagles. In a prep school season at the SPIRE Institute, he shot 39 percent from behind the arc.