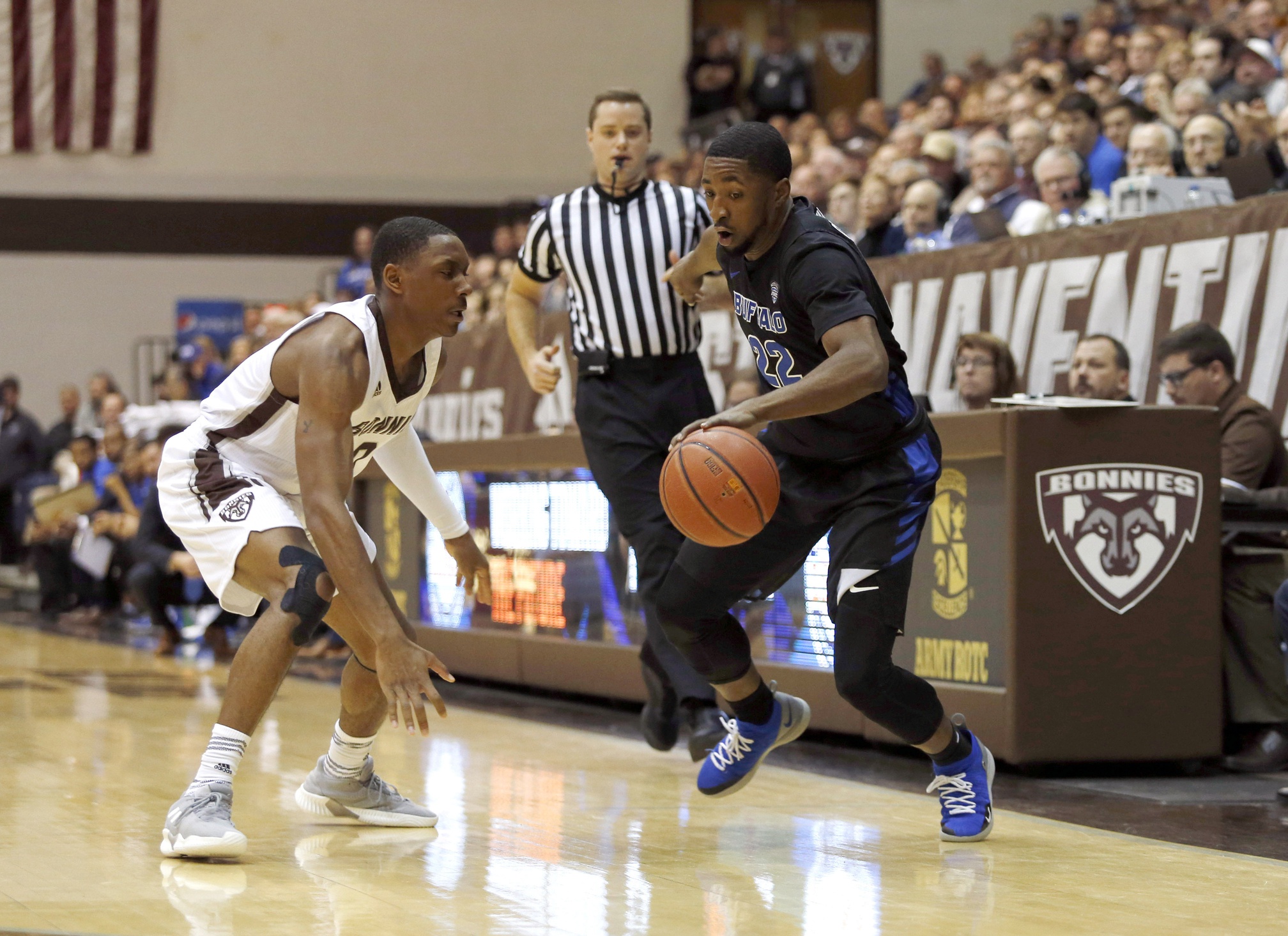 By CHUCKIE MAGGIO
ST. BONAVENTURE — The pregame hype video represented what the majority of the Reilly Center's sellout crowd was thinking when the University at Buffalo Bulls were assured an Associated Press Top 25 ranking ahead of Saturday afternoon's showdown.
The St. Bonaventure athletic department whipped up a compilation video of past upset victories of ranked opponents, highlighted by Marcus Posley's buzzer-beater to top VCU and last season's three-point win over A-10 unbeaten Rhode Island. The crowd roared with approval as some of the program's finest moments were replayed, visions of another court storming dancing in their heads.
A No. 17 Bulls squad let the 5,480 fans in attendance know early on that Saturday was going to be different. Unlike the VCU and Rhode Island games, which were tightly contested from tip to triple-zeroes, UB jumped to a 47-25 halftime lead. Coach Nate Oats's team looked every bit the highly-touted team it figures to be all season, fending off Bonaventure's energetic second half comeback attempt and claiming an 80-62 win.
UB improved its unblemished record to 9-0 due in large part to a sterling shooting performance. The Bulls made seven of their 15 three-point attempts in the first 20 minutes, with guard Jayvon Graves making all four of his tries from beyond the arc. They enjoyed many trips to the free throw line, entering the bonus just five minutes into the contest and making 10 of 15 foul shots in the period.
After thumping Siena in a 42-point rout on Wednesday, the Bonnies managed just two three-pointers and 39 percent shooting from the floor in the first half. Ten first-half turnovers did little to help the Bona cause as the Bulls tossed up alley-oops in transition and laughed their way out of scuffles in the game's chippy beginning.
As they often do at home, the Bonnies worked their way back and made it a ballgame. They went on a 13-0 run from the 15:43 mark to the 11:21 mark of the second half, making four of their five field goals in that span and cutting the deficit to 15. Buffalo answered with a three-pointer and layup to extend its lead back to 19.
Bona got as close as 12 with eight minutes to play before UB splashed back-to-back threes and ensured a first loss of the year was not in the cards.
"I thought the second half our guys really fought… they didn't give in," St. Bonaventure coach Mark Schmidt said. "They could've quit."
"That's a good team; that's an NCAA Tournament team," Schmidt noted of UB. "For our younger guys, I think it's a good learning experience. Those guys, they experienced playing against a tournament team, a veteran team, a physical team. And hopefully we can take something from that. We've gotta go back to work."
One of those young players, Kyle Lofton, scored 15 points, dished out six assists to just one turnover and collected four rebounds. After a disagreement with an official in the first half led to a technical foul, the freshman regained his composure and had another impressive outing.
The first game in front of a sold-out Reilly Center yielded its fair share of lessons for Lofton and Osun Osunniyi, who managed just three free throws and missed all four field goal attempts. Lofton still came away pleased with his first sellout experience.
"I didn't expect that crowd to happen," Lofton said. "But it was great… I like the Reilly Center."
Jayvon Graves drilled five three-pointers and led all scorers with 19 points. Jeremy Harris scored 18 points on 7-of-14 shooting. NBA prospect CJ Massinburg recorded 14 points and corralled nine boards but was held to a 3-of-11 shooting day. Courtney Stockard led the Bonnies with 18 points on 7-of-13 shooting and six rebounds.
"Going into the game, it's funny: we wanted to stop Massinburg and we wanted to stop (senior forward) Nick Perkins," Schmidt recalled. "If someone told me that Perkins would be one for ten and Massinburg wouldn't hit a three, man I'd take that. But good teams, other guys step up… that's indicative of how good they are. Congrats to them, and we need to keep on going."
Dontay Caruthers (East High) finished with four points, three rebounds and two assists in 18 minutes off the bench. Jeenathan Williams (UPrep) had nine seven points on 2-of-3 shooting from the floor and free throw line.
The Bonnies have 10 days off before a Dec. 18 meeting at Vermont. A test with Buffalo, as difficult at times that it became, has the potential to become beneficial as the team watches the tape and implements a practice plan.
"Very beneficial, because we have 10 days off," senior guard Nelson Kaputo said. "That means we get to get better in practice with those 10 days, watch film obviously of that first half where we were terrible. And then see the good things we did to give us some encouragements.
"In the second half we outscored them (37-33). We don't know necessarily what we have to work on until we watch film, but I feel like it was definitely a good learning experience and because we have so much time before the next game I think it's going to be very beneficial in order for us to get better and improve."