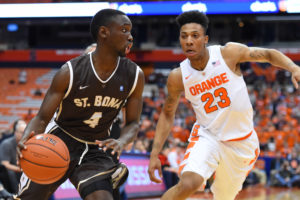 By CHUCKIE MAGGIO
The 4-5 record looks befitting of an asterisk now, a disclaimer explaining how the St. Bonaventure basketball team is still under .500.
After the Bonnies' 82-40 win over Siena, a margin of victory the team never even achieved with Jaylen Adams on the court, the losing streak they suffered with Courtney Stockard in street clothes feels longer than two weeks ago. SBU has now won three games in a row after successfully defending the Franciscan Cup on Wednesday.
Bonaventure's blowout matched its 42-point victory over Siena on Dec. 3, 1956, the only previous time in the 32-game series that a team had won by more than 29. It was SBU's largest win since a 48-point drubbing of Maryland-Eastern Shore last November.
The Bonnies have now won three straight over the Saints after dropping three consecutive matchups from 2013-2015. Those losses came by a combined eight points; the Bonnies had an eight-point lead seven minutes into Wednesday's game and never trailed again.
Takeaways from the ninth annual Franciscan Cup:
Player of the Game: Nelson Kaputo, St. Bonaventure. Kaputo had the game of his Bonaventure career, making five of his six three-point attempts and eight of 11 shots overall for a career-high 21 points in 25 minutes. The Toronto native has been one of the biggest beneficiaries of Stockard's return, averaging 16 points and shooting 64 percent in the last three games.
Honorable mention: Courtney Stockard (17 points, nine rebounds, four assists)
Stat of the Game: Siena missed its first 10 three-point attempts and shot just 27 percent (7-of-26) for the game from behind the arc; their starters combined to make just three of 16. The Saints shot more threes (26) than two-pointers (20).
Stretch of the Game: After Siena forward Jalen Pickett made a layup to cut St. Bonaventure's lead to 8-6 five minutes into the game, the Bonnies went on a 12-2 run aided by four free throws and three layups over the next six minutes. The Saints were disorganized offensively and relied heavily on a three-ball that wasn't falling.
Quote of the Game: "(Nelson)'s been hurt, too, and he's getting healthy," Bonnies coach Mark Schmidt said to broadcaster Ben Wagner in the postgame. "He shot the ball really well; we need that. We need offense off the bench."