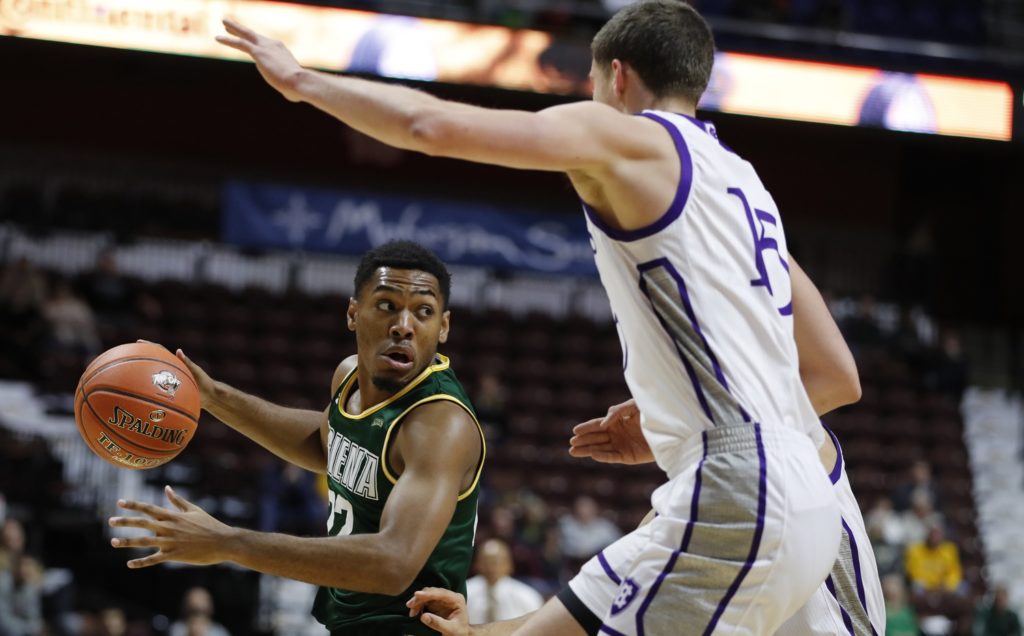 By PAUL GOTHAM
Prior to this season, three freshmen had earned Metro Atlantic Athletic Conference (MAAC) Player of the Week.
Make that four.
Jalen Pickett (Aquinas) garnered MAAC Player and Rookie of the Week the conference announced Monday. The Siena guard, who was named Rookie of the Week seven days ago, continued his impressive play averaging a double-double (20.5 PPG/10.5 assists) over two games last week.
Pickett, Siena's leading scorer, netted 27 in a 94-86 loss to Hofstra last Wednesday. The 6-foot-4 guard connected on nine of 12 shots from the floor including two of three from behind the arc. He handed out 13 assists while committing just one turnover.
Three days later, Pickett scored 14 on 6-of-14 shooting to go with eight assists, four rebounds and steals in a 67-64 win over Harvard.
Pickett is tied for seventh nationally and is second among qualifying freshmen with 7.0 assists per game. His 3.77 assist to turnover rate places him 34th in the country while his 2.43 steals leads all freshmen and is good for 25th in the country.
He also ranks seventh in the nation with an assist rate (a metric that estimates the percentage of field goals made by a team on which a particular player collects an assist) of 42.1, per KenPom. He scores 16.6 points and grabs 4.1 rebounds per game.
READ THE FULL MAAC RELEASE HERE.
Pickett earned MAAC Rookie of the Week honors seven days ago for averaging 23 points, eight assists and 5.5 rebounds in a pair of games.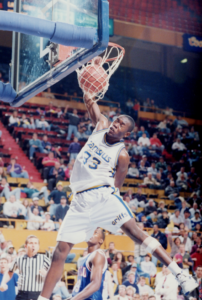 Pickett joins former East High star and current coach Darrell Barley (Jan. 24 1994/Canisius), Lionel Simmons (Dec. 21 1986/La Salle) and Schadrac Casimir (Dec. 15 2014/Iona) as the only four MAAC players to receive both honors in the same week.
Barley went on to earn MAAC Player of the Year honors as a senior when he led Canisius to the NCAA Tournament. Simmons was taken in the first round (7th pick) of the 1990 NBA Draft. Simmons played seven seasons in the NBA scoring more than 5,000 points in his career.
Pickett averaged 19.6 points and grabbed nine rebounds per game during his senior season at Aquinas. He earned All-Tournament team honors as a junior when AQ won the Section V title under then head coach Mike Grosodonia. He was named MVP when Aquinas won the program's first state title in a run which included a win over reigning champ Shenendehowa and recent NBA draft pick Kevin Huerter. He also earned another All-Tournament nod in the Federation Tournament of Champions when the Li'l Irish fell in the final to Jefferson, 72-65.
Pickett played one season at SPIRE Institute in Ohio after Aquinas.
Siena will travel to Olean on Wednesday to meet St. Bonaventure in a Franciscan Cup battle. That game can be seen on ESPN+.
Siena's Saturday, January 5th meeting with Canisius will be carried on ESPN3. Their Friday, January 11th game at Marist will be televised on ESPNU.