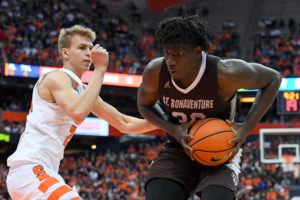 By CHUCKIE MAGGIO
ST. BONAVENTURE — Osun Osunniyi's smile widened, like a younger brother relishing the opportunity to imitate his older sibling.
Courtney Stockard had thrown down a dunk off a Jalen Poyser steal to extend St. Bonaventure's lead to 26 with 4:24 to play. As Stockard was landing, Osunniyi turned around, faced the students standing behind press row and extended his palms upward to "raise the roof."
The move has become one of Stockard's trademarks. That trademark was infringed on by Osunniyi, a sidelined LaDarien Griffin and fans throughout the Reilly Center on Saturday. Fun was had by everyone on the Bona side as SBU defeated Delaware State 90-61 to improve its record to 3-5.
Five Bonnies scored double-figure points in the victory, with Jalen Poyser's 20-point output leading the way. Stockard and Nelson Kaputo each produced 16 points off the bench, while Amadi Ikpeze had a career-high 14 and Kyle Lofton added 12.
Twelve of Poyser's points were tallied by way of the three-pointer. The UNLV transfer made four of his seven tries from beyond the arc, with many of his attempts coming virtually unguarded.
Bonnies coach Mark Schmidt had a simple reason for Poyser finding wide-open shots.
"Courtney Stockard," he said with a laugh. "Courtney Stockard did a great job of getting the ball in the middle of the zone and kicking it out, and Jalen found the open spot. All of those guys- Jalen had eight assists, Courtney had six assists- shared the ball. They're playing zone and we did a really good job against the zone, getting the ball into the middle.
"Against Niagara we didn't have the right guy in there to make those passes, but today we did and we did a much better job."
Bona dished out 26 assists as a team, the most the program has recorded since a 2012 win over Citadel. SBU drained 12 three-pointers for the second time in two weeks (Georgia State, Nov. 19) and shot 57 percent while holding Delaware State to a 34 percent clip.
Ikpeze's 14 points and nine rebounds were achieved in just 17 minutes of playing time due to foul trouble. His previous scoring high this season was six points, while his previous high in boards was seven. The Bonnies were pleased to get a productive performance from their junior center.
"It was very needed just because of all those games previously," Ikpeze commented. "All the games previously I really wasn't playing to the level my team needed me to be and where the coaches expected me. So it's kind of great to get a little bit of pressure and take it on my shoulders, playing good today. Hopefully I can just build on it and help my team even more on Wednesday."
The Hornets, who entered the game last in KenPom's Division I rankings, never led but kept the game marginally close for much of the first half and cut SBU's lead to 14 with nine minutes left. Saleik Edwards scored 15 points to pace a group of four double-figure scorers. Any upset attempt was thwarted by an untidy 20-turnover showing that led to nearly a third (24) of Bona's points.
December started with a commanding victory, but the other five games this month are unlikely to be as easy. Take next week's slate, for example: the annual Franciscan Cup game against Siena on Wednesday (Schmidt likened it to "another Big 4 game") and a showdown against a ranked Buffalo team on Saturday.
There is no more frosting on the cupcake, and Schmidt knows it. But even he acknowledged that on Saturday, his guys had some fun.
"I always say (a quote from Jack Nicklaus), 'You learn how to win by winning,'" Schmidt remarked. "No matter what the coach says, you can't have confidence unless you play well. The guys played well so they should be feeling good about themselves. But at the same time it's our job as coaches to make sure they don't get too confident, overconfident.
"Certainly we didn't play our best basketball and the teams we're about to play from here on out are much better than Delaware State. We've gotta play much better to be able to compete."