By CHUCKIE MAGGIO
With the NBA G-League's Erie Bayhawks off until Friday, former St. Bonaventure star Jaylen Adams received a call up to the Atlanta Hawks before Monday's game against the Los Angeles Clippers.
Adams and fellow two-way contract player Alex Poythress did not dress for Monday's game. Hawks coach Lloyd Pierce told reporters the move was made to get the players practice time since Atlanta is home all week.
Lloyd Pierce said Jaylen Adams was recalled from Erie because doesn't have any games for a few days.

Taurean Prince looked good in his workout this morning. Won't know now until he talks to Chelsea Lane. It sounds like he's close to returning from his Achilles pain.

— Chris Kirschner (@ChrisKirschner) November 19, 2018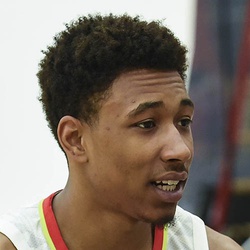 Before Adams rejoined the NBA roster, he dropped 44 points on the strength of 10 three-pointers for Erie on Friday. The performance was reminiscent of his 44-point collegiate performance against Saint Louis in February. Adams is averaging 18.4 points, 3.4 assists, 3.3 rebounds and 2.3 steals in seven G-League games.
Players who sign two-way contracts can spend a maximum of 45 practice or game days with the NBA club each season. Monday was Adams's ninth day as an NBA player.
The Hawks entered Monday with a 3-13 record, including losses in their last seven games. The Bayhawks are 3-4 in G-League play.