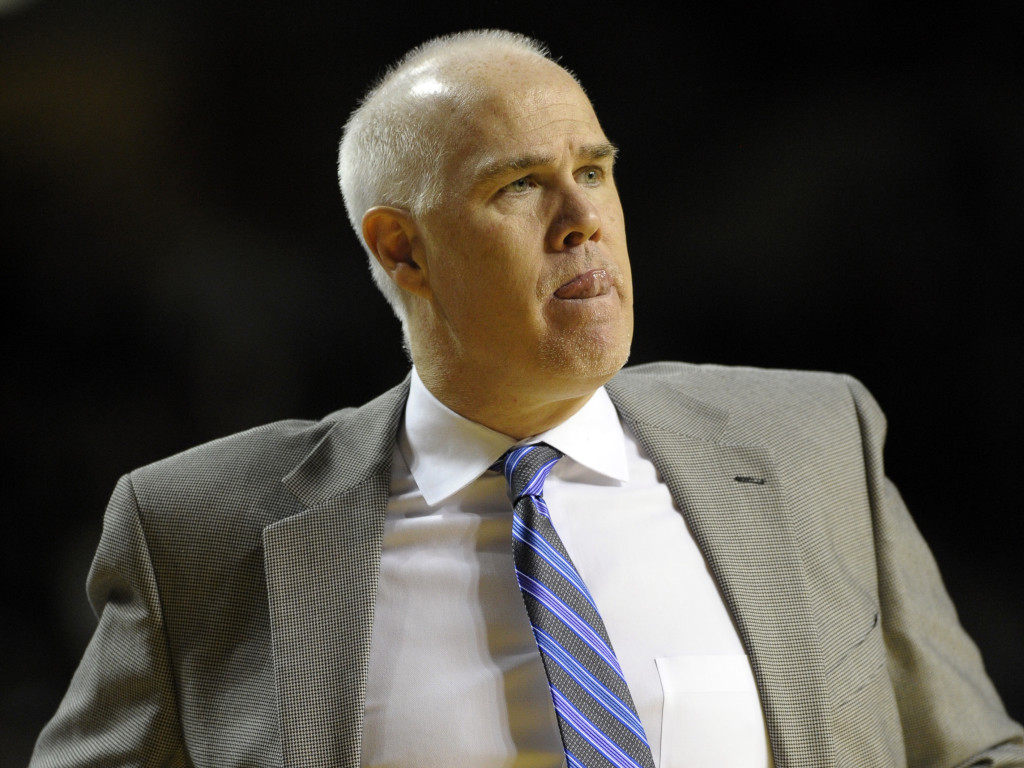 By CHUCKIE MAGGIO
LEWISTON, N.Y. — At the final media timeout of St. Bonaventure's Big 4 rivalry game at Niagara on Monday, the longest tenured Bonnie on the court had logged just 139 collegiate minutes.
Tshiefu Ngalakulondi played well, achieving his first double-double with 14 points and a career-high 13 rebounds. The four players he was accompanied by combined for 72 percent of Bona's scoring, led by Jalen Poyser recording a game-high 21 points.
The young Bonnies had made their mark for the third straight game, the second straight without the injured LaDarien Griffin or rehabilitating Courtney Stockard, but they faced a four-point deficit out of the timeout. They made three straight shots after the stoppage but essentially traded two-pointers for three-pointers and allowed the Purple Eagles to pull away, losing 80-72 at the Gallagher Center.
Niagara, starting with a clean slate in its season opener, held the clear experience edge with its youngest player at that four-minute juncture being sophomore Keleaf Tate. Senior Marvin Prochet compiled a 20-point, 10-rebound double-double, while classmate Dominic Robb blocked seven shots in the first half alone.
The Bonnies committed 14 turnovers and Niagara scored 15 points off the miscues. SBU allowed 14 offensive rebounds and NU used the new lives to record 19 second chance points. The Purple Eagles also did better at getting out in transition, with 26 fast break points to the Bonnies' 10.
Inexperience wasn't the only thing that cost Bona the game; upperclassmen Amadi Ikpeze and Nelson Kaputo combined to make just three of their 15 shots for six total points. But Griffin and Stockard were sorely missed by a team that is currently featuring five first-year Bonnies on an eight-man active roster.
"We just didn't rebound the ball the way we needed to, and they were the more aggressive team," Bonnies head coach Mark Schmidt said. "Prochet played extremely well, played like a senior. And Tate, he's pulling up from threes, he played extremely well too. They beat us, and we've gotta learn from it. We can't make mistakes that we've made, we can't get outrebounded like we did, and we've gotta get to the foul line."
The foul line was virtually non-existent to the Bonnies unless they were trying to grab a rebound off a Purple Eagle miss. Niagara shot 25 free throws, making 19, while Bonaventure took three and made two. SBU made just one trip to the line in each half, with Ngalakulondi missing the only attempt over the final 20 minutes. The Bonnies were whistled for double the fouls Niagara was charged with (22 to 11).
Despite the foul disparity, Bona jumped to a 22-13 lead in the first 11 minutes, then went on a 14-8 run to start the second half. It couldn't hold either lead, as Niagara went on a 14-0 run in the first half and a 16-5 run in the second half to regain the advantage with the help of a boisterous crowd.
"We didn't execute the way we needed to execute in those times," Schmidt commented. "On the road, those possessions where it's a one or two-possession game, you've gotta capitalize and we didn't do that… We didn't get the stops when we needed to, and we had the opportunity to get baskets we turned it over."
The missed opportunities and 1-2 record attached to them will hold space in the Bonnies' heads until they head to the Cayman Islands Classic. The three-day tournament, which begins with a Monday meeting with Georgia State, will be another major test for the freshmen. Stockard has only been participating in non-contact practice drills, Griffin's recovery time is indefinite and junior college transfer Melkisedek Moreaux hasn't been practicing at all with his hyperextended knee.
Until any of those players return, Ngalakulondi will be in the lineup. If he wins the jump ball, he'll likely tip it to one of the frosh. Together, they'll learn how to win Division I basketball games.
"Hopefully they learn. They're learning on the run," Schmidt said. "Most good teams, you don't win with young guys, you win with veteran guys.
"But they're getting the opportunity and hopefully it'll be a positive for us as we go forward."