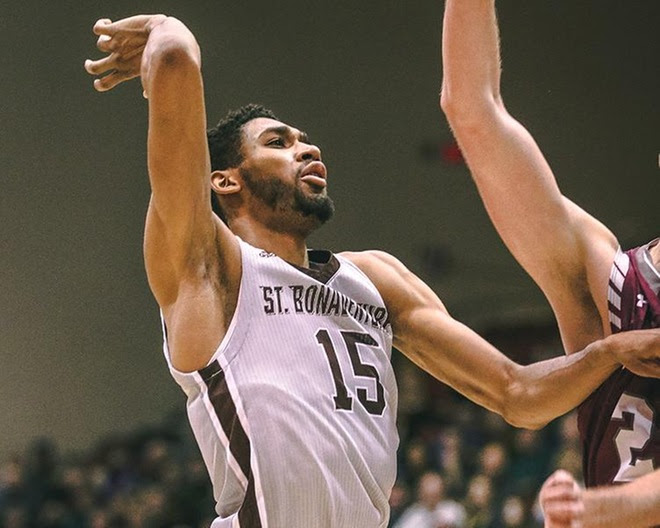 By CHUCKIE MAGGIO
The inbound pass would have impressed Grant Hill, the time to catch and shoot was almost exorbitant and the St. Bonaventure men's basketball team had a chance to make an already noteworthy game even more thrilling.
Unlike the two overtime games last season, the new-look Bonnies did not stay alive. Junior Jalen Poyser's shot was partially blocked and the Bucknell Bison swiped an 88-85 victory at the Reilly Center. To make matters worse for SBU, senior forward LaDarien Griffin left the contest less than a minute into overtime due to a knee injury and did not return.
Here are some takeaways from the game:
Player of the Game: Kimbal Mackenzie, Bucknell. Mackenzie was great late, scoring 12 of his 28 points in the last eight minutes of regulation. The senior finished with a very efficient stat line: 10-of-15 shooting from the field, 4-of-7 from three-point range, with three assists and no turnovers. The rest of his team made five of its 20 three-point attempts.
Honorable mention: Bucknell center Nate Sestina (15 points, 16 rebounds), St. Bonaventure forward LaDarien Griffin (13 points, 10 rebounds), St. Bonaventure guard Kyle Lofton (18 points, four assists).
Stat of the Game: St. Bonaventure committed 27 fouls, with big men Amadi Ikpeze and Osun Osunniyi fouling out in the second half. Ikpeze and Osunniyi combined for 14 points and eight rebounds as both played under 20 minutes of game action. The Bonnies finished the game without a player over 6-foot-7 on the floor.
Stat to Pay Less Attention To: Poyser's shooting percentage. Poyser made just four of his 14 field goal attempts and missed all six three-point tries. However, he did take advantage of open driving lanes to earn five important free throws. On defense, he recorded an athletic block on a Walter Ellis three-point attempt.
Wednesday marked Poyser's first official game since March 2017. His shot wasn't falling, but he will look to find it against Jackson State.
Stretch of the Game: The Bonnies held an 11-point lead after Lofton made a jumper with 6:43 remaining, but Mackenzie cut it to eight with a three-pointer 20 seconds later. The trey started a 12-5 run, which was capped by another Mackenzie three to whittle Bona's lead to four with 3:24 to play.
Quote of the Game: "I said when we made the schedule that I thought that was gonna be the hardest opener we've had in a long time. I'd never wanna be right, but I was right." -Mark Schmidt
Miscellaneous Notes: Kyle Lofton's 18 points were the most by a Bonaventure true freshman in a season opener this decade… Courtney Stockard (knee) and Melkisedek Moreaux (knee) did not play… St. Bonaventure unveiled its seventh NCAA Tournament banner in a pregame ceremony.