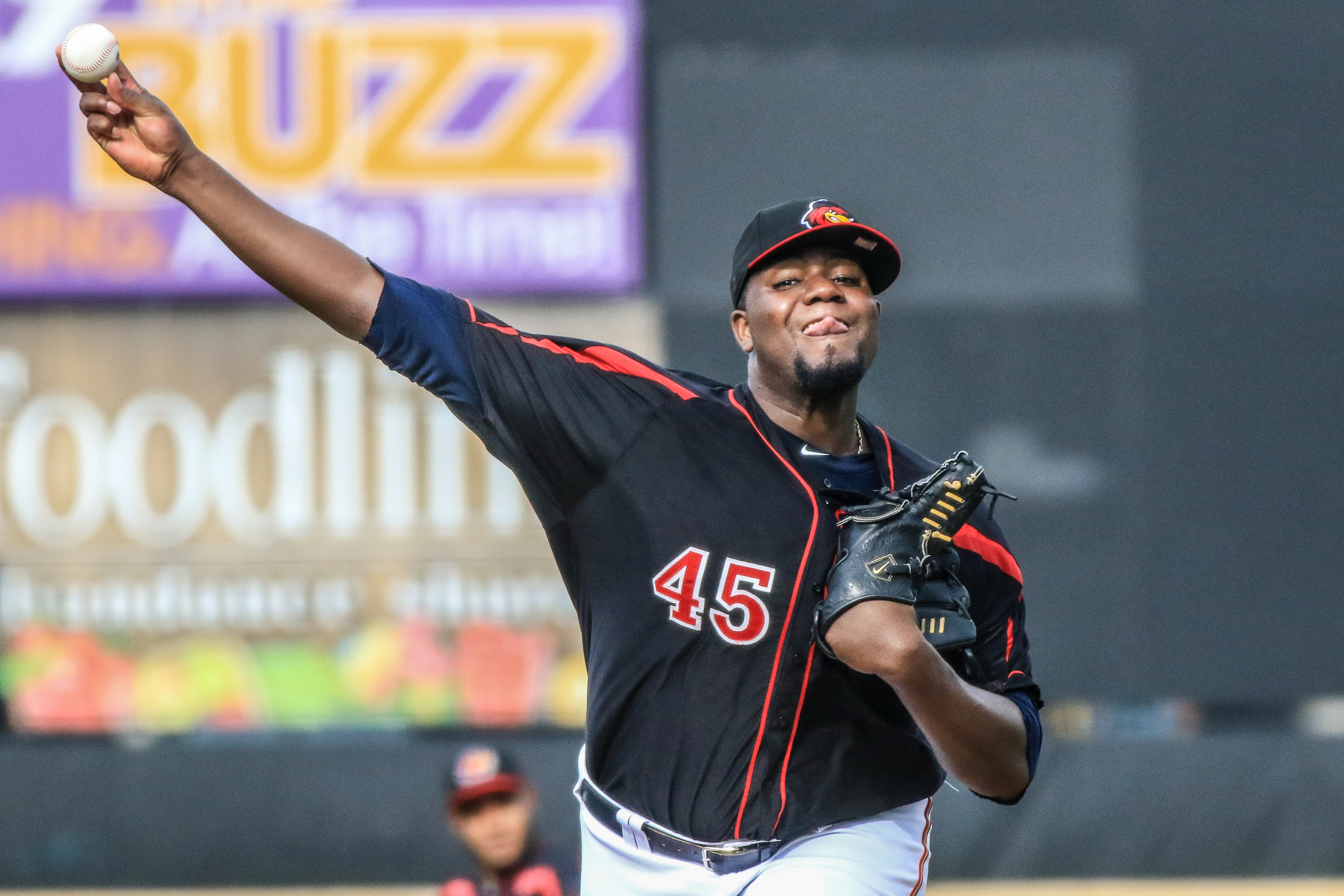 By CHUCKIE MAGGIO
Michael Pineda wasn't entering a pressure cooker as he took the Frontier Field mound on Tuesday to resume last month's Rochester Red Wings suspended game against Pawtucket.
Pineda, who signed with the Minnesota Twins in December and is making a comeback from July 2017 Tommy John surgery, will not be rushed into major league action by a non-contending Twins club. His rehab starts for sub-.500 Rochester don't carry any postseason implications, either. The only goal for the 29-year-old is to continue returning to form, like the eight wins he picked up in 12 decisions as a Yankee before being sidelined last year.
The lack of organizational urgency served Pineda well after Josh Ockimey, his first batter, launched a solo shot off the right field video board. Ockimey also singled off Pineda in the fourth before doubling off D.J. Baxendale in the seventh.
Ockimey provided Pawtucket's only two hits against Pineda. The former Yankee and Mariner, who has won 40 MLB games, went four innings and registered two strikeouts to two walks, throwing 32 of his 55 pitches for strikes. One mistake to a hot batter did little to derail his performance as he benefited from four runs of support in the third and was the pitcher of record in a 6-3 Red Wings victory.
After the teams and umpiring crew had a lengthy deliberation about whether to play the second game due to the weather forecast, Rochester lost 5-3. Lewis Thorpe was saddled with the loss after allowing four runs, all earned, and being pulled in the third inning. Josh D. Smith was the winner for Pawtucket after five frames of three-hit, three run ball.
In retrospect, Pineda's Game 1 outing paced the Wings to the split.
"With the weather situation, it was nice for (Pineda) to get out there and get his work in," Red Wings manager Joel Skinner commented. "He threw the ball fine. It was good to get him going and everything went well from a physical standpoint."
The Wings knocked out 12 hits in Game 1, 10 of them singles. Juan Graterol had three singles while Nick Gordon, Taylor Motter, Gregorio Petit and LaMonte Wade had two hits each. The Red Wings only managed four hits in Game 2; two of them were home runs. While Kennys Vargas's blast over the Dunkin' Donuts sign in left traveled an impressive 470 feet, it was worth wondering if the 104-minute gap between the conclusion of one game and the first pitch of the other affected any momentum the inconsistent offensive team had built.
"If I go back and look at my report, it was basically a team effort from that standpoint," Skinner said. "Even (Byron) Buxton, 1-for-5 but he swung the bat well with a man on third base, right to the shortstop… Vargas has been hot… the offense the last little while has been doing okay."
Red Sox second baseman Brandon Phillips, a three-time All-Star working to return to the big leagues, smoked a three-run homer in the third that left in a hurry and was the primary damage in a less-than-memorable nightcap.
Doubleheader splits are commonplace throughout baseball and with the Red Wings, who have split six of 10 twin bills in 2018. After a menacing radar made the squads ambivalent about playing two, most members of the organization were just relieved they don't have to play twice on Wednesday.
"From a doubleheader standpoint, it sure is nice to win the first game so you have a chance at a sweep," Skinner said. "But our pitching gave us a chance; (Pawtucket) beat us… three-run homers usually do pretty good damage. We were able to bounce back and then they were able to tack on a run late. Well-played games…
"We'll take the split, now that it's over and it's not a sweep in the other direction."