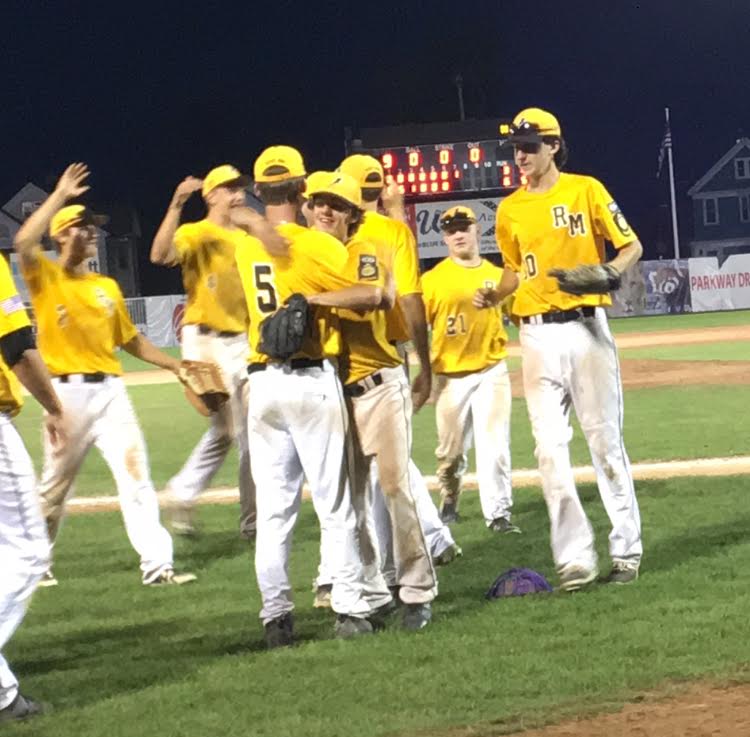 By BILLY HEYEN
UTICA, N.Y. — Before Rayson Miller's game at 7 p.m. Tuesday, Kevin Sheppard was warming up to start on the mound. That wouldn't have normally been unusual, as he'd already started four games this season for Rayson Miller before Tuesday.
It was unusual on Tuesday, though. That's because Sheppard started Rayson Miller's game at 4 p.m. and threw five innings. But with head coach Tom Sapienza's hands tied because of pitch-count limits, Sheppard got two starts on the same day and delivered both times.
"He's always been the second fiddle in high school," Sapienza said of Sheppard. "For us, he's been one of our top fiddles. You saw that today."
Sheppard ended the day having thrown an unofficial 119 pitches and 8.1 innings across two elimination games at Murnane Field. He got the win in the first game, a 12-3 Rayson Miller victory over Clinton County. Then he came right back out and won the second game, too, a 6-3 triumph over Depew. The double Sheppard wins send Rayson Miller to the state finals for the first time ever, for a rematch with a Rockland team that sent Rayson Miller to the losers' bracket with a 1-0 win on Sunday.
"We're playing with house money," Sapienza said. "I think I know this group, and we're in it to win it."
Sheppard had already been slated to start Monday before being pushed off to Tuesday at his teammates' asking. But he was in control right from the start on Tuesday, working a 1-2-3 first.
Rayson Miller went out in the top of the second and put up a seven-spot to support Sheppard. There was some clutch hitting involved, RBI hits from Jourdan Plaisted, John Mason, Owen VanNewkirk and Maxx Countryman, but Clinton County also booted the ball around to make four errors in the frame. Seven runs was more than enough for Sheppard to work with.
"You can just throw fastballs," Sheppard said, "trust your teammates, and the lead always really helps."
There weren't many questions asked of Sheppard from that point on. He worked 1-2-3 second and third innings as well, and Rayson Miller padded the lead with two more runs in the third.
Sheppard allowed one run in the fourth and two more in the fifth, but at that point Rayson Miller's lead had ballooned to 12-3. Sapienza could pull Sheppard and use Jason Bocklage to close out the big lead, saving Sheppard for the next game.
After the games, Sheppard said he'd "definitely" never started twice on the same day before. So there was no precedent for his pre-game two routine. Sheppard said he just threw less but did everything else the same as he normally would. He was long-tossing with Plaisted from the left-field foul line to the centerfield fence as if he hadn't just thrown five innings.
It looked like there may have been ill effects when Sheppard allowed two first-inning runs to Depew in the nightcap. But he worked out of a two-runners-on jam in the second, and Rayson Miller's bats woke up in the second inning for the second time Tuesday.
Again, the gloves of the opposition let them down to buoy Rayson Miller, as Depew committed two errors in a five-run frame for Rayson Miller. At this stage of the game, Sapienza said that becomes tough to overcome.
"If you start giving them four outs an inning, you're shooting yourself in the neck," Sapienza said. "Depew is a fine team, but they kicked it around a little bit and that gave us a chance."
Again, Sheppard came out to the mound after Rayson Miller's crooked number in the second inning. Again, he responded with a 1-2-3 inning. And again, Rayson Miller wouldn't look back.
When Sheppard was pulled in the fourth, Sapienza called on shortstop Lukas Haefner. One of Rayson Miller's top arms all season, he'd been held off the mound of late due to a strained left lat. Afterwards, he said it sometimes bothers him at shortstop. But on the mound, he said the adrenaline kicked in and he didn't feel a thing.
After getting the two batters he faced in the fourth out, Haefner hopped off the mound, screaming.
"I'm back baby," Haefner shouted. "I'm back baby. Let's go."
Haefner throwing peas. Gets two outs and it's 6-2 RM after three and a half. Haefner had missed time with a back issue keeping him off the mound. As he hopped off the field, "I'm back baby, I'm back baby. Let's go!" @PickinSplinters pic.twitter.com/V6usfa9hV0

— Billy Heyen (@Wheyen3) August 1, 2018
While he struggled to find control a bit in his final three innings, his fastball was too much for Depew to mount any sort of comeback. Fittingly, the game ended on the pitch Haefner used to carve through Depew's order: a high fastball for a swing-and-miss.
As he headed off the field to high-five with his teammates near the foul line, Haefner sought out Sheppard. When he found him, he pulled him into a big embrace. Together, they'd just worked to send Rayson Miller into the state finals.
It'll be a tricky Wednesday for Rayson Miller. All five of the pitchers Sapienza has come to rely on most will be ineligible to pitch due to pitch-count rules. That means it'll be a pitcher-by-committee to beat the two-time defending state champions, Rockland, twice because Rayson Miller came out of the losers' bracket. Sheppard said that before the season, he never would've thought Rayson Miller would make it this far. Sapienza certainly isn't going to lose hope now.
"If we can get a semblance of pitching and a whole bunch of hitting, maybe we can make some noise," Sapienza said.