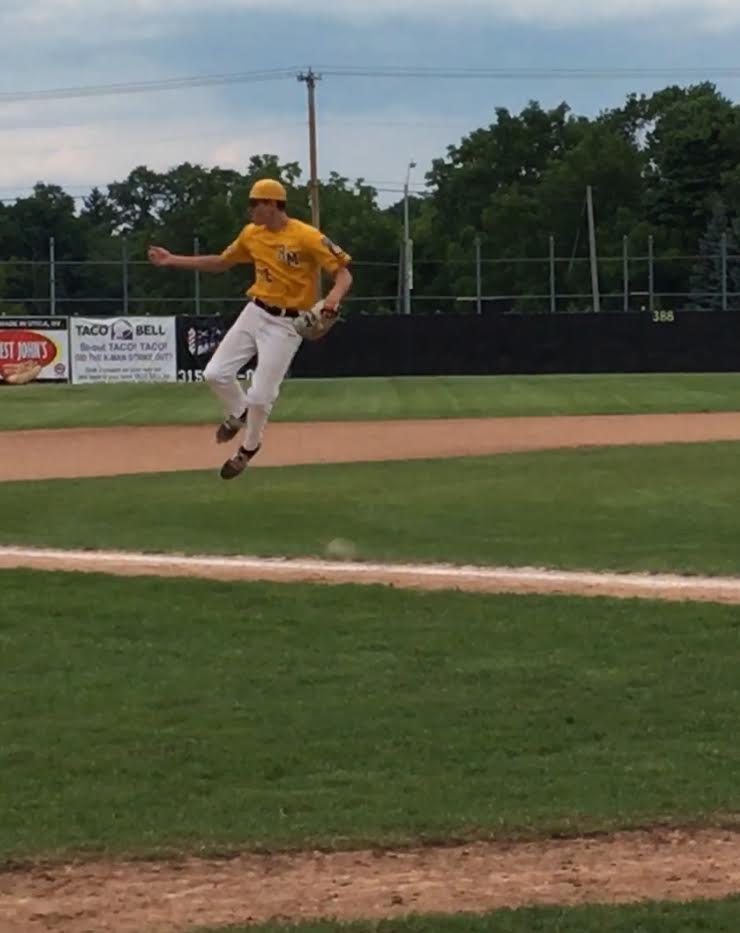 By BILLY HEYEN
UTICA, N.Y. — Kevin Sheppard was slated to start for Rayson Miller on Monday. That is, until the Rayson Miller players agreed that Grady Smith should get the ball to save Sheppard for Tuesday. There was risk in the decision, because a Rayson Miller loss would mean its season ended without Sheppard getting the shot to start Tuesday.
When Sapienza learned of that idea, he met with Sheppard and Grady Smith before agreeing with his team. Grady Smith would get the ball against Utica.
"The boys knew Grady could beat these guys," Sapienza said.
They were right. Grady Smith threw a complete game in Rayson Miller's 5-1 win over the hosts Utica at Murnane Field. He was supported by a 3-for-4 day at the plate from Colin Smith, no relation. In a win-or-go home scenario in the losers' bracket at the state tournament, Rayson Miller had no room for error. Grady Smith backed up his teammates' faith in him.
"I was a little nervous going into it," Grady Smith said. "But my teammates picked me up in the first inning there, and that gave me some confidence to pitch well."
Before Grady Smith took the mound, Lukas Haefner led off the top of the first with a single. Two batters later, Colin Smith turned on a ball to left field for a run-scoring double.
Then, in a first-and-third situation, Rayson Miller ran the "clip" play that it had run successfully earlier this season against Brooks Shepard. Maxx Countryman took off to steal from first and fell on purpose. That drew a throw, and Colin Smith dashed home for a second run in the game's opening stanza.
After the top of the first, it's 2-0 Rayson Miller. Second run came as Countryman got caught out but then everyone was safe on the throw. On second glance, this was the "clip" play. Countryman appears to fall on purpose. @PickinSplinters @livcosports pic.twitter.com/z312zXf3MD

— Billy Heyen (@Wheyen3) July 30, 2018
With an early lead, Grady Smith didn't allow a hit in the first, or the second, or the third. The lone struggle he faced was in the fourth, when Vincenzo Castronovo led off with a homer to right center. Myles Felton followed with a double but was caught making too big a turn at second and called out retreating to second base. That loomed large when the next man doubled, as well, and Smith eventually escaped with a grounder to Sam Cestra, who stepped on third base before firing across for the double play.
"Sam's stop on that smash and force across the diamond was a huge play," Sapienza said.
Grady Smith gave up two more hits in the fifth, but his defense backed him up again. With a runner on second, Utica's hitter pulled it through the left side. AJ Nestler came up throwing to Cestra, his relay, who fired on to Jourdan Plaisted at home. A leap attempt by the runner was for naught, and Rayson Miller kept its two-run lead.
With two outs in the fifth, @AjNestler to @cestra22 to @jourdan2093. Raymer tried his best flip to be safe, didn't work. Seemed the third base coach couldn't make up his mind. 3-1 Rayson Miller after five. Both pitchers have thrown 67 pitches through five. @PickinSplinters pic.twitter.com/24g9qoJj43

— Billy Heyen (@Wheyen3) July 30, 2018
Rayson Miller added two more insurance runs in the seventh. Haefner singled into left and was driven home by an opposite-field double from Jason Bocklage. Then Colin Smith delivered again,with a run-scoring single into left field. It was his third hit, as he finished 3-for-4 with two RBI and a steal of home on the clip play.
"I've been hitting the ball hard, just right at people," Colin Smith said. "… I feel good at the plate."
To start the bottom of the seventh, now with a four-run lead, Grady Smith picked up his second strikeout of the day — both came on curveballs. Then he induced a popout to Plaisted before finishing the game off with a flyout to Bocklage in right.
As the ball flew toward Bocklage, Grady Smith sensed it would be caught and started to jog off the field. Once it was caught and his complete-game win was finished, he leapt over the foul line and appeared to tap his heels together.
"It was outstanding," Sapienza said of Grady Smith's outing. "It wasn't good. It was outstanding. Grady was all over it."
The win means a rematch with Clinton County for Rayson Miller, which was the 8-7 victor in dramatic fashion on Saturday. It means another $18 in meal money for Rayson Miller's players, something Sapienza said "looms large" for them. And it means that when Rayson Miller made the decision as a group to start Grady Smith on Monday, they were making the right call, because Rayson Miller will get to keep playing ball.
"It feels great," Grady Smith said. "Way better than going home."