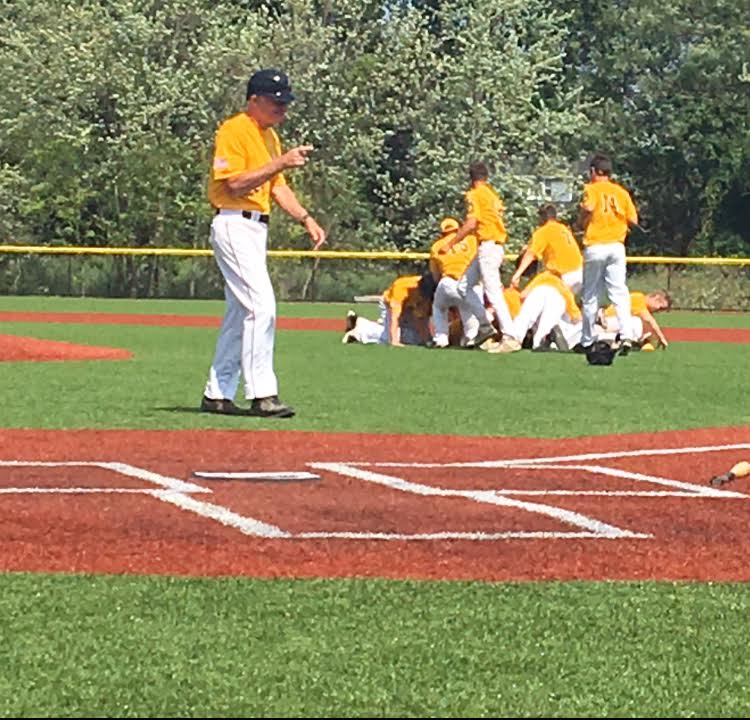 By BILLY HEYEN
Mike Krzyzewski has been head coach at Duke since 1980. Jim Boeheim has been head coach at Syracuse since 1976. They're two of the longest-tenured active coaches with one team in sports.
Tom Sapienza, Rayson Miller's head baseball coach, has them both beat. He began coaching Rayson Miller in 1974, making this his 45th year at the helm. Those two collegiate coaches have made millions in their decades-long leadership. Sapienza hasn't. He just can't get away.
"I don't play golf," Sapienza said. "I don't bowl. I don't hunt. I don't boat. I don't play horseshoes. I don't play cards. I coach baseball. It's my thing."
Rayson Miller and Sapienza head east to Utica this weekend for the American Legion baseball New York state tournament. It's the fifth time Sapienza has won District 7, and the fourth he's been to states. He's coached 1181 games for Rayson Miller, winning 766 of them — more wins than any Section V high school baseball coach has ever won. He's had an influence on hundreds of young Rochester baseball-playing men, to the point that they still come to visit him or even make sure their sons play for him. But Sapienza, who had already spoken about doing it for the players he coaches, also keeps coaching Rayson Miller for himself.
"It's intense, but the way I explain it to the guys, as an old guy, why do you think I do this?" Sapienza said. "And I ask them that. Every once in a while somebody will get it and say, 'Coach, because it's fun.' That's exactly why I do it."
Sapienza's coaching career stems back to the early 1970s. His younger brother was playing Senior League baseball, the step after Little League, and Sapienza saw that the head coach seemed to need help, so he volunteered. Soon after, the head coach moved out of the picture, Sapienza said, and he was in charge. He coached that group for three years in Senior League, but when they aged out, they needed a place to play.
Rayson Miller Post had participated in Monroe County American Legion baseball before, in the 1960s, Sapienza said. But for a number of years, there hadn't been a team. Realizing it was an opportunity for his younger brother and his friends to continue playing ball, Sapienza went to the post and inquired about restarting the program.
"The agreement was we will never ask you for money but we need your sponsorship," Sapienza said. "So we raised a bunch of money, bought some uniforms and jumped into Monroe County Legion ball."
Sapienza went on to coach his brother for a few years as part of Rayson Miller. That was before he was married, he pointed out, as Sapienza married his wife, Pat, in 1976. But even as his brother's American Legion playing career was finishing, Sapienza's American Legion coaching career was just getting started.
He'd realized something about Legion baseball. Sapienza noted that as multiple school districts fed single Legion teams, he only got the best players. Everyone he had was the shortstop, the three hitter, the ace on the mound at their high schools, he said. Most of his guys hit .400 in high school competition. Part of what Sapienza grew to love about Legion ball was that those guys don't all hit .400 anymore.
"What happened was that I watched these young men struggle with the realities of the game," Sapienza said. "And the reality of the game is that it's about dealing with failure. It's making the next best play and never giving up. Those are life lessons to the point where we still talk about it today, at the end of this ball game, let's all agree that what we're gonna say is we'll have no regrets, that we'll have done the best we can. Because you know what, that'll help you sleep tonight and every night for the rest of your lives."
Being a baseball coach was not only about coaching baseball for Sapienza. One of his players on the 1990 district champions, Justin Smith, said that he learned much more than baseball from Sapienza: He learned about life.
Back before the dawn of the travel programs that are prevalent in youth baseball today, American Legion baseball was the next step for good high school players, Smith said. And so it was that when Smith received word that Sapienza wanted him on Rayson Miller, it was a no-doubter even though he didn't know much about Sapienza. What he learned rather quickly was the type of motivator his new head coach was.
Smith looked forward to each and every pregame speech Sapienza gave. He said that they made him feel like a "machine," that he was always charged up and ready to go after Sapienza spoke. Smith also learned how to interface player to coach, without "parental interference," which he said Sapienza was the first coach he'd had to do that.
"He immediately treated all of us like men and expected us to be men, and he asked us to treat him like a man," Smith said. "And I can remember that that was just quite different from what I was used to."
Sapienza still embraces that role in direct contact with his players. He interviews prospective members of Rayson Miller, with Avon head coach Rob Fries saying he knows Sapienza has taken players out for conversations over breakfast before adding them to his roster. The day before this season's first practice, he had Jason Bocklage on his back porch as a last-minute recommendation for his team. That vetting process worked out, as Bocklage leads Rayson Miller in numerous offensive categories.
He also was able to add his leadoff hitter, Lukas Haefner, and a starting outfielder, AJ Nestler, at the last minute before the season began. They all passed his interviews.
"My experience has been, when you get to May, you're looking for a good guy that's got a pulse," Sapienza said. "Whether he can play or not, who the hell knows. These three guys, in all three categories: They're fine young men. None of them are ax murderers. They're outstanding baseball players. And thirdly, they've committed big time."
The process that Sapienza has upheld for 45 years shows itself at all of Rayson Miller's games. Both of his assistants this season, David Donatello and Trevor Foster, played for Sapienza at Rayson Miller. After a handful of games, former players have waited as Sapienza gives his postgame speech to his team and then gone up and reintroduced themselves to their former coach.
Recently, Sapienza saw a former player he hadn't seen in 25 years. And he raved about the great people, great citizens, great fathers that his former pupils have turned out to be.
Justin Smith's son, Grady, plays for Rayson Miller this season, meaning that Justin watches Sapienza coach his kid in much the same ways he was coached decades ago. Justin knew that, if possible, he wanted his son to play for Sapienza.
"It's just wild when I go to a game and I see Grady on the mound or at second base or out in the outfield, and I see Sap talking to him just like he used to talk to me," Justin Smith said. "It's unbelievable. It's quite emotional, actually."
It will get more emotional, Smith said, if Rayson Miller does what it's never done before and wins the state title. After winning districts last Saturday, Sapienza said that he figures after 45 years, it'd be about time.
Maxx Countryman, who already has a state championship under his belt with Avon, knew when he first met Sapienza before the season that Rayson Miller would have a chance to be great, just because of the work Sapienza puts into it. Sapienza has a tough time believing there will be another team at the state tournament with the depth of pitching Rayson Miller has. He referred to his staff as his "1a, 1b, 1c, 1d and 1e." Rayson Miller will need all the arms, with the minimum to win a state title being four wins in five days, and that's if a team avoids losing all together.
Sapienza said he still wakes up on gameday and the thought of a big game "gets him going." He knows what he's headed to Utica for.
"I'll tell you what," Sapienza said. "Somebody wins it. And you think I'm going east not to win it, you're wrong, and same with my guys. We're in it to win it."
But even if Rayson Miller goes, in the words of Sapienza, "oh and two and a barbecue," that won't be the biggest takeaway from Sapienza's 45th year in charge. He's said that all of his former players just tell him they remember the "joy of competing hard."
Justin Smith remembers how Sapienza "helped prepare (him) for the next level of life." He made sure his son, Grady, would play for Sapienza this summer to hopefully learn the same lessons. And whether the weekend ends with Sapienza holding a trophy or walking off the field after a second loss, Justin Smith knows where Sapienza will end up.
"He's gonna be met at the pearly gates one day," Smith said. "And he's gonna be welcomed in because of what he's done for these kids."