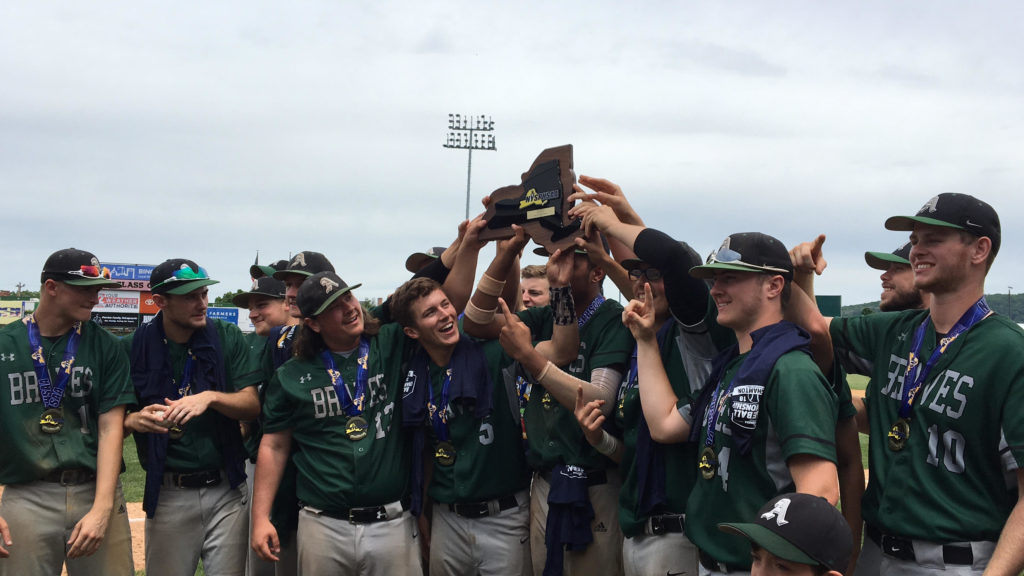 By BILLY HEYEN
BINGHAMTON, N.Y. — An out away from a state title, Avon's Peyton Parmeter fired a fastball on 1-1. It was hit and sent out toward center. Parmeter turned, watched and raised his arms to the air.
After the game, Parmeter said that since he was younger, he's been telling his dad he'd be a state champion. He's a senior now. There wouldn't be anymore opportunities for him to achieve an as of yet unachieved goal. And when he was pulled after coming on in relief earlier on Saturday, it seemed if it happened, it wouldn't be on the mound.
But Parmeter came back out to the mound the following inning. He shut down Ticonderoga while Avon staged a big comeback. And with the ball flying toward Shane Conlon in center, Parmeter went from arms raised into a crouch. When the ball was caught, he just laid down as his teammates stormed the mound to pile on top of him.
"Three years in a row and haven't won it," Parmeter said. "I didn't get to pitch last year. So being able to pitch in this game was probably one of the best experiences of my life."
Avon trailed by three runs after four innings. But the Braves came back to exorcise the demons of their past two trips to the state final four. In 2016 and 2017, Avon couldn't finish the job with a state title. This season, the Braves battled back and won the Class C NYSPHSAA title over Section VII's Ticonderoga, 6-5, in eight innings at NYSEG Stadium. For a group of seven seniors who'd been around to experience the last two seasons' heartbreaks, it was a fitting conclusion.
"We really have created a culture and just a way of going about things that has been Avon baseball now for five years," Avon head coach Rob Fries said.
The Sentinels jumped on Avon early, getting two runs off Braves starter Ian Read in the third. That's when Parmeter came in for the first time, and he escaped the jam. Avon tied it right back up with two runs in the top of the fourth, buoyed by an RBI triple from Read, and it was all square again.
In the bottom of the fourth, Ticonderoga scored three runs. Two were charged to Parmeter and Read, who relieved his reliever, was charged with the third before getting a grounder back to himself to end the frame.
The Braves were down three with three innings to play. They'd scored just two runs in the first four innings. But Avon first baseman Aaron Ghent said postgame that he knew his team would come back.
"It's not over and just this is how you know that we're a great team," Ghent said. "I knew that we were gonna come back. We did."
They chipped away, getting within two on a Maxx Countryman RBI double in the fifth. Then the Braves pulled within one on a run-scoring fielders' choice from Nick Rowland in the sixth.
Then the seventh came along, with Parmeter having held the Sentinels in check, and Avon needed one more run. Countryman led off with a single, and that's when it became the inning of the wild pitch. He moved to second on the first wild pitch of the inning, and Ghent walked three pitches later. Parmeter popped out. Runners were on first and second with one out.
The next pitch was again wild, past the catcher. Countryman and Ghent each advanced a base. Then again, a wild pitch, this time scoring Countryman. Tie game.
Another ball in the dirt followed, but this one was partially smothered by the catcher. Ghent tested it anyways. He was out on as close a play as could be.
Avon had completed its comeback. Parmeter set down the heart of Ticonderoga's order in the bottom of the seventh, keyed by Parmeter picking the winning run off second base. All the momentum was with the Braves.
"You keep scoring runs and your confidence gets up and that's how you get the win," Parmeter said.
And in the top of the eighth, it was one more wild one that gave Avon the lead it wouldn't give back. Jimmy Gross led off the inning with a walk. He moved around to third on an error on a sacrifice attempt. The second pitch to Countryman was wild. Gross sprinted home. His slide came up short but the throw never came.
The Braves had the lead. Parmeter made it hold up, working a 1-2-3 inning in the bottom of the eighth. Avon had cleared the final hurdle, and Ghent said afterwards "third time's the charm."
Ghent had also been a foreshadower after last Saturday's Far West Regional. He said that for Avon to get over the hump, the Braves would have to be ready for adversity. They encountered plenty. A three-run deficit. Three base runners caught stealing in the first three innings. A dropped fly ball in center field. A tough break on a bang-bang play at the plate.
But Avon was ready. The Braves overcame the adversity. Ghent, Parmeter, Countryman and their fellow seniors are state champions. Ghent will never forget it.
"I'm gonna tell my kids, my grandchildren," Ghent said. "It's gonna be there until I die."